The hashtag #RefundWarren trended on Twitter as supporters of Senator Bernie Sanders encouraged anyone who had donated to Senator Elizabeth Warren's 2020 campaign through the ActBlue platform to request a refund.
Some Twitter users posted screenshots purporting to show ActBlue processing refunds of their donations to Warren, a Massachusetts Democrat. Several screenshots of refund request emails appeared to show ActBlue stating that they were "currently experiencing high volumes."
While some claimed to be requesting refunds, a number of Warren supporters using the hashtag said it had encouraged them to donate more money to her campaign.
It was not immediately clear how many Warren donor refunds ActBlue is processing or if the refunds were offset by higher donations. Newsweek asked ActBlue for comment by email and will update this article if one is provided.
The actor and musician Greg Cipes tweeted using the hashtag to say Warren is "revealing herself as a fake, not so great politician, trying to use dirty below the belt cheap tactics to hurt a real public servant of the People like Bernie. Her shenanigans Ain't gonna help boost her failing campaign. She's just another politician."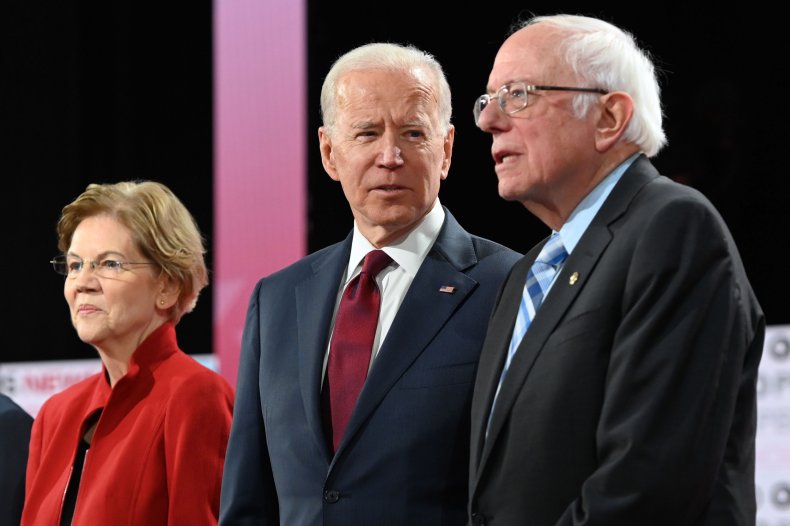 But the comedian Sean Kent tweeted: "#RefundWarren is a joke. Bernie said something f**ked up and he should own it. Also the idea that thousands of Berners donated to her campaign is hilarious. They only give money to their overlord."
While some claimed to be requesting refunds, Warren supporters said the hashtag encouraged them to donate more money to her campaign.
Newsweek has also asked the Warren and Sanders campaigns for comment and will update this article if any is provided.
The #RefundWarren campaign erupted on Twitter after Warren issued a statement confirming recent reports that Sanders, a Vermont independent, had said to her back in 2018 he did not believe a woman could win the presidency. Sanders, however, has flatly denied saying it.
"Bernie and I met for more than two hours in December 2018 to discuss the 2020 election, our past work together and our shared goals: Beating Donald Trump, taking back our government from the wealthy and well-connected, and building an economy that works for everyone," Warren said in a statement, according to The New York Times.
"Among the topics that came up was what would happen if Democrats nominated a female candidate. I thought a woman could win; he disagreed. I have no interest in discussing this private meeting any further because Bernie and I have far more in common than our differences on punditry.
"I'm in this race to talk about what's broken in this country and how to fix it—and that's what I'm going to continue to do. I know Bernie is in the race for the same reason. We have been friends and allies in this fight for a long time, and I have no doubt we will continue to work together to defeat Donald Trump and put our government on the side of the people."
CNN had first reported the comments Sanders allegedly made to Warren about a woman's ability to win the presidency, citing several anonymous sources with knowledge of the conversation between the two.
"It is ludicrous to believe that at the same meeting where Elizabeth Warren told me she was going to run for president, I would tell her that a woman couldn't win," Sanders said in a statement to CNN.
"It's sad that, three weeks before the Iowa caucus and a year after that private conversation, staff who weren't in the room are lying about what happened. What I did say that night was that Donald Trump is a sexist, a racist and a liar who would weaponize whatever he could.
"Do I believe a woman can win in 2020? Of course! After all, Hillary Clinton beat Donald Trump by 3 million votes in 2016."
The RealClearPolitics national polling average for the Democratic 2020 race has Warren in third place at 16 percent, Sanders in second place at 19.8 percent, and former Joe Biden leading on 28.3 percent.
This chart provided by Statista shows American attitudes to a female president.