Elizabeth Warren Says Facebook's Funding of Federalist Society Dinner Where Brett Kavanaugh Spoke is 'Corruption'
Sen. Elizabeth Warren (D-MA) has continued in her rebukes of Facebook after the firm sponsored a conservative event where Supreme Court Justice Brett Kavanaugh spoke.
The presidential hopeful accused the tech giant of trying to charm Republican lawmakers—even accusing it of corruption—while the firm undergoes four separate government antitrust investigations.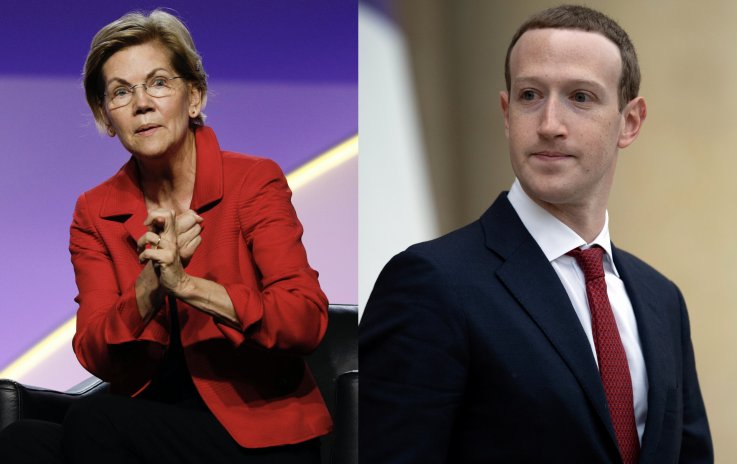 Sen. Elizabeth Warren (left) has continued to clash with Facebook CEO Mark Zuckerberg (right) in recent weeks.
Getty
Legislators and lawmakers at state and federal level have continued to examine Facebook's role in the Cambridge Analytica scandal, and the company's head of mergers and acquisitions faced questions about its role in the $1 billion acquisition of Instagram in Capitol Hill this week.
Warren's comments came as reports spread that Facebook was a "gold circle" sponsor of the Federalist Society's annual Antonin Scalia memorial dinner in Washington, D.C. on Thursday.
"Facebook is spending millions lobbying the government as they face antitrust scrutiny," she said. "They're going on a charm offensive with Republican lawmakers. Now, they're sponsoring a dinner headlined by Supreme Court Justice Brett Kavanaugh. Let's call this what it is: Corruption."
Facebook, however, maintains that it supports organizations across the political spectrum and that its support of the Federalist Society began as early as 2013. A full list of the organizations that Facebook donates to is available here.
"This reporting purposely focuses on Facebook's support for one organization to distract from our lengthy track record of supporting groups from across the political spectrum," Facebook spokesperson Andy Stone said in a statement provided to Popular Information regarding the sponsorship of the event.
Facebook did not respond to Newsweek's request for comment prior to publication.
The firm was also criticized for sponsoring an event in which Kavanaugh would be speaking—his first public appearance since rape allegations mired his nomination hearings in controversy in October last year.
The public appearance was criticized for "normalizing" his role in the Supreme Court.
Kavanaugh, a Federalist Society member, is one of five other judges from the Supreme Court to also have links to the organization. Chief Justice John G. Roberts and Justices Clarence Thomas, Samuel Alito and Neil Gorsuch also have ties to the lobbying group.
It is considered one of the most powerful in Washington and frequently succeeds in helping nominate Conservative justices to the Supreme Court.
Federalist Society president Leonard Leo personally advised President Donald Trump on who should replace Justice Anthony Kennedy after his retirement and Kavanaugh was Leo's recommended pick.