Elizabeth Warren officially suspended her presidential campaign and dropped out of the race to be the Democratic nominee on Thursday, according to The New York Times.
The move comes after a less-than-stellar Super Tuesday outing, which included a third-place finish in her own state of Massachusetts. The senator held out longer than many of her opponents; the former mayor of South Bend, Indiana, Pete Buttigieg, and Minnesota Sen. Amy Klobuchar both dropped out just ahead of Super Tuesday. Warren leaves a day after Mike Bloomberg left the race following an abysmal Super Tuesday of his own.
In a statement, Warren acknowledged the disappointment of having to drop out, but she also made sure to keep a positive outlook.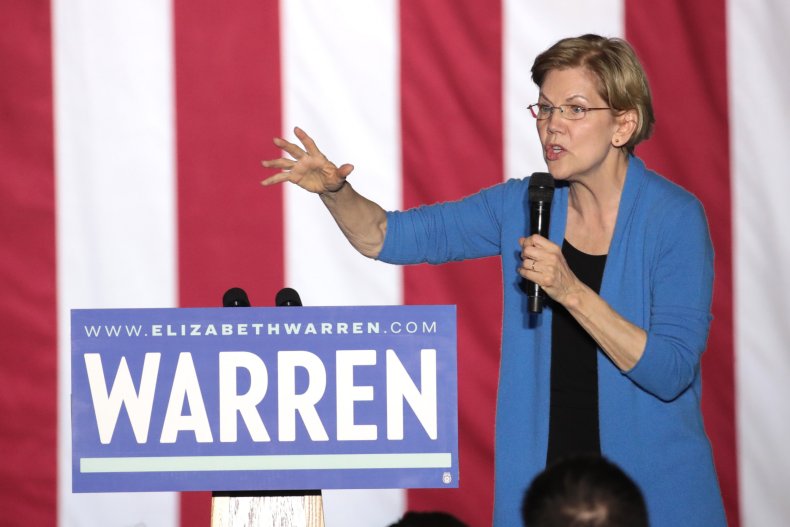 "I know that when we set out, this was not what you ever wanted to hear. It is not the call I ever wanted to make. But I refuse to let disappointment blind me—or you—to what we've accomplished," the Massachusetts senator said. "We didn't reach our goal, but what we have done together—what you have done—has made a lasting difference. It's not the scale of the difference we wanted to make, but it matters—and the changes will have ripples for years to come."
As with every candidate that has exited the race thus far, President Donald Trump was quick to respond to Warren's decision, once again calling her "Pocahontas" and suggesting that her departure was "three days too late."
There were many other public figures on social media, though, who were supportive of Warren. Author Chuck Wending commented on Warren's potential as a president.
Musician Mikel Jollett was also convinced of Warren's ability to be president and tweeted that he was sad to see her campaign come to an end.
Former candidate Andrew Yang had only kind words for the senator. He called her an "amazing leader" and encouraged her to continue fighting to help people.
Comedian Mike Birbiglia called Warren a true role model, expressing that any negativity that surrounded her did not represent her character.
#ThankYouElizabeth began trending shortly after the senator's announcement. The outpouring of support for Warren has been considerably larger than that for Buttigieg and Klobuchar, following their respective exits.
Author Sarah Kendzior suggested that the remaining candidates use Warren's plans, commenting on the issues that she felt Warren had a strong grasp on.
Warren did not immediately endorse another candidate on Thursday. At this point, the Democratic primary has effectively become a two-horse race between Vermont Senator Bernie Sanders and former Vice President Joe Biden.