Elizabeth Warren Blasts 'Racist' Donald Trump and His 'Outrageous, Racist Remarks' After Attack On Elijah Cummings
Democratic 2020 presidential hopeful Elizabeth Warren blasted President Donald Trump on Saturday, calling him a "racist" after his attacks on her congressional colleague Democratic Representative Elijah Cummings of Maryland's 7th district.
"Donald Trump, once again, is a racist who makes ever-more outrageous, racist remarks," Warren, a senator from Massachusetts, said in comments to reporters. "It is insulting, both to the congressman and to the people he represents." Referring to Cummings as on of her "dearest friends" she said he "is a good man through and through, and he fights for what is just in this country." The senator called Trump's tweets "racist," saying the president's attack was "beyond insulting" and "disgusting."
Earlier on Saturday, Trump tweeted out a series of posts attacking Cummings and Baltimore, which the congressman represents.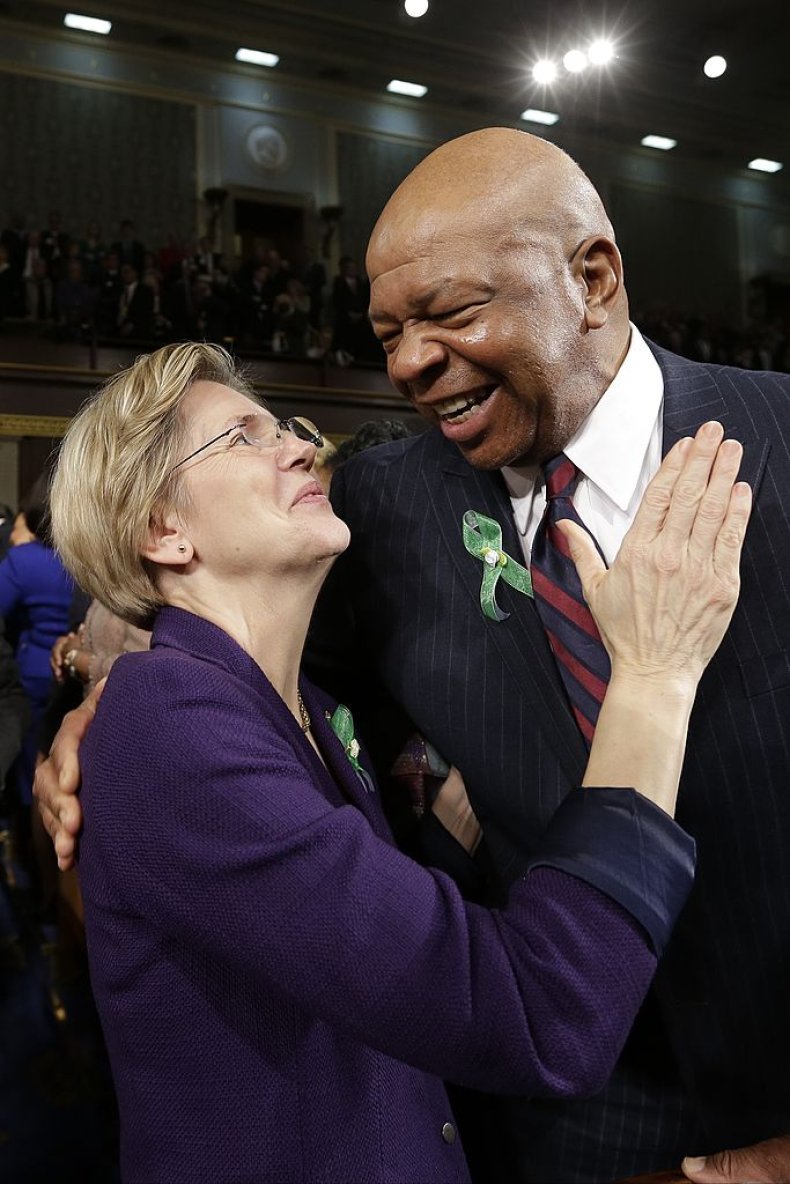 "Cumming[s] District is a disgusting, rat and rodent infested mess. If he spent more time in Baltimore, maybe he could help clean up this very dangerous & filthy place." The president called the congressman a "brutal bully" and argued that his city was a worse place to live than in controversial migrant detention centers, which have been widely criticized by Democratic lawmakers, human rights groups, medical professionals and lawyers who have toured the facilities. Many of those overcrowded facilities do not provide beds, soap, toothbrushes or adequate showering facilities to detainees. In some instances, migrants have reportedly been instructed by guards to drink from toilets in their cells.
Trump's comments about Baltimore and Cummings came after one of his favorite Fox News programs, Fox & Friends, aired a segment highlighting significant problems and poverty in West Baltimore. Although the area of the city does have a range of serious issues, the editorial board of The Baltimore Sun and other pointed out that Cummings district also contains some of the nation's most prominent institutions.
"In pointing to the 7th [District], the president wasn't hoping his supporters would recognize landmarks like Johns Hopkins Hospital, perhaps the nation's leading medical center. He wasn't conjuring images of the U.S. Social Security Administration, where they write the checks that so many retired and disabled Americans depend upon," the editorial board wrote in response to the president.
"It wasn't about the beauty of the Inner Harbor or the proud history of Fort McHenry. And it surely wasn't about the economic standing of a district where the median income is actually above the national average," the article pointed out. "No, he was returning to an old standby of attacking an African American lawmaker from a majority black district on the most emotional and bigoted of arguments."
Responding to Trump with his own tweets, Cummings wrote: "Each morning, I wake up, and I go and fight for my neighbors." The congressman pointed out that it is his "constitutional duty to conduct oversight of the Executive Branch" and his "moral duty to fight for my constituents." The president's attack came after the House Oversight Committee, which is chaired by Cummings, voted on Thursday to authorize subpoenas for text messages and personal emails used for official business by top White House staff, including the president's daughter Ivanka Trump and his son-in-law Jared Kushner.
Speaker of the House Nancy Pelosi, a Democrat from California, pushed back hard in her response the president, defending her colleague. Calling Cummings "a champion in the Congress and the country for civil rights and economic justice" and a "beloved leader in Baltimore," she asserted that "we all reject racist attacks against him and support his steadfast leadership."