Elizabeth Warren Rejects Fox News Town Hall, Calls Network 'Hate-for-Profit'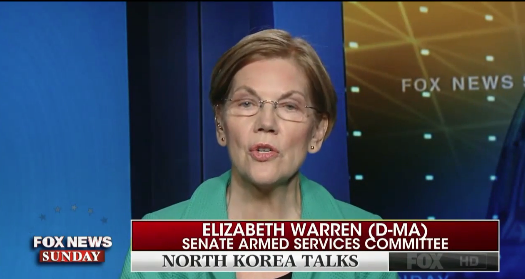 Massachusetts Senator and 2020 Democratic presidential candidate Elizabeth Warren rejected "hate-for-profit" Fox News Channel's invitation to their latest town hall Tuesday.
Warren explained via Twitter why she is refusing to attend an upcoming Fox News town hall despite several other Democratic contenders, including Bernie Sanders, appearing on the cable news network in recent weeks. Warren said she refuses to help Fox News continue its "charade" as a "legit journalism" outlet and to be complicit in helping them attract lucrative advertiser deals and sponsorships. Warren's stance is likely to appease some members of the Democratic Party establishment, particularly because the DNC announced in March it would exclude Fox News from hosting all official 2020 primary debates and events.
"I've done 57 media avails and 131 interviews, taking over 1,100 questions from press just since January. Fox News is welcome to come to my events just like any other outlet. But a Fox News town hall adds money to the hate-for-profit machine. To which I say: hard pass," Warren tweeted Tuesday.
Warren last appeared on Fox News Sunday in March 2018, discussing North Korea and appearing very pleased to be there. "Thank you, It's good to be here, thank you for having me. I appreciate the invitation," Warren said.
On Tuesday, Warren claimed Fox News is "struggling" to hold onto advertisers after a slew of companies withdrew sponsorships following controversial comments about women and Muslims from hosts Tucker Carlson, Laura Ingraham and Jeanine Pirro. However, the cable news network remains far and away the highest rated among its competitors. Warren echoed a Monday report from Media Matters for America, a liberal activist group, that said regardless of Fox News "hard news" shows, all advertising money still fills coffers for the "hate-for-profit machine."
"But Fox News is struggling as more and more advertisers pull out of their hate-filled space. A Democratic town hall gives the Fox News sales team a way to tell potential sponsors it's safe to buy ads on Fox—no harm to their brand or reputation (spoiler: It's not)," Warren tweeted.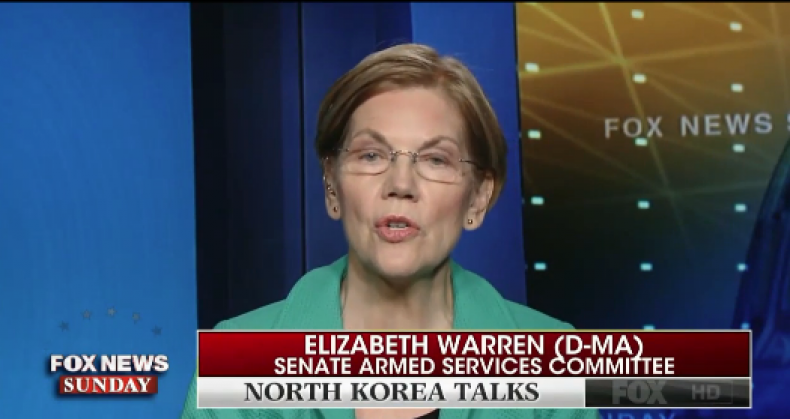 "Hate-for-profit works only if there's profit, so Fox News balances a mix of bigotry, racism, and outright lies with enough legit journalism to make the claim to advertisers that it's a reputable news outlet. It's all about dragging in ad money—big ad money," she added.
The DNC's March decision to bar Fox News from hosting 2020 events created an internal rift among the more than 20 candidates, with several demanding to spread their message to the network's conservative base audience. Sanders' decision to become the first Democratic candidate to appear on a town hall was met with criticism from establishment Democrats but praise from moderate conservatives.
Following Warren's Tuesday rejection of Fox News, fellow 2020 Democratic candidate John Delaney replied, "If you're not using your town hall, I will. Democratic candidates have to campaign everywhere and talk to all voters."
But Warren is unlikely to back down on her decision, adding on Twitter, "Here's one place we can fight back: I won't ask millions of Democratic primary voters to tune into an outlet that profits from racism and hate in order to see our candidates—especially when Fox will make even more money adding our valuable audience to their ratings numbers."