Liberal Group Targets Fox News Advertisers With 'Drop Fox' Ad, Encourages Them to Stop Funding Lies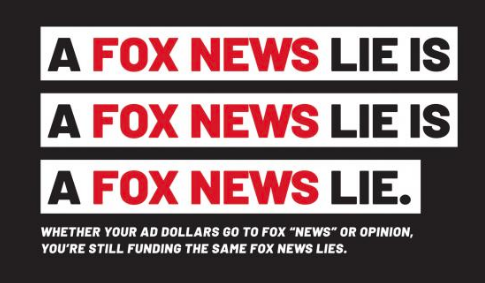 Media Matters for America, a liberal nonprofit and left-wing activist group that analyzes right-wing news content, focused months of research against Fox News' so-called "straight news division" and released a "Drop Fox" ad accusing their primetime hosts of daily outright lies.
Mediamatters.org released a 60-page report entitled "The Fox News Lie" Monday that aims to shatter the cable news network's frequent defense that its right-wing primetime hosts are completely separate from their daytime news anchors. The scrupulous Media Matters analysis listed at least one false piece of misinformation stated each day between January 1 and April 30. The study only targeted the "straight news" shows on both Fox News Channel and Fox Business Network which are anchored by figures the network touts as "fair and balanced" including Maria Bartiromo, Neil Cavuto, Ed Henry, Howard Kurtz and Shepard Smith.
The liberal group also commissioned an advertisement to run in this week's copy of The Hollywood Reporter which takes aim directly at Fox News' advertisers.
"A Fox News Lie is, A Fox News Lie Is, A Fox News Lie," reads the full-page ad. "Whether your ad dollars go to Fox 'News' or Opinion, You're still funding the same Fox News lies."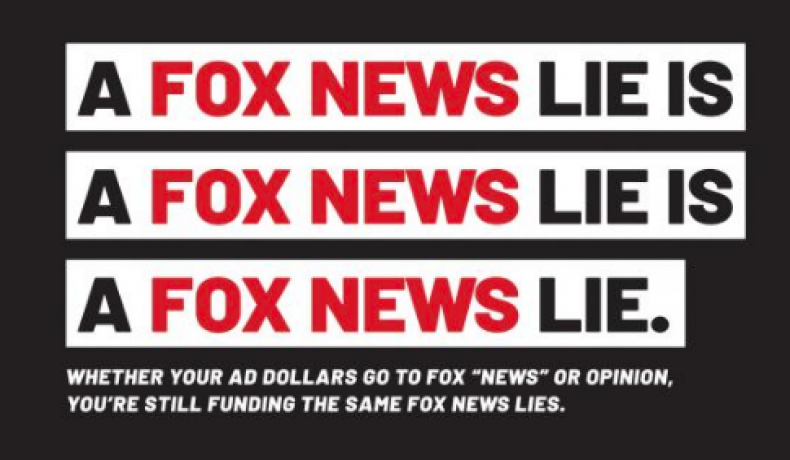 Angelo Carusone, president of Media Matters for America, released a statement Monday saying there is only a "false distinction" between the Fox opinion hosts such as Laura Ingraham, Sean Hannity and Mark Levin versus the "straight news" anchors including Chris Wallace, and America's Newsroom's Bill Hemmer.
"Fox News likes to tout the 'hard news' side of its operation, setting up a false distinction between its right-wing prime-time hosts and its news anchors. The network pushes this fictional division as a defense against those who flag the propaganda, lies, conspiracy theories, and bigotry pervading the network. But a Media Matters investigation found that the "news" side isn't as inoculated as the network claims. No matter what time of day you advertise on Fox News, you support the network's extremism and bigotry. Quarantining your ads to only a small subset of programs will not insulate your brand from public rebuke when Fox News' next controversy strikes. Both the "news" side and the "opinion" side are cogs in the same propaganda machine -- and both spread lies and misinformation daily with the same motive. The network as a whole is the problem, not merely a few prime-time hosts.
As Newsweek previously reported, network infighting appearing to show a "civil war" between the news and opinion figures recently bubbled over into on-air spats. Wallace and Ingraham took shots at each other's views on Attorney General Bill Barr's handling of Robert Mueller's report earlier this month, with Ingraham even calling into another show to complain about her fellow Fox News co-worker.
But Media Matters, which was founded by longtime Democratic operative David Brock in 2004, argues there is no distinction between the two, and any ad revenue pulled in by Fox News Channel or Fox Business Network feeds the same stream of constant misinformation regardless of who is leading the show.
Given that Fox News is far and away the top-rated cable news network in the U.S., Media Matters and other left-wing groups have moved toward trying to undercut them in one swoop from a legal or ethical standpoint.
In 2017, Fox News was pulled off the air in the United Kingdom after breaking Ofcom telecommunication rules over impartiality. Tucker Carlson and Hannity's shows were found not to have sufficiently reflected alternative viewpoints. After it stopped broadcasting Fox in the U.K. in August of 2017, British broadcaster Sky released a statement claiming the reason was simply due to low ratings and a focus on the U.S. market.
Over the past few years, Tucker Carlson and Laura Ingraham both lost advertisers after they made disparaging comments about a range of topics including women, school shooting survivors and Muslims. In 2018, Media Matters compiled a list of Ingraham's advertisers and David Hogg encouraged his nearly 1 million Twitter followers to pull their support—which several did.
The Media Matters team also set up a website, dropfox.com, as part of its campaign to encourage advertisers to sever ties with the number one rated cable news network. "Fox News is racist. Fox News is sexist. Fox News is propaganda. Fox News is bigoted. Fox News is bad for business," reads a damning scroll on the website.
Fox News declined to comment on the report.