Elizabeth Warren Says Mike Bloomberg Will Drop Another $100 Million 'to Erase America's Memory' of His Debate Performance
Democratic presidential candidate Senator Elizabeth Warren continued to go after billionaire Mike Bloomberg after the conclusion of the ninth Democratic primary debate, suggesting that the former New York mayor will shell out even more of his vast fortune to "erase America's memory" of his poor debate performance.
Warren, who Newsweek declared as the winner of Wednesday's debate, went on the offensive against Bloomberg early on and kept up the pressure throughout the night. Meanwhile, Bloomberg struggled to respond to attacks from all sides, as several of the Democratic candidates argued that he was attempting to "buy" the election.
"He is a threat because he's already dropped $400 million in this campaign," Warren, who represents Massachusetts, said in a post-debate interview with MSNBC. "And understand this: after his performance tonight, I have no doubt he is about to drop tonight another $100 million in this campaign," she continued.
Pressed as to why she believed Bloomberg would spend more, Warren responded: "Oh come on, in order to erase America's memory of what happened on that debate stage."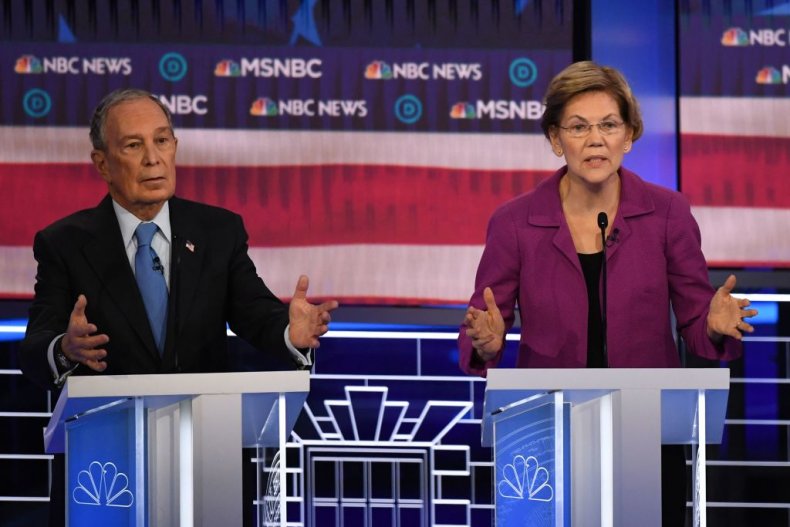 Newsweek has reached out to Bloomberg's campaign for comment, but they had not responded as of the time of publication.
Bloomberg, who has an estimated net worth of about $60 billion and was ranked by Forbes as the ninth richest person in the world in 2019, launched an unconventional presidential campaign in late November. He chose to forego campaigning in early voting states and instead has focused on buying up television ads nationwide–specifically targeting Super Tuesday voting states–to convince voters.
The billionaire former Republican has self-funded his campaign, choosing to avoid seeking grassroots support. He has already spent about $418 million on ads, which is more than all the other Democratic candidates combined and 10 times more than the current front-runner, Senator Bernie Sanders of Vermont.
Meanwhile, the former mayor's record has faced scrutiny and intense backlash. During Bloomberg's tenure as the leader of New York city, his administration greatly expanded the unconstitutional "stop and frisk" policing strategy, which disproportionately targeted minority communities. Although Bloomberg apologized for the policy shortly before launching his presidential campaign, he had defended it for years and even suggested on multiple occasions that minorities are inherently more likely to be criminals.
The billionaire also has faced substantial criticism for a slew of alleged misogynistic and sexist remarks he has made towards women. Dozens of women who have worked for the businessman are known to have signed non-disclosure agreements about sexual harassment claims from their time working for his company.
On the debate stage, Warren pressed Bloomberg over whether he would release the women from the agreements, and he said he would not.
As the billionaire attempted to address the criticism about his treatment of women, he said: "Maybe they didn't like a joke I told." That comment drew loud gasps and audible boos from the audience.
Warren went hard against Bloomberg at the outset from the debate stage on Thursday.
"I'd like to talk about who we're running against," the senator said. "A billionaire who calls women fat broads and horse-faced lesbians. And no, I'm not talking about Donald Trump, I'm talking about Mayor Bloomberg. Democrats are not going to win if we have a nominee who has a history of hiding his tax returns, of harassing women and of supporting racist policies like red-lining and stop and frisk."