Mike Bloomberg's 'Unapologetic Racism' For His Stop and Frisk Policy Disqualifies Him From Running For President, Says Cynthia Nixon
Actress and former New York state gubernatorial candidate Cynthia Nixon strongly criticized Democratic presidential candidate Mike Bloomberg for what she called his history of "racism," saying that his controversial "stop and frisk" policing strategy should disqualify him from running for president.
Bloomberg, a billionaire businessman who served as New York's mayor from 2002 to 2013 and previously identified as a Republican, launched his Democratic campaign in late November. Instead of seeking grass-roots support from small donors, his campaign has spent hundreds of millions of dollars on TV ads targeting voters.
But the ex-mayor's record on race has been strongly criticized by activists, who have noted that his signature stop and frisk strategy disproportionately targeted minorities in New York, causing lasting harm to black and brown communities. While Bloomberg has apologized for the policing strategy, resurfaced clips that went viral this week show him defending the policy in 2013 and 2015.
"Your disgusting defense of your incredibly harmful stop and frisk policy was from 2015—long after you left office. And in late 2018 you were still singing its praises," Nixon, who has endorsed Senator Bernie Sanders, tweeted Wednesday evening. "This unexamined, unapologetic racism disqualifies you to run for President," she added.
Nixon is best known for her role as Miranda Hobbes in the popular television series Sex and the City.
Her post retweeted Bloomberg saying he had apologized for the harmful policing strategy. "I have apologized for taking too long to understand the impact of stop and frisk on Black and Latino communities," he wrote. "I inherited stop and frisk. In an effort to stop gun violence, it was overused. I cut it back by 95%. I should have cut it back sooner."
Newsweek has reached out to Bloomberg's campaign for a response to Nixon's criticism, but the campaign did not respond before publication.
As many critics have noted, Bloomberg's explanation does not match the reality. According to data compiled by the American Civil Liberties Union of New York, the number of reported stops per year increased by about 700 percent in New York City from 2002 to 2011.
In Bloomberg's first year in office, there were 97,296 reported stops by the police, while the number soared to 685,724 in 2011. The level started to decline in his last two years, but it was still far higher in 2013 than when he took office. A resurfaced interview from 2013 also shows Bloomberg strongly defending the policy during his last year as mayor.
"They just keep saying it's a disproportionate percentage of a particular ethnic group. That may be, but it's not a disproportionate percentage of those who witnesses and victims describe as committing the murder," he said in the interview with New York radio station WOR. "In that case incidentally, I think we disproportionately stop whites too much and minorities too little."
In 2015 remarks at the Aspen Institute, Bloomberg doubled down on his support for the policy, arguing that the majority of criminals are minorities. "Ninety-five percent of your murders—murderers and murder victims—fit one M.O. You can just take the description, Xerox it and pass it out to all the cops," he said.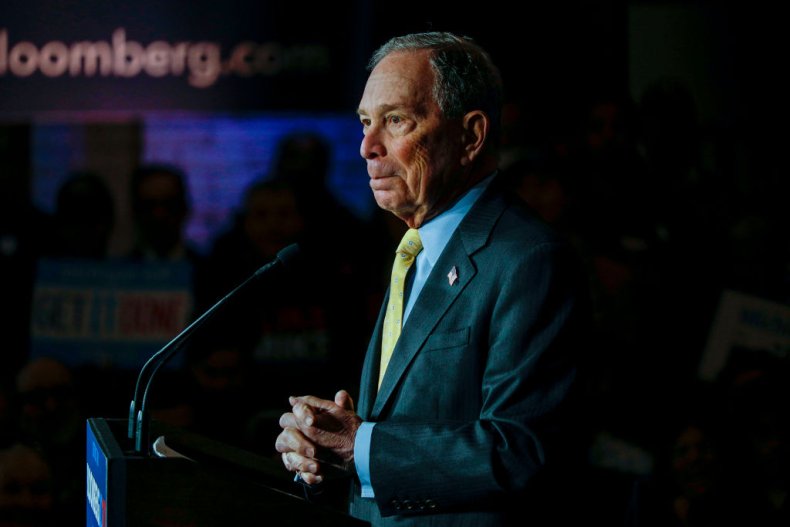 New York City's police changed the stop and frisk policy after the Center for Constitutional Rights sued in court to end the practice. That lawsuit led to the policy being declared unconstitutional in federal court at the end of Bloomberg's time as mayor. Although the billionaire has claimed he reduced the policy by 95 percent, this is false. The number of stops was about 192,000 in 2013, twice as many as when he took office in 2002.
On Tuesday, #BloombergIsRacist trended on Twitter, as many social media users shared clips of the former mayor's remarks as well as their personal experiences of harm from his administration's policies.
"If you live in New York, or know our history, you've been knowing that #BloombergIsRacist. He's awful," columnist and prominent Black Lives Matter activist Shaun King tweeted. "The world will soon know just how deep this man's bigotry goes."
Correction: A previous version of this article incorrectly stated that Cynthia Nixon was formerly a candidate for New York City mayor. She actually ran for New York state governor in 2018.