President Donald Trump briefly attempted to jump on Democratic presidential candidate Mike Bloomberg, calling the billionaire and former New York City mayor "a total racist" before deleting the tweet not long afterward on Tuesday.
Bloomberg, whose net worth is about $60 billion, has come under fire for his highly controversial "stop and frisk" policing strategy, which was implemented when he was New York's mayor from 2002 to 2013. The policy is now known to have disproportionately targeted and harmed minority communities.
Although Bloomberg has apologized for the policy and claimed he worked to end stop and frisk by the end of his time as mayor, recently resurfaced clips from 2013 and 2015 show that he strongly defended the policy in his final year in the job and years later. In the 2015 remarks, Bloomberg said: "Ninety-five percent of your murders—murderers and murder victims—fit one M.O. You can just take the description, Xerox it and pass it out to all the cops."
As #BloombergIsRacist trended on Twitter, Trump, who has been accused of making racist remarks, posted his own tweet criticizing the Democratic candidate.
"WOW, BLOOMBERG IS A TOTAL RACIST!" Trump wrote on Tuesday morning, sharing a clip of the former mayor's incendiary remarks. Sam Sacks, a reporter at The District Sentinel, first reported the president's deleted post.
Newsweek has reached out to the White House and the president's re-election campaign, but they had not responded before publication.
"President Trump's deleted tweet is the latest example of his endless efforts to divide Americans. I inherited the police practice of stop-and-frisk, and as part of our effort to stop gun violence it was overused," Bloomberg said in a statement emailed to Newsweek.
The president was formally censured by the House of Representatives in a largely partisan vote on a resolution that charged he made racist comments about four Democratic congresswomen last summer. Trump had tweeted that progressive Representatives Ayanna Pressley of Massachusetts, Alexandria Ocasio-Cortez of New York, Rashida Tlaib of Michigan and Ilhan Omar of Minnesota—who are all women of color—should "go back" to their countries, saying they "can't leave fast enough."
With the exception of Omar, who became a naturalized U.S. citizen about two decades ago, all the congresswomen were born in the U.S. Four Republicans voted with the Democrats to support the censure against the president after he repeatedly doubled down on his comments.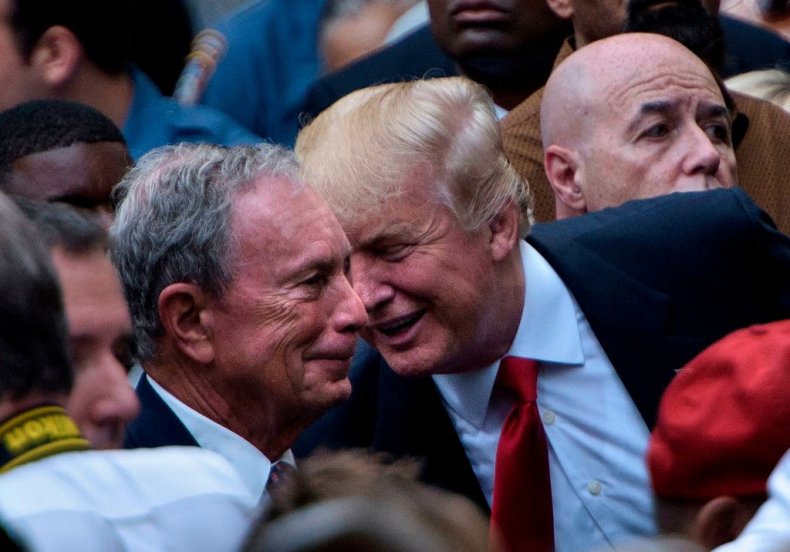 But Bloomberg has also been widely condemned as racist by many activists and critics, particularly for his previous defense of stop and frisk. Even though he apologized for the policing strategy ahead of launching his presidential campaign in late November, he has continued to defend trying the controversial policy.
"We did the best thing that we can. I think it had something to do with it [the decline in crime]," the former mayor said in a January interview on The Late Show With Stephen Colbert, after he was asked about stop and frisk.
"If you live in New York, or know our history, you've been knowing that #BloombergIsRacist. He's awful," Shaun King, a writer and Black Lives Matter activist, tweeted on Tuesday morning. "The world will soon know just how deep this man's bigotry goes."
This article has been updated with a statement from Bloomberg.