Elizabeth Warren Slams Betsy DeVos as 'Worst Secretary of Education,' Vows to Pick Ex-Public School Teacher
Elizabeth Warren has come swinging against Education Secretary Betsy DeVos.
The U.S. senator and Democratic presidential candidate called DeVos the "worst secretary of education we've seen" in an email to supporters Monday, and she vowed as president to nominate a former public school teacher "who is committed to public education."
"I'll just be blunt: Betsy DeVos is the worst Secretary of Education we've seen," the campaign email read. "She and her team are up to their eyeballs in conflicts of interest. Instead of championing our students, they protect for-profit colleges that break the law and cheat them."
Warren continued to take direct aim at DeVos, who is often criticized by Democrats for coming from a billionaire family, not having prior experience in a school environment and never having attended a public school.
The Massachusetts progressive promised that, if elected president, she would put forth a nominee with "real teaching experience," someone who "understands how low pay, tattered textbooks and crumbling classrooms hurt students and educators" and understands "the crushing burden of student debt on students and young professionals."
In a campaign video also released Monday, Warren said it "shouldn't be any surprise" that DeVos is a "terrible" education secretary because she "doesn't really believe in public education."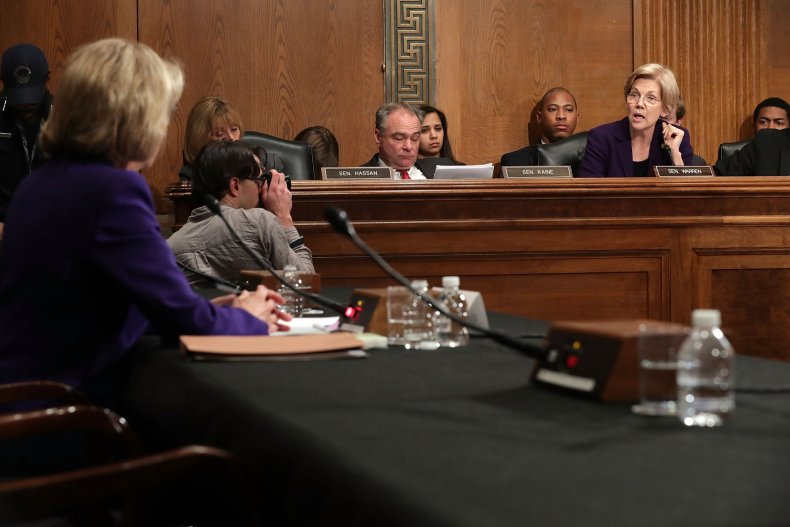 The Department of Education did not immediately respond to Newsweek's request for comment.
DeVos has also been ridiculed for not putting her own children through the public school system, in addition for her longtime advocacy of charter schools and school choice, which sometimes means the reallocation of money from public schools to for-profit and Christian-based schools.
Warren's announcement and series of lambasting remarks on the education secretary came hours before a campaign stop with the American Federation of Teachers' president in Pennsylvania, a union with some 1.7 million members.
Earlier that morning, fellow Democratic presidential candidate Julian Castro unveiled his "People First Education" plan, another sign of the competing forces at work within the crowded 2020 field that are vying for the endorsement of education unions. The National Education Association with 3.5 million members also has not endorsed a candidate.
Warren, once a New Jersey special education teacher, unveiled her plan last month to eliminate college debt and make public higher institutions free. It would eliminate up to $50,000 in student loan debt for household incomes less than $100,000, in addition to some form of debt forgiveness for household incomes between $100,000 and $250,000. Households bringing in upward up $250,000 would not qualify.
But with her plan comes a 10-year $1.25 trillion price tag, according to her campaign, which said it would pay for the costs by instituting an "Ultra-Millionaire Tax." This would impose a two percent annual tax increase on 75,000 American families "with fortunes of $50 million or more."
A Warren campaign aide told Newsweek last month the tax increases would pay for universal childcare, the college loan forgiveness and free tuition—and still have nearly $1 trillion left over. But economists expressed doubt that such a plan would generate enough revenue to cover the costs.
Once loan forgiveness is addressed, her plan states, a Warren administration would set out to make two- and four-year public colleges tuition free.