Elizabeth Warren Thanks Julian Castro For His Support Less Than One Month Before Iowa Caucus
Senator Elizabeth Warren has thanked former Housing and Urban Development Secretary Julián Castro for endorsing her primary campaign less than a month before the first caucus in Iowa.
The ex-2020 primary candidate revealed he was endorsing Warren on social media this morning, just four days after he dropped out of the presidential race himself.
Following his endorsement of the Massachusetts senator, Castro will join Warren at a Brooklyn campaign rally tomorrow night, CNN and The New York Times reported.
Castro tweeted on Monday morning that he was "proud" to join Warren in her "fight for big, structural change," saying his own story wouldn't be possible without "strong women who came before me."
In a video endorsement accompanying the post, the ex-2020 primary candidate said: "There's one candidate I see who's unafraid to fight like hell to make sure America's promise will be there for everyone, who will make sure no matter where you live in America, or where your family came from in the world, you have a path to opportunity too.
"That's why I'm proud to endorse Elizabeth Warren for president."
Responding to the endorsement video, Warren said: "Thank you, @JulianCastro! You've been a powerful voice for bold, progressive change and I'm honored to have your support.
"Together, we'll fight to make sure every single family in America has a path to opportunity."
Shortly after the former HUD secretary announced the end of his primary campaign on Thursday, January 2, the Massachusetts senator also thanked him for "proposing bold and progressive plans" during the race.
"You made this race stronger—and you will continue to be a leader in our party and our country for many years to come," she tweeted.
Newsweek has contacted the Warren 2020 campaign for further comment and information on the endorsement.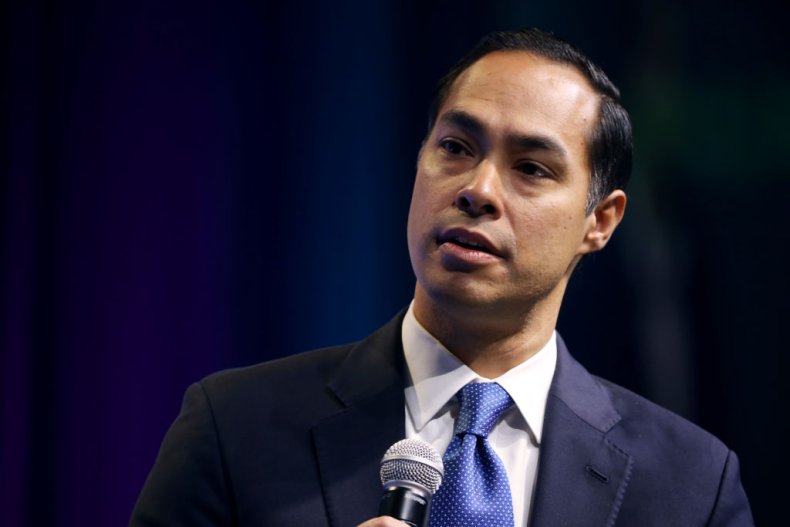 Castro's backing of Warren's presidential candidacy comes just 28 days before the Iowa caucuses on Monday, February 3—the first nominating event of the 2020 primary, followed eight days later by the New Hampshire primary.
As the Iowa caucus battleground stands, Sen. Bernie Sanders is polling in the lead with 22 percent support among Democratic voters in the state, according to the Real Clear Politics average.
Sen. Warren is in fourth place, with 15.3 percent of party voters backing her, putting her five points behind third place Joe Biden, according to the Real Clear Politics polling average.
It is unclear whether Castro's endorsement will have any impact on her standing in Iowa, as a recent CBS News/YouGov poll showed just 5 percent of primary voters in the state said they were considering supporting him, while zero percent backed the former HUD secretary when asked which one candidate they supported.
After he dropped out of the 2020 primary race, Castro said the Iowa caucus process "doesn't make any sense," saying people "would think that Republicans designed the Iowa caucus" if they were told about how the process worked.