Elizabeth Warren: Trump Is 'Scared' of Me—That's Why He Made 'Creepy Physical Threats' About DNA Test
Democratic Senator Elizabeth Warren had strong words for President Donald Trump on Monday evening, launching into a Twitter tirade against the U.S. leader that began with her accusing him of making "creepy physical threats" toward her because he's "scared."
Warren's comments came after Trump said he didn't "care" about her release of DNA test results indicating she has Native American heritage, despite the president repeatedly having drawn the senator's ancestry into question during his presidency. Trump also dismissed the Massachusetts senator's calls for him to donate $1 million to the National Indigenous Women's Resource Center because of a remark he made at a rally over the summer.
Speaking in Montana on July 5, Trump told supporters that if given the chance to debate Warren, he would offer to donate $1 million to a charity of her choice if she agreed to take a DNA test to prove her Native American roots. Warren is rumored to be a likely 2020 presidential candidate.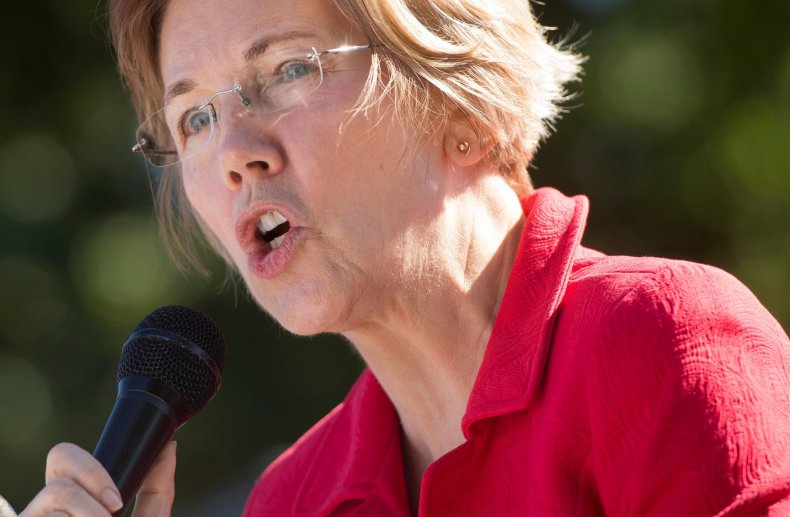 Warren posted a video to Twitter of Trump telling reporters that if he did follow through with such a donation, he would only "do it if I can test her personally." The president added, "That will not be something I enjoy doing either."
"We all know why @realDonaldTrump makes creepy physical threats about me, right? He's scared," Warren wrote. "He's trying to do what he always does to women who scare him: call us names, attack us personally, shrink us down to feel better about himself. It may soothe his ego–but it won't work."
It is unclear what other "creepy physical threats" Warren might have been referencing.
However, at the Montana rally, the U.S. leader appeared to describe wanting to toss a DNA kit at Warren's arm in a comment that also mocked the #MeToo movement.
"We will take that little [DNA] kit—but we have to do it gently. Because we're in the #MeToo generation, so we have to be very gentle. And we will very gently take that kit, and we will slowly toss it, hoping it doesn't hit her and injure her arm, even though it only weighs probably 2 ounces, and we will say, 'I will give you a million dollars to your favorite charity, paid for by Trump, if you take the test and it shows you're an Indian,'" the president said.
"And let's see what she does. I have a feeling she will say no," Trump said. "But we'll hold that for the debates. Do me a favor and keep it within this room."
Amid her criticism of Trump on Twitter, Warren discussed her decision to release the DNA test to push back against attacks by the president and other Republicans. She said her heritage has never played a role in her professional career and acknowledged that only tribal nations determine tribal affiliation. "I respect the distinction & don't list myself as Native in the Senate," she said.
Still, the Democratic senator has faced some criticism over her use of a DNA test to prove her heritage, with a Cherokee Nation official calling out the move.
Read more: Elizabeth Warren's DNA test reveals that she 'is running for president,' says Colbert
"Using a DNA test to lay claim to any connection to the Cherokee Nation or any tribal nation, even vaguely, is inappropriate and wrong," Cherokee Nation Secretary of State Chuck Hoskin Jr. said in a statement. "It makes a mockery out of DNA tests and its legitimate uses while also dishonoring legitimate tribal governments and their citizens, whose ancestors are well documented and whose heritage is proven," he said, adding: "Senator Warren is undermining tribal interests with her continued claims of tribal heritage."
Hoskin Jr. also noted that a DNA test is "useless to determine tribal citizenship," a point that Warren recognized herself.
"Sovereign tribal nations set their own legal requirements for citizenship, and while DNA tests can be used to determine lineage, such as paternity to an individual, it is not evidence for tribal affiliation," he said.