#WarrenForTheWin Trends After Massachusetts Senator Castigates Mike Bloomberg During Nevada Debate
Tens of thousands of people have declared Elizabeth Warren the winner of the ninth Democratic debate in Nevada, which may help revive her floundering campaign.
The hashtag #WarrenForTheWin was one of the top trends on Twitter after social media users praised the Massachusetts senator's conduct and delivery of policy ideas during the debate at the Paris Theater in Las Vegas.
One area in particular where Warren shone was her constant takedowns of billionaire candidate Mike Bloomberg.
Warren attacked the former New York mayor, who has overtaken her in several polls over the past few weeks, over a number of issues including his use of nondisclosure agreements and the controversial stop-and-frisk policy used by the NYPD during his time as mayor.
Warren also used the debate to try and put off voters by comparing Bloomberg's behavior to that of President Donald Trump.
"I'd like to talk about who we're running against, a billionaire who calls women fat broads and horse-faced lesbians," Warren said referring to comments allegedly made by Bloomberg about the British royal family, as revealed by a pamphlet compiled by work colleagues and given to him for his 48th birthday in 1990.
"I'm not talking about Donald Trump. I'm talking about Mayor Bloomberg," Warren said.
Warren also urged her rival candidate to "release all of those women" who he made sign nondisclosure agreements while working at his company in order to allegedly suppress sexual harassment allegations from coming out.
"What we need to know is exactly what's lurking out there," Warren said. "He has gotten some number of women, dozens—who knows—to sign nondisclosure agreements, both for sexual harassment and for gender discrimination in the workplace.
"This is not just a question of the mayor's character. This is also a question about electability. We are not going to beat Donald Trump with a man who has, who knows how many, nondisclosure agreements and the drip, drip, drip of stories of women saying they have been harassed and discriminated against."
In his defense, Bloomberg admitted that his company did make "very few" women sign NDAs.
"None of them have accused me of doing anything other than maybe they didn't like a joke," he added. "These are agreements between two parties who wanted to keep it quiet, and that's up to them. They signed those agreements and we'll live with it."
Warren also brought up the former New York mayor's stop-and-frisk policy, which has been a sticking point throughout Bloomberg's campaign, over claims it purposely targeted minorities.
During the debate, Bloomberg said he was embarrassed with how the policy "turned out," in New York, adding the main issue was "it got out of control" in the city.
"When the mayor says that he apologized, listen very closely to the apology. The language he used is about stop and frisk. It's about how it turned out," Warren said.
"Now, this isn't about how it turned out. This is about what it was designed to do to begin with. It targeted communities of color, it targeted black and brown men from the beginning.
"And if you want to issue a real apology, the apology has to start with the intent of the plan as it was put together, and the willful ignorance day by day by day of admitting what was happening even as people protested in your own street, shutting out the sounds of people telling you how your own policy was breaking their lives.
"You need a different apology," Warren said.
The graphic below, provided by Statista, illustrates the number of minutes each candidate spoke during the debate.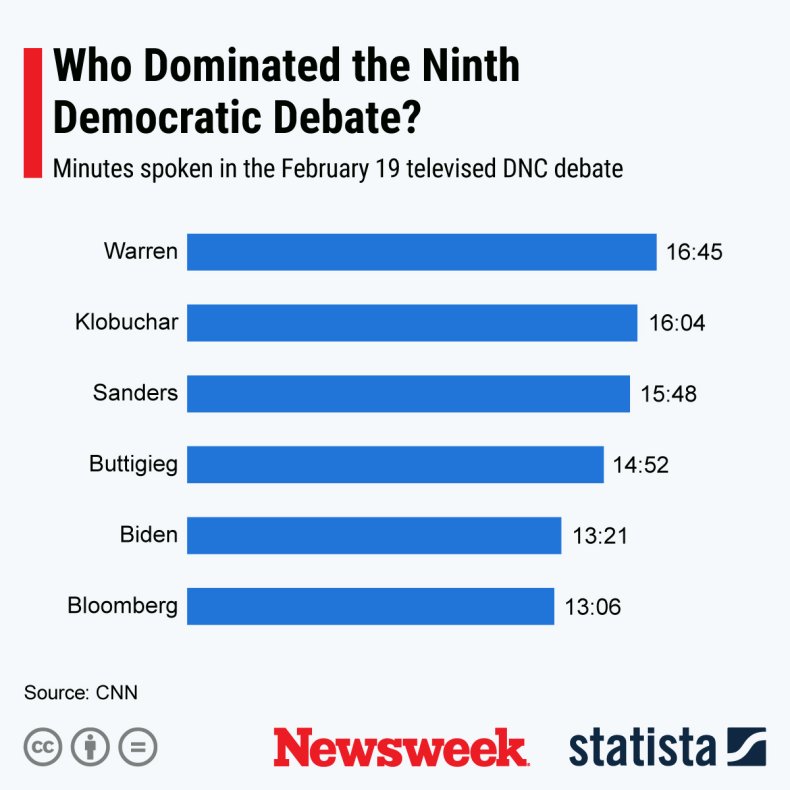 It wasn't just Bloomberg who felt Warren's scorn during the debate. In one section discussing health care, Warren also called out the plans of several of her rival candidates one after another to applause and cheers from the audience.
"We need to get everybody's health care plan out here. Mayor [Pete] Buttigieg really has a slogan that was thought up by his consultants to paper over a thin version of a plan that would leave millions of people unable to afford their health care. It's not a plan. It's PowerPoint.
"And [Amy Klobuchar's] plan is even less. It's like a Post-it note 'insert plan here,'" she added.
"Bernie [Sanders] has a good start, but instead of expanding and bringing in more people to help, his campaign relentlessly attacks everyone who asks a question or tries to fill in details about how to actually make this work. And then his own advisors say, '[it] probably won't happen anyway.'
"Look, health care is a crisis in this country. My approach to this is we need as much help for as many people as quickly as possible and bring in as many supporters as we can. And if we don't get it all the first time, take the win, I can come back into the fight to ask for more."
Bloomberg's office has been contacted for comment.