Elizabeth Warren's Wealth Tax Gains Support From GOP Voters
Senator Elizabeth Warren introduced legislation that would tax the wealthy on Monday, and her proposal is mounting support from voters on both sides of the aisle.
The Ultra-Millionaire Tax Act would tax the net worth of America's richest people by applying a 2 percent tax to those with a net worth above $50 million and a 3 percent tax to those worth above $1 billion. Net worth includes value of stocks, real estate, cars and anything else a person owns, minus their debts.
Polls show that Warren's proposal becoming increasingly popular, with more than three in five Americans saying they support a wealth tax, including a majority of Republican voters, which she's hoping congressional Republicans will recognize.
"A wealth tax is popular among voters on both sides for good reason: because they understand the system is rigged to benefit the wealthy and large corporations," Warren said in a statement. "As Congress develops additional plans to help our economy, the wealth tax should be at the top of the list to help pay for these plans because of the huge amounts of revenue it would generate."
A survey conducted by Reuters/Ipsos earlier this year found that a majority of Republican voters, 53 percent, agreed that "the very rich should contribute an extra share of their total wealth each year to support public programs."
"Many voters who self-identify as Republicans report that they'd be more likely to vote for a candidate that supports a wealth tax," a report from progressive economics firm Roosevelt Forward reads.
Polling in several states, the firm found that Republican support for a wealth tax is most prominent in Maine, Arizona, North Carolina, Georgia and Iowa.
Warren's proposal, which is co-sponsored by Senator Bernie Sanders among others, is similar to the plan she unveiled as a Democratic primary candidate. Sanders had also previously suggested a similar tax which would hit more taxpayers than Warren's version.
Warren's latest version, which would begin to apply in 2023 based on net worth calculations from the year before, is expected to raise $3 trillion over a decade, according to an analysis provided by the lawmakers. Her initial plan was said to raise $2.75 trillion.
University of California Berkeley professors Emmanuel Saez and Gabriel Zucman, who conducted the analysis, approximated that 100,000 American families would be subjected to the tax.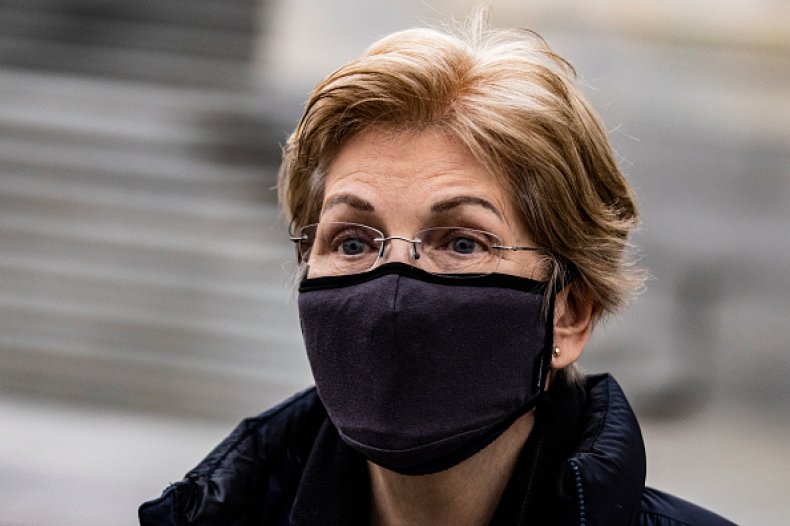 The analysts noted that the revenue estimate is higher than previously stated because billionaire wealth has ballooned over the past two years.
According to the latest report from the Institute on Policy Studies, U.S. billionaires have grown $1.3 trillion wealthier over the course of the coronavirus pandemic. The analysis indicated that 664 of the nation's billionaires were collectively worth $4.3 trillion at market close on February 19—a figure 44 percent higher than 11 months ago.
The authors of the study noted that the pandemic wealth gain alone could pay for more than two-thirds of President Joe Biden's $1.9 trillion coronavirus relief proposal.
"Even as congressional Republicans try to nickel-and-dime suffering Americans by opposing President Biden's American Rescue Plan, including its $1,400 relief checks, American billionaires have reaped $1.3 trillion in pandemic profits," Frank Clemente, executive director of Americans for Tax Fairness, said. "The need for the kind of fair-share tax program Biden ran and won on becomes clearer every day, as billionaire wealth balloons while working-family hopes deflate."
Biden did not propose a wealth tax during the 2020 Democratic presidential primaries, but with 10 million Americans out of work due to the pandemic and the wealthiest continuing getting rich, Warren's proposal may add pressure on the president, whose stimulus package did not propose any tax increases.
"As Congress develops additional plans to help our economy, the wealth tax should be at the top of the list to help pay for these plans because of the huge amounts of revenue it would generate," Warren said. "This is money that should be invested in child care and early education, K-12, infrastructure, all of which are priorities of President Biden and Democrats in Congress."