'I'll Be Gone in the Dark' Director Talks Golden State Killer and Michelle McNamara
Almost one year after true-crime documentary I'll Be Gone In The Dark premiered on HBO Max, a special bonus episode, entitled "Show Us Your Face," is set to air today. Director Elizabeth Wolff has spoken exclusively to Newsweek about the Golden State Killer, Michelle McNamara's search for the truth, and the importance of armchair detectives.
I'll Be Gone in the Dark premiered in June 2020 on HBO Max, shocking and intriguing true-crime fans across the world.
The harrowing six-episode series told the true story of McNamara and her quest to find the Golden State Killer, who was later revealed to be Joseph James DeAngelo.
McNamara wrote the award-winning book, I'll Be Gone in the Dark about her obsession with finding the Golden State Killer, an American serial killer, rapist and burglar who committed at least 13 murders, 50 rapes and 120 burglaries across California between 1973 and 1986.
On April 21, 2016, McNamara suddenly died from an accidental overdose, never seeing her book published.
Her husband, comedian Patton Oswalt, researcher Paul Haynes and true crime writer Billy Jensen finished the book and published it posthumously in February 2018.
Around the same time, Paul Holes, chief of forensics in Contra Costa County, reconstructed the killer's family tree with the help of genetic genealogist Barbara-Rae Venter, following advice from McNamara.
On April 24, 2018, 72-year-old DeAngelo was arrested and charged with eight counts of first-degree murder.
Due to California's statute of limitations on pre-2017 rape cases, DeAngelo was not charged with the rapes he committed during the 1970s, but he was charged with 13 related kidnapping and abduction attempts.
He pleaded guilty and was sentenced to life imprisonment without the possibility of parole on August 21, 2020.
Speaking exclusively to Newsweek, director Elizabeth Wolff shared why she wanted to tell McNamara's story.
She said: "I think what really drew me to it was Michelle's story. I was very skeptical about taking on such a dark, true-crime subject matter, but what drew me to it was the complications of Michelle's story.
"She really struggled to build a career as a writer as well as find time to be a mother and wife and the ways in which her struggle to both write and to investigate pulled her in all these competing directions.
"To me, I don't think this would have been the same story if it was just a straight story about the Golden State Killer and his atrocious crimes.
"Being able to see it through Michelle's investigation and to understand through Michelle why we as a culture are so drawn to these stories was really appealing to me."
The documentary series, alongside the special bonus episode, features many of the Golden State Killer's survivors, as well as his victims' families.
The special bonus episode itself includes footage from DeAngelo's sentencing, where his survivors were able to give impact statements.
Wolff explained: "From the beginning, we didn't want to do anything that was going to retraumatize our survivors or make them feel like they were being taken advantage of.
"We really wanted them to feel like this was an opportunity for them to tell their story the way they wanted to tell the story and ultimately I feel very good about the way we developed those relationships.
"It was hard though, those interviews are hard and it takes a lot of time to build that trust and get those stories and to get people to open up to you and each one of the survivors we spoke to, an incredible about of credit and respect for their willingness to open up."
The bonus episode features a startling apology from DeAngelo, something which Wolff described as a "narcissistic urge."
During his sentencing period, DeAngelo portrayed himself as a weak, vulnerable elderly man.
However, during the I'll Be Gone in the Dark Special Episode, clips of DeAngelo looking fit and active in his cell, pacing around, climbing up on the bed and blocking out the light coming in from the window challenge that narrative.
Wolff reflected: " We [the crew] talked a lot about his apology and we analyzed it and I don't think him speaking gave anyone closure.
"I think that him speaking was just another example of this narcissistic urge to own the narrative and be in charge.
"He was weak and feeble during the whole sentencing period and when it was time for him to talk, he stood up like the strong man we had seen in the prison videos. It kind of got under my skin to hear him apologize and to fake or put on the mask of remorse."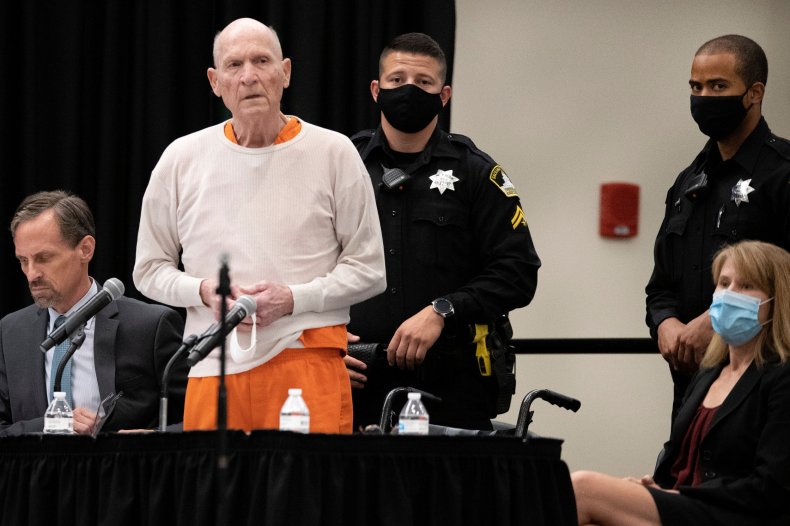 The bonus episode of I'll Be Gone in the Dark also addresses the case of Kathleen Lombardo, which McNamara was intrigued by before her death.
On August 1, 1984, 24-year-old Kathleen Lombardo was sexually assaulted and murdered in McNamara's hometown of Oak Park, Chicago.
Fourteen-year-old McNamara knew Lombardo from the church but the pair were not particularly close, due to the 10-year age gap.
In McNamara's book and the special episode, it explained the case of Lombardo was what sparked McNamara's interest in unsolved crimes.
She wrote on her personal blog, True Crime Diary: "I trace my obsession to the moment in the alley with the pieces of Walkman when I was 14. Kathy Lombardo was gone. She wasn't coming back. But he, whoever he was, was still out there. The hollow gap of his identity was violently powerful to me."
The case remains unsolved.
I'll Be Gone in the Dark Special Episode concludes with a message updating viewers on the status of Lombardo's case.
After three Freedom of Information Act requests made by the filmmakers and Kathleen Lombardo's brother Chris Lombardo were rejected, they filed a lawsuit with the Oak Park Police Department in a bid to gain access to case files and forensic records relating to the Lombardo case.
The Oak Park Police Department responded that the investigation was ongoing and refused to provide access to the requested records. Today, the lawsuit's outcome is pending.
Wolff said she hoped the inclusion of McNamara's links to the story of Kathy Lombardo would serve as a "call to action" to help find the answers for Lombardo's family.
She said: "The episode ends with really a call to action for sleuths citizen sleuths, armchair detectives like Michelle to pick up where she left off and try and advance this and other cases that have gone cold.
"I'm not a detective, I'm not an investigator so I am really hopeful other people will pick up where she left off and if they can advance this case then, who knows, maybe there is another chapter to this story. I hope so."
I'll Be Gone in the Dark Special Episode is streaming now on HBO Max.