Producers for The Ellen DeGeneres Show have denied rumors that the long-running talk show is coming to an end following the continued backlash against the host.
Production company, Telepictures Television were forced to respond to the rumors, which originated in The Sun, amid falling ratings and negative public opinion of the 62-year-old.
Representatives for the host's production company told The New York Post: "Telepictures can confirm it's untrue."
The Sun alleges the show is set to be axed due to ratings falling 14 percent to a new season 17 low rating of 1.2, per to TVNewsCheck.
DeGeneres's character has suffered intense scrutiny in the last year with several allegations about her treatment of staff and guests on her show emerging.
On March 20, one of DeGeneres' ex-employee comedian Kevin T. Porter started a Twitter thread encouraging users to share "insane stories" about the presenter which opened the floodgates to a barrage of bullying accusations.
One prominent response was from TV writer Benjamin Siemon who wrote: "A new staff member was told 'every day she picks someone different to really hate. It's not your fault, just suck it up for the day and she'll be mean to someone else the next day.' They didn't believe it but it ended up being entirely true."
DeGeneres has consistently denied such allegations, once telling the New York Times: "That bugs me if someone is saying that because it's an outright lie."
The show ceased being filmed in front of a live audience in March due to the coronavirus outbreak.
At the time, DeGeneres' production company released a statement, saying: "This temporary measure will be reviewed on an ongoing basis and will not impact the production schedule of Ellen."
DeGeneres herself addressed the temporary change in a tweet, writing: "To everyone who was looking forward to coming, I'm so sorry. But I'm doing this for the health of my fans, my staff, and my crew.
"It has nothing to do with a warrant for my arrest in the state of Florida," she joked.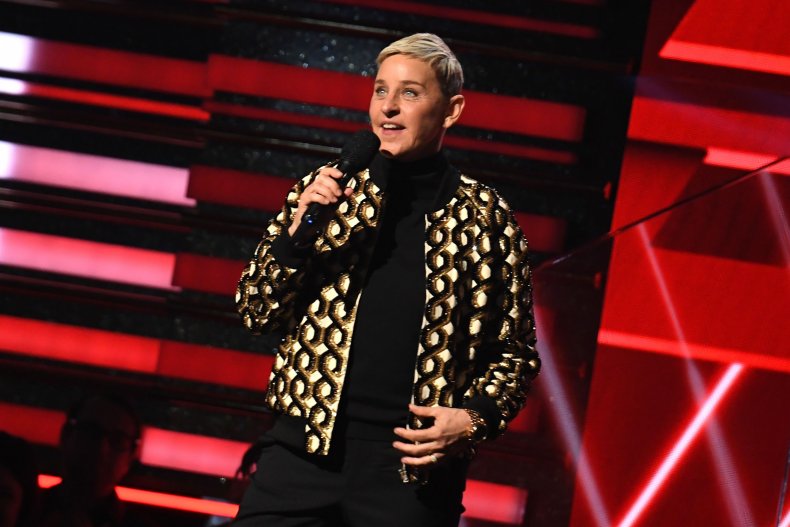 Staff members have claimed they were kept uninformed about changes being made due to COVID-19.
Show insiders told Variety the stage crew received no written communication about the status of their working hours or pay for over a month.
Prior to this, DeGeneres faced intense backlash for comparing coronavirus lockdown to being in prison, in a joke that did not land well among fans or the general public, at all.
"[Quarantining at home] is like being in jail, it's mostly because I've been wearing the same clothes for ten days and everyone in here is gay," she said on her show.
According to a source from US Weekly, DeGeneres is "at the end of her rope" with all the bad publicity.
"She thought this was all just sour grapes from a few haters. But it's not a passing thing – the hits just keep coming," they said.
DeGeneres has also been heavily criticized for her apparent friendship with former President George W. Bush.