Elon Musk Gambles 15 Percent of His Net Worth on Twitter
Elon Musk's audacious move to buy Twitter outright, means the mogul is apparently prepared to spend 15 per cent of his net worth on the purchase.
The billionaire Tesla and SpaceX chief executive's proposal, announced on Thursday morning, comes just days after it was revealed he owns a 9.2 per cent stake in the social media platform.
Twitter chiefs had offered Musk a place on the board of the company, which would have limited his stake to 14.9 percent, but Musk on Monday refused the offer.
He is now proposing to pay $54.20 a share to snap up the rest of the company in a hostile takeover. It would mean Musk paying $41.39 billion for the social media company.
The 50-year-old is currently worth an estimated $273 billlon, according to Forbes—making him the wealthiest man in the world. Amazon founder Jeff Bezos is currently no. 2 with a relatively net worth of $181.3 billion.
If Musk does purchase Twitter, the price would equate to about 15 per cent of his fortune.
Following Musk's proposal, Twitter released a statement saying: "The Twitter Board of Directors will carefully review the proposal to determine the course of action that it believes is in the best interest of the Company and all Twitter stockholders."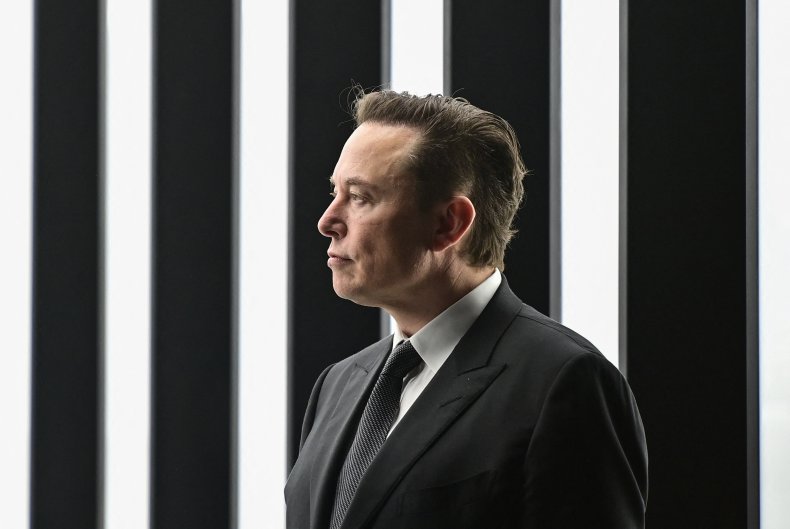 Musk is a keen user of Twitter, regularly tweeting to his more than 80 million followers.
The billionaire, who has previously been accused of using his own tweets to manipulate stock prices, has in recent days been critical of Twitter.
Musk faces a New York lawsuit that alleges that he illegally delayed disclosing his stake in the social media company so he could buy more shares at lower prices.
Alex Spiro, a New York lawyer representing Musk, did not immediately respond to a query from the Associated Press about the lawsuit.
Newsweek has contacted Twitter and representatives for Musk for comment.
In a letter to Twitter chairman Bret Taylor outlining his offer to buy the company, the businessman said he did not have "confidence in management" at the company.
He added: "I invested in Twitter as I believe in its potential to be the platform for free speech around the globe, and I believe free speech is a societal imperative for a functioning democracy.
"Since making my investment I now realize the company will neither thrive nor serve this societal imperative in its current form.
"Twitter needs to be transformed as a private company."
How Did Elon Musk Get So Rich?
Musk's wealth has largely been made through his plans to revolutionize transport—on Earth and in space.
He owns 21 per cent of electric carmaker Tesla, while his rocket company SpaceX was valued at £74 billion after a funding round in February last year.
Musk, who grew up in South Africa before immigrating to Canada aged 17, also founded the Boring Company in 2016, which builds transport, utility, and freight tunnels.
In 2002, Elon Musk got an almost $176 million pay day when digital wallet website PayPal was sold to eBay; he had been the company's CEO and at the time owned 11 per cent of the shares.
Despite his enormous wealth, former partner Grimes, real name Claire Boucher, claimed the businessman often "lived below the poverty line" and told Vanity Fair last month that he would not even shell out on a new mattress despite theirs having a hole in it.