Elon Musk Dances, Throws Jacket Across Stage in Shanghai As Tesla Delivers First Made-in-China Cars
Tesla CEO Elon Musk celebrated the first consumer car deliveries from its engineering plant in China today by breaking into dance and throwing his jacket across the stage.
Speaking during a ceremony for the first China-made Model 3 electric cars, held inside the Gigafactory 3 in Shanghai, Musk thanked his team and government officials, and noted his company would "not be here today" without the support of early-adopters in China.
"Bet you weren't expecting that," a smiling Musk told the crowd, left wearing a black t-shirt over a white dress shirt after the impromptu dance session.
It seems somewhat inevitable the clip is destined to become an internet meme. Indeed, the CEO shared a 15-second video of it on his own Twitter profile, captioned: "At Tesla Giga Shanghai NSFW!!"
The deliveries mark a quick turnaround since production at the Gigafactory 3 began last October, following the start of its construction roughly a year ago. Reuters reported deliveries had officially started last week when 15 Tesla employees received Model 3 cars they had purchased.
On-stage today at the Shanghai ceremony, Musk said: "We want to work hard, but have a good time as well. It's important to look forward to coming to work in the morning.
"You spend a lot of your life at work, so we want to make it a real good vibe. The test is, do you look forward to coming to work in the morning and, if not, we should fix it.
"It should be like 'cool, work.' I very much support any actions in this direction. So, if you want to do some quirky stuff in your work area, that's totally cool by me. Obviously, look at me."
To applause, the CEO said Tesla will soon create a Chinese "design and engineering center" that will design an original car from inside the country. "Something the world hasn't seen before," he noted, referencing the reveal of the much-discussed Cybertruck last year.
No exact time scale for the center was confirmed.
"The goal of Tesla from the beginning has been to accelerate the advance of sustainable energy. It's always tough [with] new technology," Musk told the audience. "You don't just have to design the product but you have got to design and make the manufacturing system work.
"The manufacturing system is probably 100 times harder than the prototype. And as we increase the volume it gets more difficult... it's not easy, but we could not have done it without you. Sorry for saying thank you so many times, but it's really a big deal."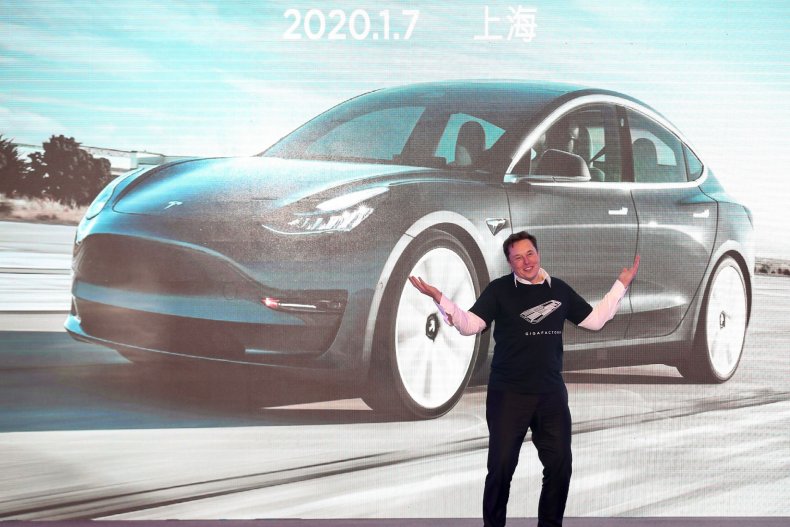 He added: "We intend to continue making a significant investment, and increasing investment in China, making the Model 3 and the Model Y and future models also in China."
Tesla released a promo video today showing production of its vehicles, captioned: "We just delivered our first customer cars from Gigafactory Shanghai, marking only one year from when the teams broke ground on the site." Previously, all factories were based inside the U.S.
The graphic below, provided by Statista, shows how Tesla vehicle deliveries have increased between 2012 and 2019, based on company statistics.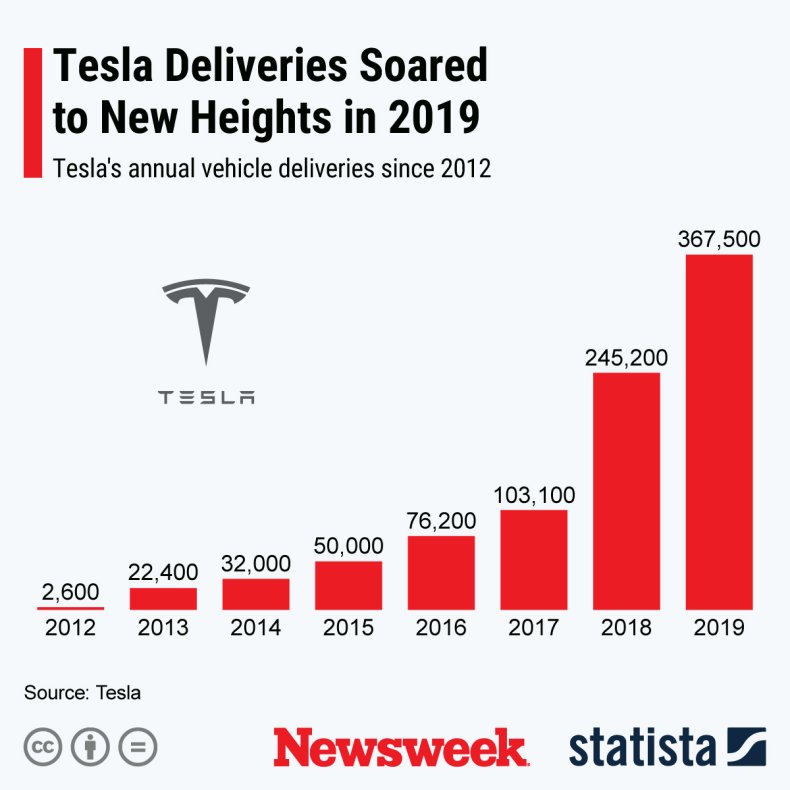 This article was updated to include an infographic.