Elon Musk Says Tesla Now Has 250,000 Cybertruck Pre-Orders
Elon Musk has said on Twitter that Tesla has now received 250,000 pre-orders for its futuristic Cybertruck, the electric pickup that was unveiled just last week.
The billionaire technologist has been using social media to update his 29.7 million followers with details about the vehicle's pre-orders since November 23, when he wrote that Tesla had attracted 146,000 pre-orders since the headline-grabbing reveal in California two days prior.
Musk teased at the time that 42 percent of Cybertruck converts opted for a dual motor all-wheel drive, 41 percent the tri-motor and 17 percent single motor.
Since then, the CEO has been publishing brief tweets with fresh numbers. In the latest update, he wrote: "250k." Currently, Cybertruck fans can put down a refundable amount of $100 to retain a spot in the queue. Final orders for the pickup will be completed as the 2021 production date nears.
The tri-motor AWD production ($69,000) is expected to begin in late 2022, Tesla said. The single motor rear wheel drive is priced at $39,900 and the dual motor all wheel drive costs $49,900. An extra $7,000 will secure the price of a "full self-driving" feature in the Cybertruck range.
Despite the amount of deposits steadily rising this week, it remains to be seen how many people will actually convert their $100 to an actual order in the coming years. With hype high and the existing price-of-entry low, it would not be a surprise to see pre-order demand rise further.
As the Tesla chief noted, the spike in pre-orders has been accomplished without using traditional advertising or paid endorsements. It seems the unconventional design was enough.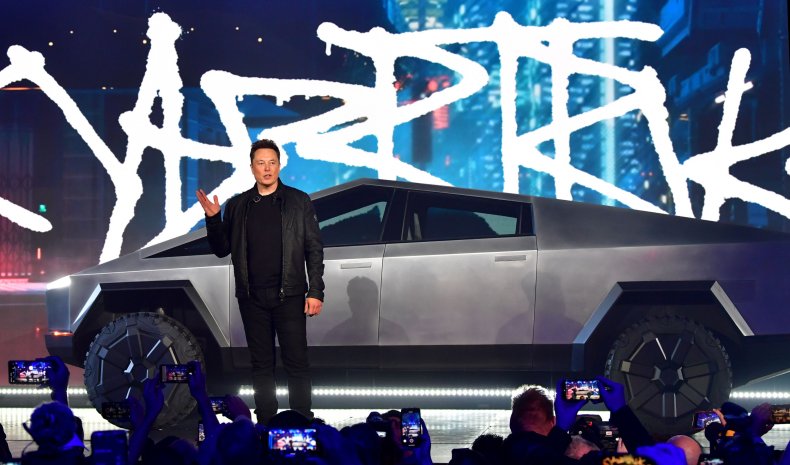 The Cybertruck launch briefly went off the rails after two windows of the on-stage car shattered during a test designed to show off their strength, but the pickup has continued to dominate the conversation on social media due to its polarizing aesthetics and competition with Ford.
A video uploaded to Twitter by Musk on Sunday, appearing to show a Cybertruck dominating an F-150 in an uphill tug of war, spurred intense debate and has since attracted more than 13.5 million views. Even physicist Neil deGrasse Tyson could not resist weighing in.
Ford appeared to reject a rematch, with a spokesperson saying the test was absurd. Newsweek has compiled some comparisons between the Cybertruck and F-150.
According to the Tesla website, its top Cybertruck model will be able to accelerate from 0-60 miles per hour in under 2.9 seconds, will have an estimated range of 500-plus miles and boasts a total towing capacity of more than 14,000 pounds.
After the steel truck was brought to the stage, it drew immediate comparisons to the DeLorean. Referencing the design choices, Musk commented: "Doesn't look like anything else."
Analysis suggests why the Cybertruck makes sense for Tesla. The graphic below, provided by Statista, illustrates the share of total U.S light vehicle sales from January to October 2019.