#Cybertruck and #DeLorean Trend as People Compare Elon Musk's Tesla Electric Truck to Iconic Car
The unique design of Tesla's new "Cybertruck" has caused quite a stir on social media after being unveiled to the world at an event in California yesterday.
The imposing exoskeleton, which is blocky, angular and would not appear out of place in a dystopian future, was embraced by some and criticized by others, but became an instant talking point. Cutting through the noise, one comparison kept popping up: the DMC DeLorean.
"Holy sh** it's got a stainless steel body. The only car to ever do that...was the DeLorean," noted Ryan McCaffrey, who hosts a popular Tesla podcast.
He was far from the only person to make the link to the car made famous by Back to the Future back in 1985, as "Cybertruck" and "DeLorean" quickly became trending topics on Twitter this morning as images of the new electric Tesla truck sparked debate online.
"First Tesla put gullwing doors on the Model X. Now they're building a stainless steel-body Cybertruck, It's as if Elon Musk is talking directly to me," McCaffrey added via his twitter profile. "And somewhere up there, John DeLorean is smiling."
The initial run of the DMC DeLorean was produced between 1981 and 1983, made iconic by its gull-wing doors and stainless steel body. As noted by Britannica, the sports car company, despite becoming well-known for its time-traveling abilities in the hit movie franchise, had gone bust by the time the films hit theaters. Some pre-owned DeLoreans are still available for sale today.
Tesla CEO Elon Musk, who suffered a slight snafu as the windows of the Cybertruck shattered during the on-stage demonstration that was intended to show off its armored glass panels, joined in the Twitter conversation about the design, tweeting: "Nobody *expects* the Cybertruck."
There were jokes and memes, of course.
Some said the truck looked like a video game polygon car that had failed to load properly. Some said it may have been thought up when Musk famously smoked pot with Joe Rogan. Others said it looked like a vehicle designed by a child. But again, it clearly turned heads.
And as the dust settled, some people were saying the design of the truck was growing on them. "Tesla's Cybertruck is the mix of a Halo Warthog, DeLorean, the drawing I made of cars when I was four, and a Lamborghini. Honestly... it's weird but I like it," noted one Twitter user.
"CyberTruck is wild. Like super weird," wrote popular tech YouTuber Marques Brownlee. "On one hand it's going to look wildly unconventional and strange, but on the other hand, completely ignoring any normal restrictions when it comes to design can be freeing in a way."
Tesla says on its website that the Cybertruck accelerates from 0-60 mph in 2.9 seconds and offers up to 500 miles of range. It claims to have the ability to "pull near infinite mass" and comes with a towing capability of more than 14,000 pounds. The truck's starting price is $39,900.
Speculation about the design of the Cybertruck has swirled for years, with Business Insider reporting way back in 2013 that Tesla was planning to create a pickup.
On stage this week, Musk was clearly aware the design of the Cybertruck would stand out from the crowd, proclaiming at the start of the unveil that it "doesn't look like anything else."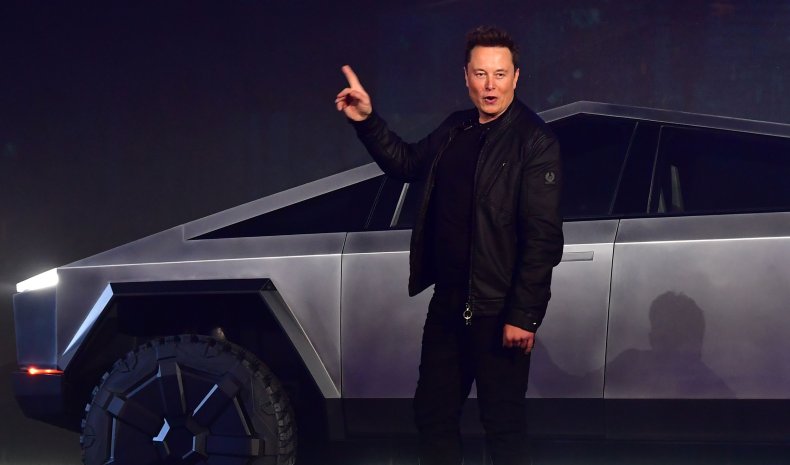 For better or worse, he was right. In any case, the world was warned well in advance that the design of the pickup truck would likely be unconventional.
"It's gonna be like a really futuristic-like cyberpunk, 'Blade Runner' pickup truck," Musk told Recode's Kara Swisher in an interview published last year. "It's gonna be awesome, it's gonna be amazing. This will be heart-stopping. It stops my heart. It's like, oh, it's great," he promised.
Analysis suggests the Cybertruck makes total sense for Tesla. The graphic below, provided by Statista, illustrates the share of total U.S light vehicle sales from January to October 2019.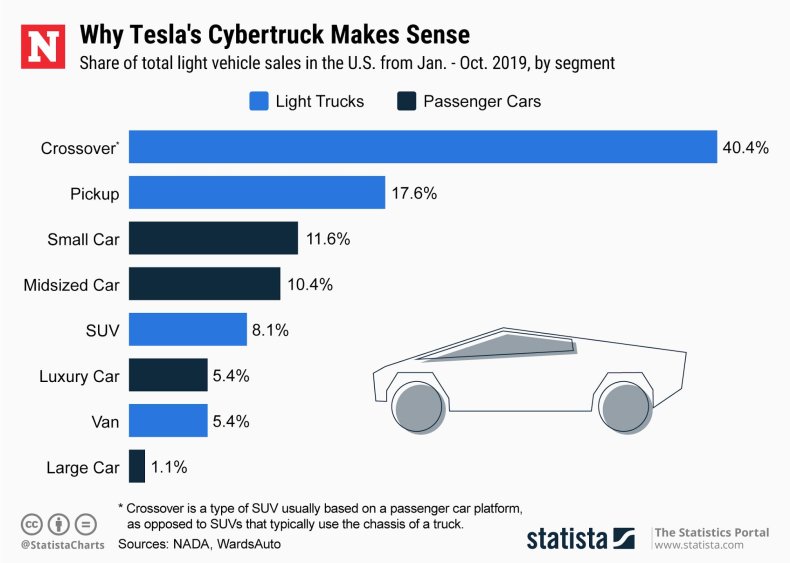 This article was updated to add an infographic.