'ELVIS' Movie Release Date, Cast, Trailer, Plot
Elvis Presley, often dubbed The King of Rock and Roll, is the latest icon to be brought to life in a Hollywood biopic.
Just like Rocketman followed the life of Elton John and Bohemian Rhapsody was all about Freddie Mercury, Baz Luhrmann's ELVIS will explore the meteoric rise to fame of Mississippi-born Elvis Aaron Presley from the late 1950s through to the mid-1970s, along with his rebellious performance style and African-American inspired sound.
Austin Butler, who portrays Presley in ELVIS, is already is getting a lot of buzz after the trailer dropped ahead of the Cannes Film Festival.
Newsweek has everything you need to know about the ELVIS movie including its release date, cast, trailer and plot.
When Is the ELVIS Movie Out?
The wait for Baz Luhrmann's ELVIS is almost over. ELVIS, one of the most anticipated movies of the summer will premiere in theaters on Friday, June 24, in the U.S. and the U.K.
Movie-goers in Australia will be treated to ELVIS one day earlier, with the film premiering on Thursday, June 23.
ELVIS had its official premiere at the Cannes Film Festival on Wednesday, May 25, and so far, the reviews have been mainly positive, especially the reaction to Austin Butler's portrayal of Presley.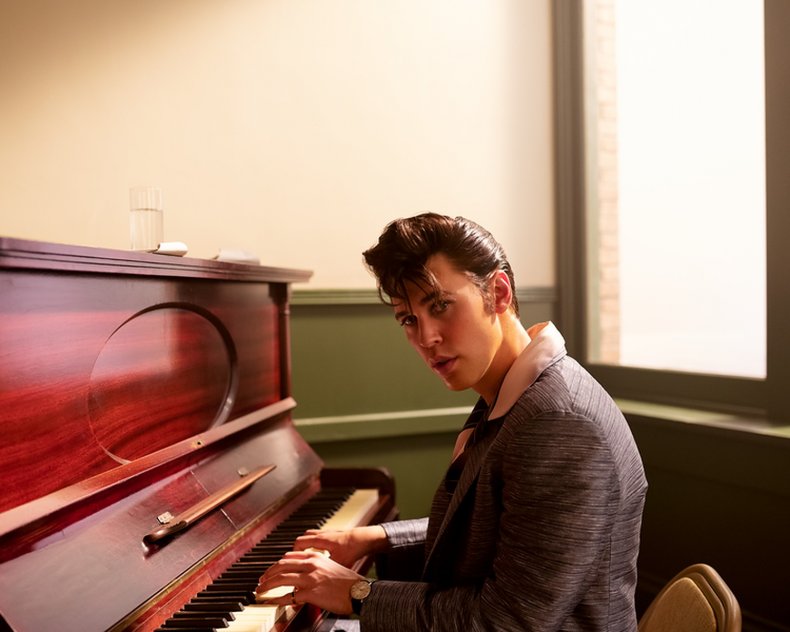 Who Stars in ELVIS?
ELVIS features a star-studded cast, led by Austin Butler and Tom Hanks.
Butler, a former child star who has appeared in everything from Switched at Birth to Wizards of Waverly Place, portrays Elvis Presley. Chaydon Jay takes on the role of the young Presley.
Butler is also well known in his adult years for his role as Chase in Arrow, Wil in The Shannara Chronicles, and Tex Watson in Once Upon A Time in Hollywood.
Oscar-winning actor Tom Hanks stars as Colonel Tom Parker, Presley's manager in ELVIS, and Helen Thomson and Richard Roxburgh star as Gladys and Vernon Presley, Elvis' parents.
The Staircase star and The Society's Olivia DeJonge plays the role of Priscilla Presley, Elvis's wife.
Also starring in ELVIS is:
Luke Bracey as Jerry Schilling
Natasha Bassett as Dixie Locke
Patrick Shearer as Dewey Phillips
David Wenham as Hank Snow
Kodi Smit-McPhee as Jimmie Rodgers Snow
Josh McConville as Sam Phillips
Kate Mulvany as Marion Keisker
Kelvin Harrison Jr. as B.B. King
Xavier Samuel as Scotty Moore
Adam Dunn as Bill Black
Yola Quartey as Sister Rosetta Tharpe
Alton Mason as Little Richard
Gary Clark Jr. as Arthur Crudup
Shonka Dukureh as Willie Mae Big Mama Thornton
Anthony LaPaglia as Bernard Lansky
Dacre Montgomery as Steve Binder
What Is ELVIS About?
ELVIS follows the life and career of Elvis Presley, from his younger days as a certified superstar.
The film will also touch on the hysteria surrounding his performances, his acting career, and his Vegas residency.
ELVIS will also see the complex relationship Presley had with his manager, Colonel Tom Parker, play out on screen. Parker is believed by many to have exploited a young Presley throughout his career, including by not letting him play abroad.
In 1980, an investigation led by appointed attorney Blanchard E. Tual found Parker's management of Presley had been "unethical."
ELVIS also covers Presley's marriage to Priscilla, his strained relationship with his daughter Lisa Marie and his years of struggling with addiction and depression.
Speaking to Entertainment Weekly, director Luhrmann teased that ELVIS was a "three-act pop-cultural opera."
He continued: "This was about exploring America in the '50 and the '60s and the '70s, and Elvis was at the center of culture for the good, the bad, and the ugly in various ways."
Is There a Trailer for ELVIS?
Yes, after patiently waiting, the trailer for ELVIS has finally dropped.
To kick off the trailer, fans meet Presley as a young boy, dancing with veterans and showing off his performance skills.
Then, the trailer flashes forward and audiences catch their first glimpse of Austin Butler as an adult Presley, moving his famous hips on the stage, sending female friends into a frenzy.
As the trailer progresses, audiences watch as Presley's career skyrockets and he becomes a household name.
Viewers also catch a glimpse at the backlash he received for his seemingly provocative moves.
Towards the end of the trailer, Tom Hanks tells Presley: "We are the same, you and I. We are two odd lonely children, reaching for eternity."
ELVIS is coming to theaters on Friday, June 24.