Meet HBO Max's 'The Staircase' Cast and Their Real-Life Characters
The Staircase on HBO Max is the latest true-crime drama series on the streaming platform you do not want to miss.
The eight-part series, which premieres on Thursday, May 5, and will be airing weekly, brings to the small screen the gripping and controversial case of Michael Peterson.
In 2003, Peterson was convicted of killing his wife Kathleen Peterson, who was found dead on December 9, 2001, at the bottom of the staircase in their home.
The story will be familiar to many viewers as his case was the focus of the 13-part series (available on Netflix) following Peterson's trial and appeals.
So, who stars in the highly anticipated drama?
Newsweek has everything you need to know about the cast of The Staircase and their real-life characters.
Meet HBO Max's The Staircase Cast and Their Real-Life Characters
Michael Peterson — Colin Firth
Oscar-winning actor Colin Firth portrays Michael Peterson in HBO Max's The Staircase.
Peterson, a Vietnam War veteran, newspaper columnist, and novelist, hit headlines when he was charged with murdering his second wife Kathleen Peterson on December 9, 2001.
He pleaded not guilty to the charge but was convicted at trial. After over a decade in prison, he submitted an Alford Plea (where a criminal defendant pleads guilty to an offense while maintaining their innocence and acknowledging there is enough evidence to potentially convict) to the reduced charge of manslaughter in 2017.
The Staircase on HBO Max dramatizes Peterson's ordeal, the explosive drama within the family, and the introduction of Jean-Xavier de Lestrade, played by Vincent Vermignon, who filmed the documentary.
Firth is best known for his roles in Pride and Prejudice, Bridget Jones's Diary, Shakespeare in Love, The Kingsman, The King's Speech, and Mamma Mia!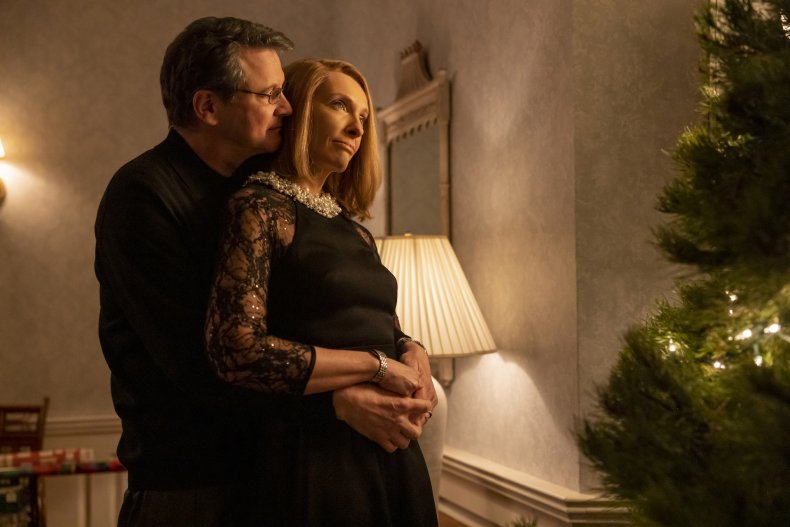 Kathleen Peterson — Toni Collette
Toni Collette portrays the late Kathleen Peterson in The Staircase on HBO Max.
Kathleen and Michael married in 1997 and blended their families, living a seemingly happy life.
However, four years later on December 9, 2001, Kathleen was found dead at the bottom of her stairs and her husband Michael stood accused of her murder.
Collette is best known for starring in the films Muriel's Wedding and Knives Out. She recently starred in BBC's Wanderlust and the Netflix true-crime drama, Unbelievable.
Candace Hunt Zamperini — Rosemarie Dewitt
Rosemarie Dewitt stars as Candace Hunt Zamperini, Kathleen's sister.
At first, Candace believed Peterson's innocence, but as viewers will come to see in HBO Max's The Staircase, she changed her view and became one of his strongest opponents.
Dewitt most recently starred as Linda McCullough in Little Fires Everywhere. Her other credits include the United States of Tara and Rachel Getting Married.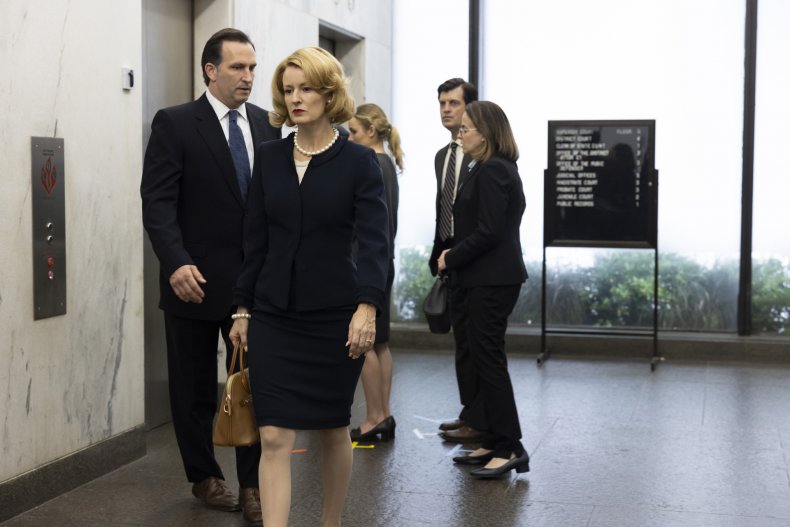 Sophie Brunet — Juliette Binoche
Juliette Binoche portrays Sophie Brunet in HBO Max's The Staircase, an editor of Jean-Xavier de Lestrade's documentary series who engaged in a romantic relationship with Peterson.
French actress Binoche is best known for her Oscar-winning performance in The English Patient.
The Staircase viewers may also recognize her from Call My Agent!, Chocolat, and The Unbearable Lightness of Being.
Freda Black — Parker Posey
Parker Posey stars as Durham County assistant district attorney, the lead prosecutor at Peterson's trial.
Posey has numerous acting credits to her name, including Lost in Space, Search Party, The Good Wife, Boston Legal, and Parks and Recreation.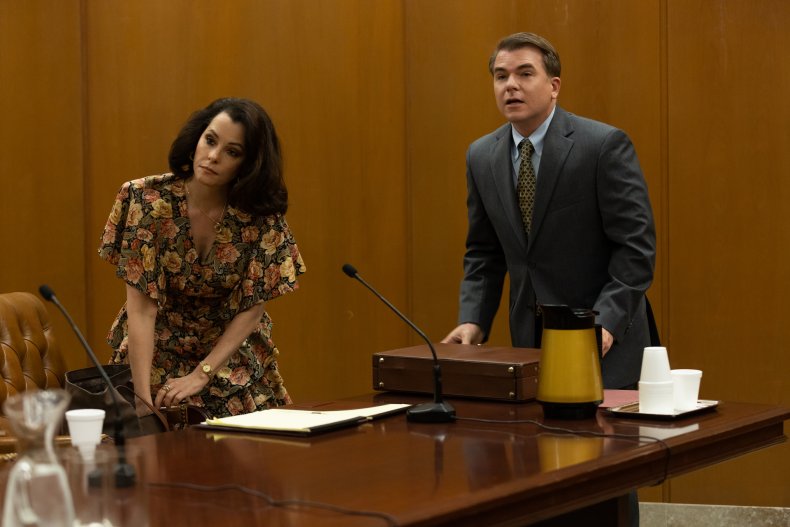 Margaret and Martha Ratliff — Sophie Turner and Odessa Young
Game of Thrones alum Sophie Turner portrays Margaret Ratliff in HBO Max's The Staircase.
Michael Peterson was the guardian of Margaret and her sister Martha, played by The Stands Odessa Young, after their parents George and Elizabeth died.
Todd and Clayton Peterson — Patrick Schwarzenegger and Dane DeHaan
Patrick Schwarzenegger and Dane DeHaan portray Michael Peterson's sons, Todd and Clayton, from his first marriage to Patricia Sue.
Schwarzenegger is best known for his leading role in 2018's Midnight Sun and DeHaan is best known for his role as Harry Osborn/Green Goblin in The Amazing Spider-Man 2.
Caitlin Atwater — Olivia DeJonge
Australian actor Olivia DeJonge plays the role of Caitlin Atwater, Kathleen's daughter from a previous relationship.
At first, Caitlin Atwater is a supporter of Peterson but begins to question his innocence after reading her mother's autopsy report.
DeJonge is best known for playing Elle in Netflix's The Society. She will next be seen in the Elvis Presley biopic as Priscilla Presley.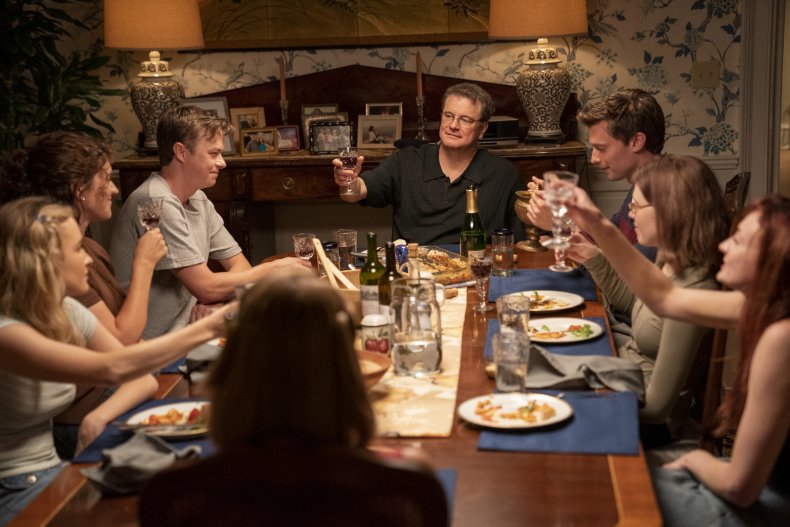 Bill Peterson — Tim Guinee
Tim Guinee portrays Bill Peterson in HBO Max's The Staircase, Michael Peterson's brother.
Guinee is best known for his role as the United States Air Force Major Allen in Iron Man and Iron Man 2.
His other credit includes Hell on Wheels and The Punisher.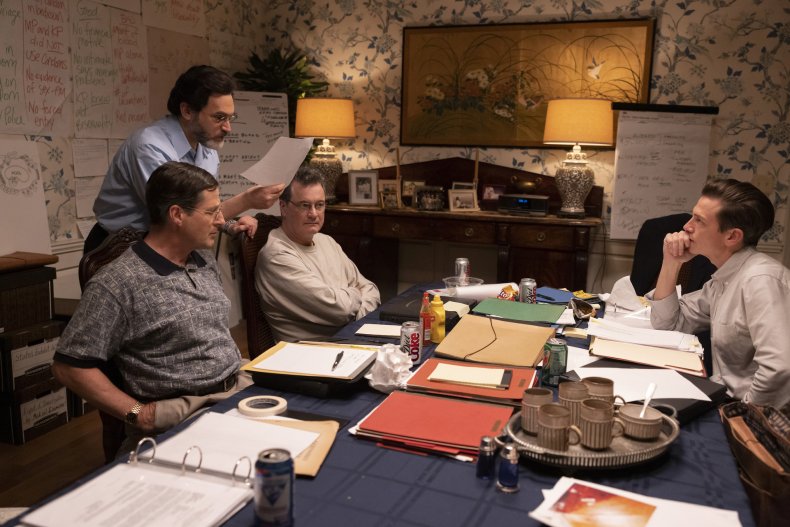 David Rudolf — Michael Stuhlbarg
Michael Stuhlbarg portrays David Rudolf, Michael Peterson's lawyer in HBO Max's The Staircase.
Stuhlbarg is best known for his role as Professor Samuel Perlman in Call Me By Your Name, Dr. Robert Hoffstetler Dimitri Mosenkov in The Shape of Water, and Abe Rosenthal in The Post.
His other well-known credits include Boardwalk Empire, The Looming Tower, and Dopesick.
The first 3 episodes of The Staircase premiere on Thursday, May 5, and the remaining episodes drop weekly on HBO Max.