Emaciated Bears, One With Missing Leg, Rescued From Bile Farms in Vietnam
Nine bears who spent their lives in cages have been rescued from bile farms in Vietnam.
Bear bile farming is illegal in Vietnam, however it is still practiced in several regions. More than half of Vietnam's remaining 308 bears are kept on farms, according to conservation organization Education for Nature Vietnam (ENV), which took part in the rescue.
Teams from animal welfare organization Four Paws and ENV visited three bear bile farms in Binh Duong province where the nine bears had been trapped in cages for years.
The rescue mission took years of preparation and was delayed multiple times because of the COVID pandemic.
A Four Paws spokesperson told Newsweek that the rescue mission went very smoothly.
The teams found several of the bears were emaciated, only weighing about 110 pounds. A healthy female Asiatic bear should weigh about 200 to 250 pounds, while males can weigh up 400 pounds. One of the bears was also found to be missing a leg.
Pictures of the bears before their rescue show them trapped in small, concrete cages.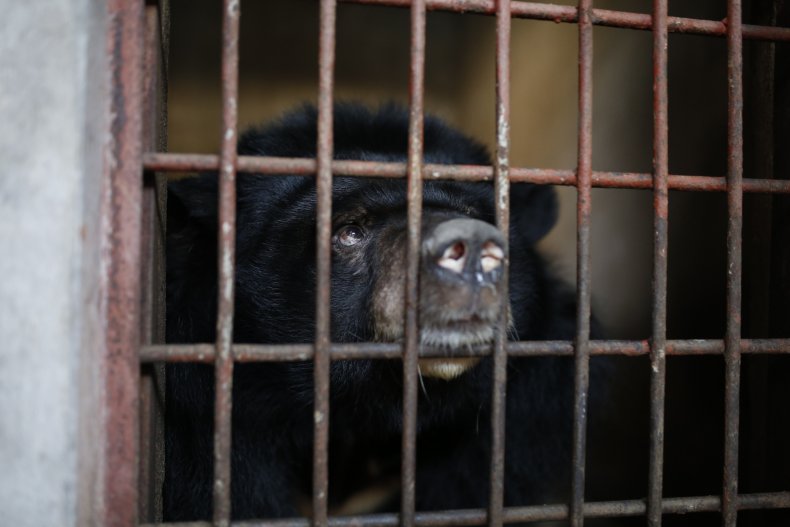 On Thursday, teams rescued the first two bears called Danh and Thi and checked their health on site. In a Facebook post, Bear Sanctuary in Ninh Binh—where the bears will be transported—said their health test showed "many problems" that will need to be monitored and treated.
On the second farm visited on Thursday, four bears called Teo, Tai, Tin and Khoi were rescued. The four male bears had spent at least 17 years trapped in cages. On the third and final farm on Friday, three bears called Nui, Vui, and An, were rescued.
A spokesperson for ENV told Newsweek that the bears arrived at the sanctuary safely on February 13 and are currently in quarantine.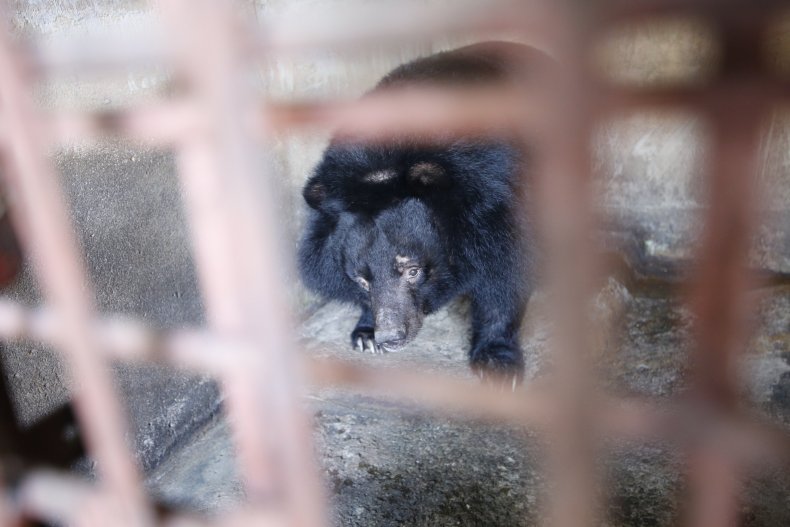 Bear bile is scientifically proven to help dissolve gallstones and treat liver disease. However, it is also sold commercially and marketed as a cure for cancer, colds, and hangovers, though there is no scientific evidence supporting this use.
Bile is extracted by pushing a steel or perspex catheter through the bear's abdomen and into the gallbladder, which can be painful. The animals are often sedated with ketamine or restrained with ropes during the process. It can cause infections, starvation, dehydration and other ailments. Thousands of bears are still kept on bile farms across China, Vietnam, Laos and Myanmar, despite there being medical cruelty-free alternatives.
In a press release, founder and executive Director of ENV, Quyen Vu, said the rescue marks another step in Binh Duong's journey "from one of Vietnam's biggest bear bile-farming hotspots," to one showing "exceptional dedication in the fight to end bear farming."
This article has been updated to include new information from ENV