Eminem's Album Cover Decoded As Fans Mock Design: 'The Worst Album Cover'
Eminem's new album reveal was met with mixed reviews from fans as some rushed to decode its messages while others slammed the design.
Curtain Call 2, a follow up to the 2005 greatest hits album Curtain Call: The Hits, is also a compilation of his past work. The artwork for the upcoming record features multiple references to previous Eminem albums, while the numbers were also revealed to contain hidden messages.
The rapper turns 50 years old in October but he's still releasing new music after the June launch of the single "From the D 2 The LBC" which is a collaboration with Snoop Dogg.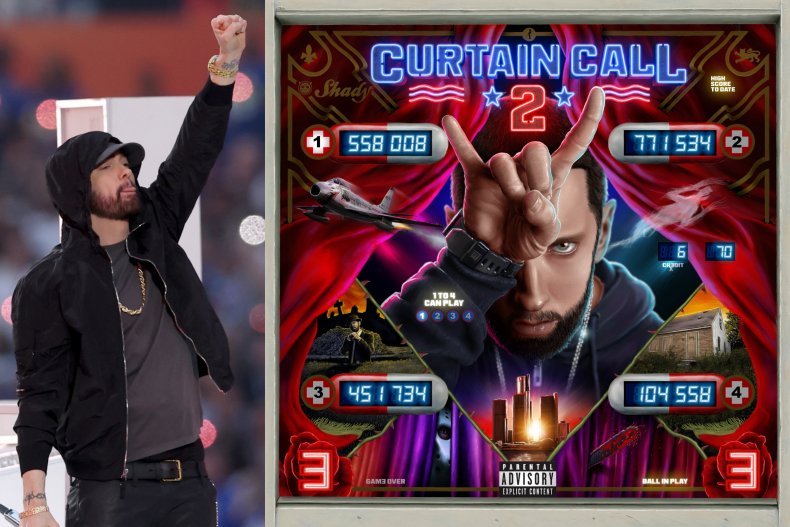 Eminem revealed the artwork of Curtain Call 2 on Monday, with the cover featuring neon lettering and a mock pinball machine style.
The numbers just looked like high scores, but as Twitter user @stuntin revealed, when turned upside down, the numbers "451734" and "558008" become the words "hellish" and "boobss" respectively.
Other images on the cover are callbacks to Eminem's career.
The fighter pilot represents the album Kamikaze, the buildings are from Eminem's native Detroit and the devil horn symbol is associated with The Marshall Mathers LP 2. Other visual references implied callbacks to the likes of Music to be Murdered By, The Revival, and his collaboration with Royce da 5'9", Bad Meets Evil, and their EP Hell: The Sequel.
Despite all the subtle references to his work, some were unimpressed by the visuals.
"I can't believe he made a cover like this," wrote @HipHopParamount on Twitter alongside laughing emojis. "This is the worst album cover I remember seeing. Come on Eminem wtf."
"Eminem's album cover looks like it was made on [Microsoft] Paint," slammed @magrynn7. Meanwhile @jdant_14 accused Eminem of being "so incredibly out of touch," and wondered how anyone let him release the cover in 2022.
@toni_takes wrote in all caps to Eminem in response to the album announcement: "Marshall!!!! It's not too late to change the cover." Others like @YngJayJay simply wrote: "Wtf is this cover dawg."
Despite being mostly a greatest hits album, "From the D 2 the LBC" with Snoop Dogg will be the lead single. "The King and I" featuring CeeLo Green, which is on the soundtrack to Baz Luhrmann's Elvis biopic, will also be on Curtain Call 2.
The track list will feature Eminem's hits from Relapse (2009) onwards, including "side-projects, guest appearances, film soundtrack songs and solo work" according to his website.
Curtain Call: The Hits in 2005 also featured four new songs alongside a number of classic tracks and fans are anticipating the same on Curtain Call 2.
Curtain Call 2 will be released on August 5, 2022.