Fans Claim To Hear 'Hidden Message' if You Play This Eminem Song Backwards
Despite "My Name Is" first hitting the Billboard Top 100 way back in 1999, Eminem is still going strong. And one fan has just discovered something new about the iconic Slim Shady track that has TikTok users "crying," over 20 years after it was released.
In a clip shared on May 28, user @duplicate.her—real name Adrianne—listens to "My Name is" in reverse.
Captioned "My face after finding out he's singing 'It's Eminem' when you play it backwards," Adrianne believes she can hear the rapper say his name when listening to the track in reverse.
The clip, which can be seen here, has gained over 260,000 views and nearly 200 comments as many were impressed with the discovery, like user Daddy Bueno who called the musician "a genius."
Ahiru Luna agreed: "This is the coolest thing ever!!!"
"Crying," said Evie, while madison-jade x simply wrote: "WHAT."
"My Name Is" was not Eminem's first release, but the single would go on to make him a household name. The then-24-year-old was discovered by industry legend Dr. Dre at the 1997 Rap Olympics in Los Angeles, and he soon became the budding rapper's producer and mentor.
The Slim Shady LP sold millions of copies and led to two Grammy Awards and MTV Video Music Awards, although the controversial subject matter of Eminem's music outraged many.
Others heard their own phrases in the reversed track, including "It's salmon" and "ladies' man." However, cinnamon was the most popular word that users reported.
"WHY DO I HEAR 'CINNAMON' AND THEN 'ROLL,'" asked Tali.
"Cinnamon...shadyey slim," declared Lillie.
"Bro sounds like he doesn't know how to say cinnamon," commented Ashton.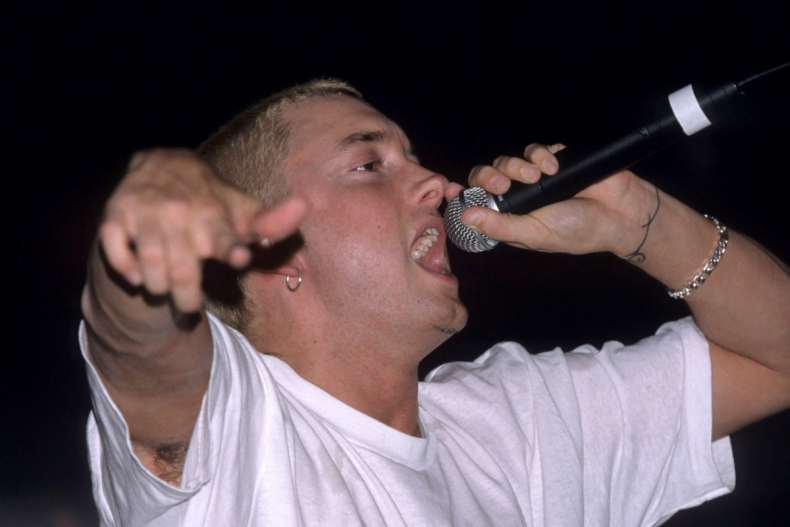 While a number claimed they could only hear "babble."
"I think it sounds like that, because you are wanting it too," suggested theashdanprodigy.
"I hear [babble], it makes no sense at all," argued Brett Koningen.
Despite this being a new discovery for many, "elder millennials" were not at all shocked by the clip.
"On behalf of all elder millennials...we knew this already," said xamo.
"I immediately get super creeped out by music being played backwards because I used to watch creepy backmasking/hidden message vids as a kid," wrote Ghost McGonads.
"He actually said in an interview that this was a 100 percent accident and that he didint try to do that," added $.
Newsweek has reached out to @duplicate.her for comment.
Since taking part in February's Super Bowl Halftime Show alongside Dr. Dre and Snoop Dog, the rapper has had somewhat of a resurgence on social media, with his raps appreciated by everyone from toddlers to video game fans.
First, there was the dad who rapped "Lose Yourself" to his newborn baby on Instagram. Next, a little girl's adorable dance to "Just Lose It" went viral. Then earlier this month, a YouTuber mashed a series of Eminem hits with the Super Mario Bros. 64 soundtrack, which Redditors dubbed "an abomination."