Eminem's New Album 'Revival': Release Time, Track List, Early Reviews and Everything You Need to Know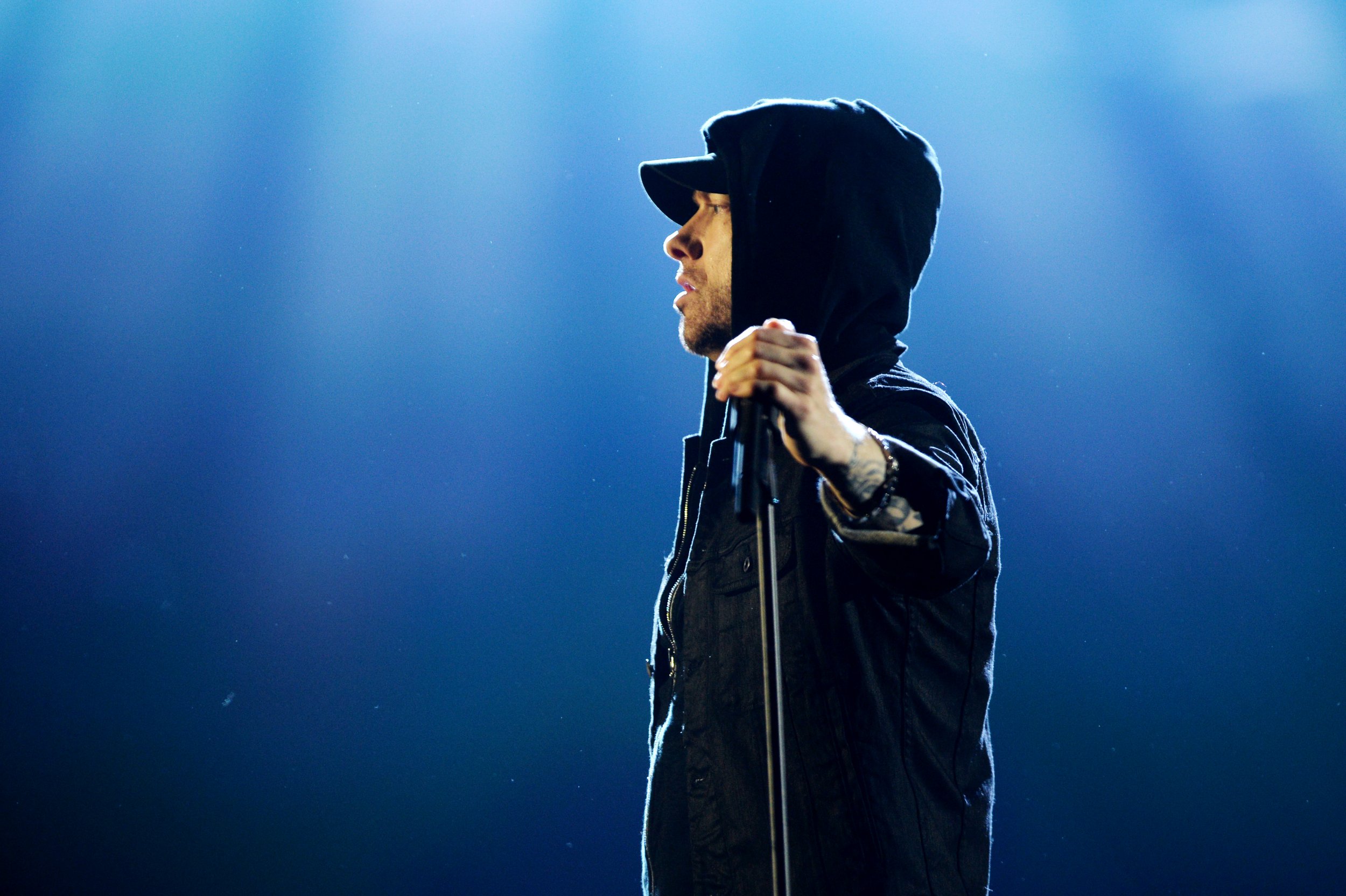 Eminem is expected to drop his latest album on Friday at midnight. It's called Revival and fans are excited to see what direction Marshall Mathers goes with his latest offering.
Judging by the songs released prior to the album drop, it seems like Revival could have a political edge. The lead-up to the album, after all, began with Eminem's anti-Donald Trump viral cypher at the 2017 BET Hip Hop Awards in October.
The track "Untouchable" takes a look at the United States under Trump. He starts off the song rapping as a racist police officer character, before jumping into as an African-American who is unfairly policed. He also takes an in-depth look at the Black Lives Matter movement, as well as Colin Kaepernick and the NFL national anthem protests.
Just keep marchin', 'til we reach congress / But they're gonna say you're tryin' to take an irrational stance If you try to slander the flag but / Somebody has to be the sacrificial lamb / So they call it a Kaepernick tantrum /If you don't stand for the national anthem
Both "Untouchable" and "Walk on Water"—featuring Beyoncé—are lyrically dense and non-standard, borrowing the practice of enjambment from the poetry world. "Walk on Water" takes a look at Eminem's relationship with his work and public persona.
It's the curse of the standard / That the first of the Mathers discs set / Always in search of the verse that I haven't spit yet / Will this step just be another misstep / To tarnish whatever the legacy, love or respect / I've garnered? The rhyme has to be perfect, the delivery flawless / And it always feels like I'm hittin' the mark / 'Til I go sit in the car, listen and pick it apart
Genius has the full track list and lyrics posted here. It lists 19 tracks: "Walk on Water," "Believe," "Chloraseptic (featuring PHresher)," "Untouchable," "River (featuring Ed Sheeran)," "Remind Me (Intro)," "Remind Me," "Revival (Interlude)," "Like Home (featuring Alicia Keys)," "Bad Husband (featuring X Ambassadors)," "Tragic Endings (featuring Skylar Grey)," "Framed," "Nowhere Fast (featuring Kehlani)," "Heat," "Offended," "Need Me (featuring P!nk)," "In Your Head Castle and Arose."
Reviews of what we've heard of the album thus far have been mixed. Brian Josephs​ at Spin, for instance, wrote that the response to "Walk on Water" tepid and said "Untouchable" was "little more than a plainspoken summation of racial talking points." Pitchfork noted that the track was overly preachy and not as cleverly composed as some of Eminem's previous work.
In its review of "Walk on Water," Vulture said Eminem might have shown growth into a new style. "There's no way to know for sure until Revival drops, but 'Walk on Water' at least offers up the possibility that the old dog could pick up a few new tricks," wrote Frank Guan.
After waiting for weeks, fans will see what Eminem has left in him Friday.