Flyer Shows What $14K First Class Seat Gets You
Not everyone can afford to shell out thousands for a luxury flight, but one frequent flyer has given millions an insight into what exactly you get if you spend over $14,000 on a single flight.
TikToker @luxetravelcouple likes to travel in style, just as her internet name would suggest. This time she gave viewers a look at what it's like to travel 14.5 hours in First Class on an Emirates flight from Miami to Dubai, for those not willing to pay $14,500.
As shown in the video seen by 5 million, the cabin itself is far different from what most are used to with not-so-great experiences of reclined seats and squashed legs.
The seats transform into beds with closing doors that make it feel like a private cinema, which @luxetravelcouple described as a "game changer" and the reason they upgraded in the first place. The ceiling also offers sparkling night lights that look like stars in the sky.
Despite a hefty $14,500 price tag, there's one thing that stuck out to viewers: the WiFi wasn't free for @luxetravelcouple, who showed that they purchased WiFi for their device while on-board the expensive journey.
Emirates' website confirms that First Class passengers can only access free WiFi if they sign up to the Emirates Skywards program, which is free, and add it to their booking 24 hours before the flight. For those who miss this step, WiFi packages range between $9.99 and $19.99. On regular flights, passengers must be a Platinum Skywards member to be entitled to free on-board WiFi.
The video can be viewed here.
Passengers are served Veuve Clicquot "and they actually give you proper champagne glasses," she said.
First Class flyers also get their own set of pajamas on this flight, she explained, adding that they are "the comfiest, coziest, White Company pjs." To go with the pajamas, passengers are given a free Bulgari toiletry bag, which she said are not only "super cute but inside we have things like perfume, Bulgari body lotions, moisturizers, a cute little mirror, deodorant, everything you could need for a very long flight."
For some, the most important part would be one thing: the snacks. Travelers received complimentary veggie chips, bonbons and dark chocolate, among others. A drink selection in the arm rest popped out of the furniture and was kept in a cold box to keep chilled.
"The best thing about First Class," she reasoned, is that you can order food "as and when" you want and "you can have your breakfast or your dinner at any time that you want."
"14k down and no free WiFi," noted one disapproving viewer.
Even for those choosing not to fly First Class, flights are seeing increased prices at the moment, with the average price of a domestic flight skyrocketing over 40 percent between January and March.
"I love luxury but imagine what else you could do with that 14k," wrote one TikTok user.
"It's a whole year's income for some people," added a viewer.
"I got bumped up to Emirates First Class from Economy once and it's still one of the best things that's ever happened to me," argued another in praise of the First Class experience.
Newsweek has contacted @luxetravelcouple for comment.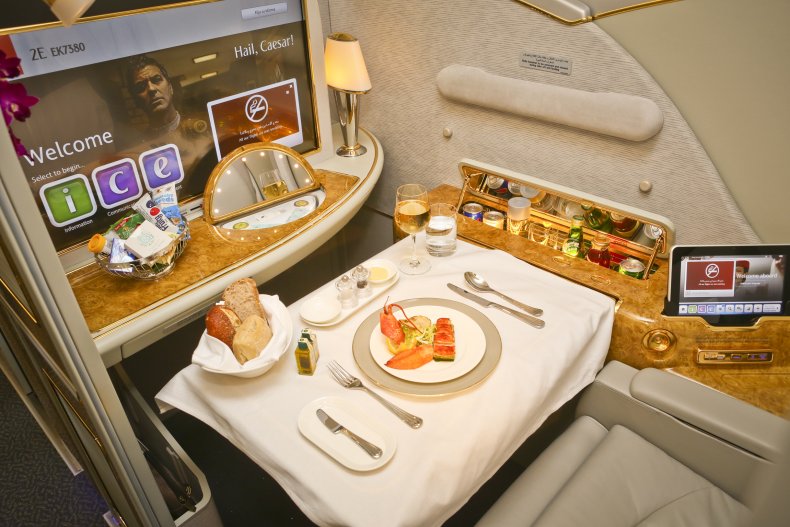 Correction 6/10/22, 11:31 a.m. ET: The headline of this article has been updated to reflect that first class Emirates passengers have the option of getting free WiFi by signing up to the Emirates Skywards program 24 hours before the flight.