Emma Roberts Gives First Look at Madison Montgomery in 'AHS' Season 8
Madison Montgomery is back from the dead for the eighth season of American Horror Story in a first-look behind-the-scenes photo from Emma Roberts, posted to her Instagram on Tuesday.
In the photo, Roberts is dressed all in black with a feather duster in hand, standing over a pile of skeletons that had been buried under a demolished gazebo. "I bring you Madison Montgomery," the caption reads. "Does the bitch survive the [apocalypse]?"
This is the same gazebo that Ben Harmon (Dylan McDermott) built in Murder House to hide a freshly dead body.
This is the first behind-the-scenes image of Madison and the first on the Murder House set. Apocalypse is the long-awaited crossover between Season 1, Murder House, and Season 3, Coven. Roberts confirmed that she would be reprising her Coven role in the new season in August via her Instagram.
Newsweek subscription offers >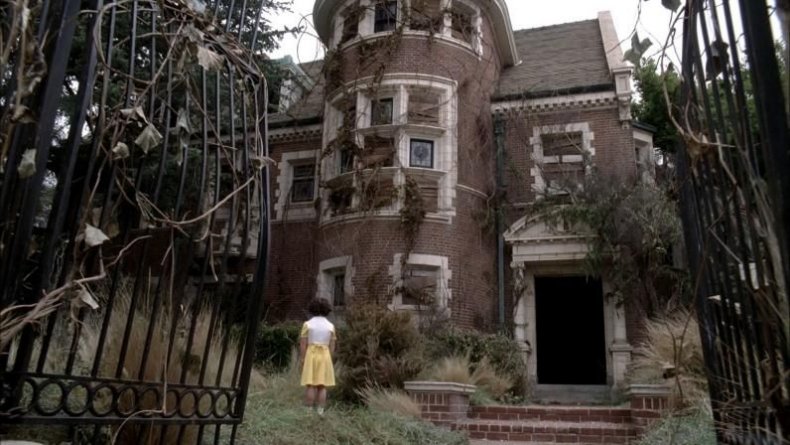 Along with Roberts, Connie Britton and McDermott will be rejoining the cast as Ben and Vivian Harmon from Season 1. This was confirmed by Ryan Murphy on Monday after he posted a photo on his Twitter of the two actors with Sarah Paulson, who will be directing an episode this season. "Connie, Sarah and Dylan," Murphy wrote. "The Harmons are scaring up drama at The Murder House with Director Supreme Paulson."
Not only is Paulson directing an episode, but she will be playing three characters: Cordelia Goode (Coven), Billie Dean Howard (Murder House) and a new character. She is not the only actor doubling or tripling down on roles. Evan Peters will be reprising his role as the ghost of Tate Langdon, according to Ryan Murphy's Instagram, and will also be playing a new Apocalypse character: a hairdresser, he confirmed to Newsweek. Taissa Farmiga will reprise both her characters from Murder House and Coven as Violet Harmon and Zoe, Entertainment Weekly reported on Tuesday.
Jessica Lange will also be returning as Constance Langdon, her first AHS appearance since Freak Show. Other confirmed cast members include Kathy Bates, Cheyenne Jackson, Billie Lourd, Billy Eichner, Adina Porter, Leslie Grossman and newcomer Joan Collins.
Apocalypse will take place 18 months into the future, around October 2019. Murphy used the sixth season, Roanoke, to confirm that all seasons of AHS existed in the same universe.
American Horror Story: Apocalypse will premiere September 12 on FX.
Emma Roberts Gives First Look at Madison Montgomery in 'AHS' Season 8 | Culture