'American Horror Story' Season 8 Title Revealed
The new season of American Horror Story has a name.
The eighth installment of Ryan Murphy and Brad Falchuk's FX horror anthology is titled Apocalypse. It was revealed Friday morning in two posts from the show's official Twitter and Instagram accounts. This season of AHS will be the long-awaited crossover between Season 1, Murder House, and Season 3, Coven.
The social media posts contained two different but similar images, both featuring a demonic red baby and a devilish black hand reaching toward it from outside the frame.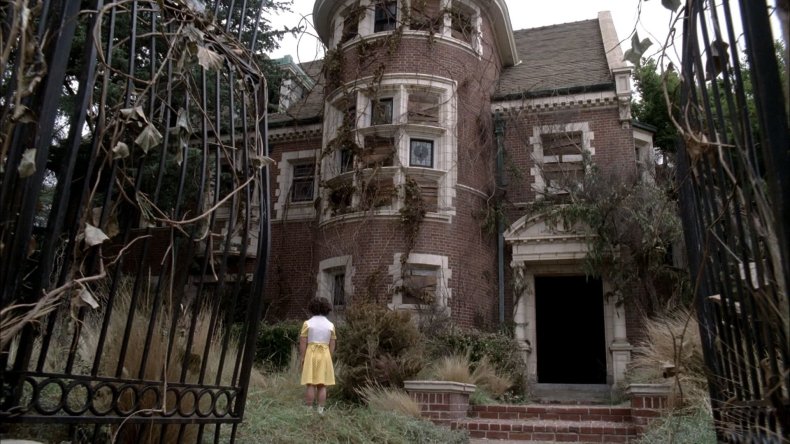 The image of the baby hearkens to Murder House, with Tate Langdon (Evan Peters) and Vivien Harmon's (Connie Britton) Antichrist baby left in the care of Constance Langdon (Jessica Lange). Peters is the only confirmed returning cast member of the three. Could the Antichrist be what brings ghosts and witches together for the end of days?
Sarah Paulson's character in Murder House, Billie Dean, warned of an Antichrist throughout the season. "A child born of human and spirit will usher in the end of times," she said.
We know from Peters, who spoke with Newsweek about his role in the new season, that Apocalypse will be different from the other cycles. "I think this year is gonna be funny, and it's gonna be fun," Peters said. "It's gonna be scary, too."
Peters assured us that Season 8 will still have plenty of scary elements. "[It] sounds obvious because it's a scary show," he said, "but there's a lot of room to play around with this season, so I'm excited."
Other confirmed cast members for Apocalypse include Paulson, Kathy Bates, Emma Roberts, Cheyenne Jackson, Billie Lourd, Billy Eichner, Adina Porter, Leslie Grossman and newcomer Joan Collins.
"I play a hairdresser, and Joan Collins is my nana," said Peters.
Murphy has teased at the plot in interviews but revealed little. "It's a season unlike anything we've done, because there's a big hook to it. There's a huge thing that happens in episode five," he told Entertainment Weekly in May. "You will see so many fan favorites return that you'll feel like it's The Love Boat. It's a very high-concept."
Apocalypse will take place 18 months into the future, around October 2019. Murphy used the sixth season, Roanoke, to confirm that all seasons of AHS existed in the same universe.
Apocalypse will premiere September 12 on FX.