Macron Wins Reelection in France, Defeats Far-Right Le Pen
Emmanuel Macron won reelection in France's presidential election, defeating far-right challenger Marine Le Pen.
Macron, a centrist, is projected to have won about 58.2 percent of the vote, compared to Le Pen's 41.8 percent, according to French media outlet France 24.
His victory makes him the first French president to win a second term in 20 years.
The rematch between Macron and Le Pen was closer than in 2017, when Macron defeated Le Pen with 66 percent of the vote, becoming the country's youngest president.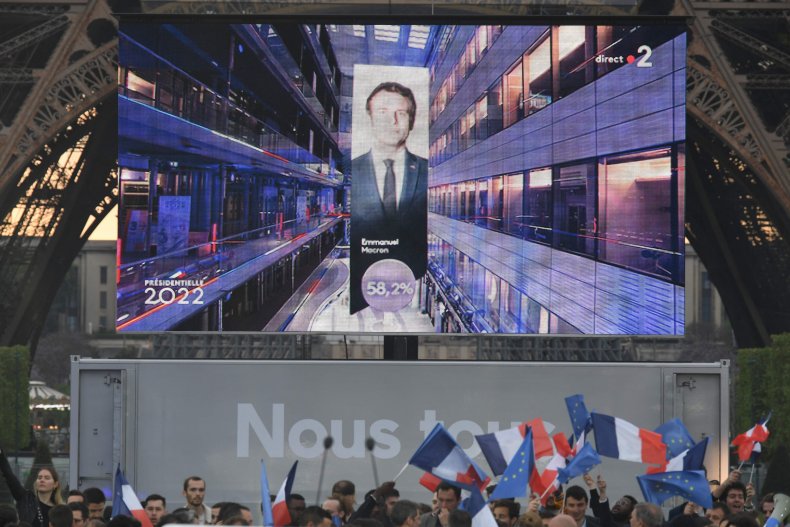 Macron has emerged as a key world leader amid Russia's invasion of Ukraine, while Le Pen has faced condemnation for her previous support for Putin. A Le Pen victory could have meant a significant change in France's response to the war.
Still, the election was the first time Le Pen's far-right National Rally party won more than 40 percent of the vote. She won only 34 percent in 2017, and her father won only 18 percent of the vote in 2002. The party failed to advance to France's second round of voting in any other year.
Le Pen's campaign promises included a pledge to remove France from the North Atlantic Treaty Organization's integrated military command and taking a hardline stance against immigration—a key policy of National Rally, which has long been criticized as being racist. She had also backed banning Muslim women in France from wearing headscarves.
Throughout her campaign, she sought to distance herself from Putin, condemning the invasion of Ukraine in what was seen as an effort to make her far-right politics more tolerable to a wider number of voters.
Macron, meanwhile, has taken a centrist approach with his leadership, though his presidency has not been met with warmth from many French population, as he has faced struggling approval ratings and several protests throughout his presidency.
As both candidates remained unpopular with large swaths of the electorate, polling indicated that Macron was likely to win, as he held a double-digit lead in averages on election day.
Video posted to social media on Sunday showed Macron's supporters celebrating the apparent win, waving both French and European Union flags in front of Paris' Eiffel Tower.
Several world leaders congratulated Macron on his apparent victory.
United Kingdom Prime Minister Boris Johnson wrote: "Congratulations to @EmmanuelMacron on your re-election as President of France. France is one of our closest and most important allies. I look forward to continuing to work together on the issues which matter most to our two countries and to the world."
"In this turbulent period, we need a solid Europe and a France totally committed to a more sovereign and more strategic European Union. We can count on the #France #5 more years," tweeted President of the European Council Charles Michel.