The French are voting on Sunday in a presidential runoff election to decide whether to give President Emmanuel Macron a second term or elect far-right challenger Marine Le Pen. On election day, the polling is a bad sign for her chances.
The contest—which is being closely watched around the world and could have far-reaching consequences for Europe's future direction—is a rematch of the 2017 election, when pro-Europe centrist Macron handily defeated nationalist Le Pen with 66 percent of the vote.
But the latest opinion polls show the election result is likely to be closer this time around. Polls give Macron, 44, a double-digit lead over Le Pen, 53, a gap that has widened since the first round of voting on April 10.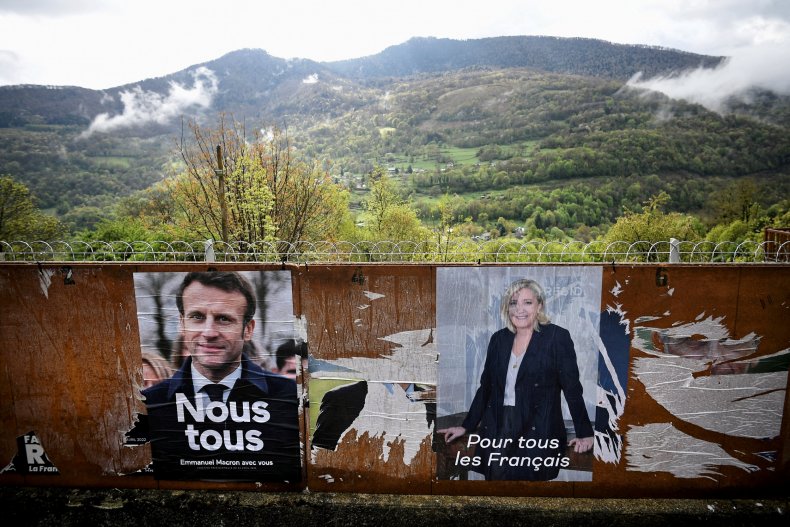 A Financial Times poll tracker has Macron ahead with 55.3 percent of the vote, compared to Le Pen at 44.7 percent, although the margins vary broadly depending on the poll. Still, the election is Macron's to lose, and the polling is an ominous sign for Le Pen.
Politico's poll tracker, meanwhile, had the split at 55 percent for Macron and 45 percent for Le Pen heading into the election weekend.
If Macron triumphs as polls indicate, it would make him the first French president in 20 years to win a second term. But an upset that results in Le Pen being elected France's first female president can't be ruled out, particularly given polling errors in recent years.
The first round of voting on April 10 eliminated 10 other candidates, and how their supporters choose to vote will be a significant factor in deciding who will ultimately be France's next leader. Both remaining candidates are deeply unpopular.
While some may opt to cast a ballot for Macron to ensure France doesn't see a far-right presidency, others could either cast a blank vote or not turn out to vote at all rather than pick between the two candidates on offer.
Both Macron and Le Pen have been courting supporters of left-wing radical Jean-Luc Mélenchon, who won 22 percent of the vote in the first round.
Their votes could decide the presidency, but some previously told Newsweek that they find both candidates unpalatable and will abstain.
Macron has issued appeals to leftist voters, urging them to turn out to vote to avoid the political upheaval that came with the election of Donald Trump in the U.S. and the U.K.'s vote to leave the European Union.
"Think about what British citizens were saying a few hours before Brexit or [people] in the United States before Trump's election happened: 'I'm not going, 'what's the point?'," he said. "The next day, they woke up with a hangover."
He added: "So if you want to avoid the unthinkable ... choose for yourself!"
Le Pen, who has tried to put emphasis on her left-leaning economic policies in a bid to woo Melenchon voters, suggested polls putting Macron in the lead would be proven wrong. "Polls aren't what decide an election," she said.
Initial projections are expected soon after polls close at 8 p.m. local time.