Emmett Till, Whose Murder Galvanized Civil Rights Movement, Remembered on 80th Birthday
Activists, celebrities and politicians took to social media Sunday to honor the 80th birthday of Emmett Till, a Black teenager whose murder at the hands of white supremacists in 1955 helped galvanize the civil rights movement.
Till, a 14-year-old Chicago resident, was murdered 66 years ago while visiting his great aunt and uncle in the rural Mississippi Delta.
During that trip, Till and his cousins made a stop at a local store to buy some bubble gum in the town of Money. After they left, the white woman who owned the store, Carolyn Bryant, told her husband that Till behaved menacingly and flirted with her.
Four nights later, two white men—Bryan't husband and brother-in-law—came to the home where Till was staying. Both armed, the two men dragged Till away at gunpoint and proceeded to torture and mutilate him for several hours.
The men shot Till, tied a 75-pound cotton-gin fan around his neck with barbed wire, and then threw his body into the Tallahatchie River.
Donham later admitted to lying about Till's behavior, but the murderers were acquitted by an all-white jury in the fall of 1955. The case became a focal point for civil rights activists when Till's mother, Mamie Elizabeth Till-Mobley, revealed his mutilated body in an open casket funeral attended by more than 100,00 people, including reporters.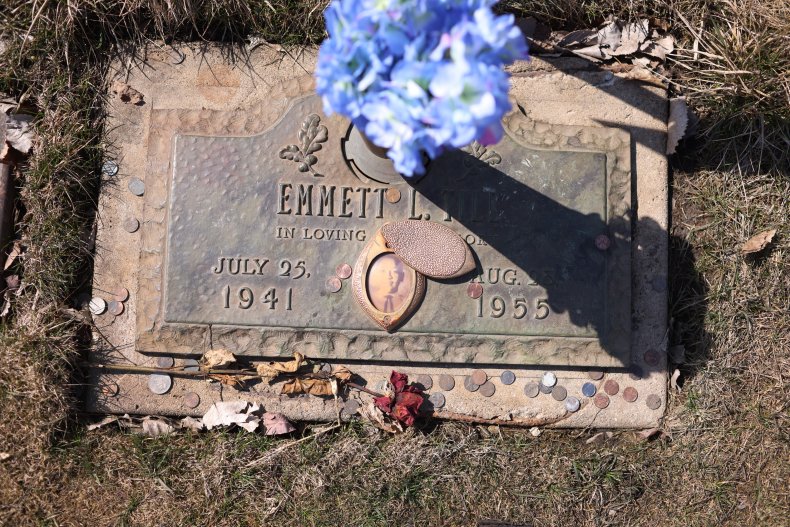 On Sunday, several people took to social media to honor Till's birthday and discuss issues of racial violence across America.
"Emmett Till would have turned 80 today. His life was cut short by white supremacists when he was just 14 years old. Today violence against Black lives remains a national emergency that we must confront by changing our laws—including passing our Emmett Till Anti-Lynching Act," Democratic New Jersey Senator Cory Booker tweeted.
Martin Luther King III, a human rights activist and son of Dr. Martin Luther King Jr., tweeted: "Wishing a heavenly happy birthday to Emmett Till. He lost his young life due to an act of pure hatred, racism and violence."
"To all children of color, we are working diligently to ensure that this world is safe for you," he added.
Illinois Democratic Congressman Bobby Rush shared the story of when his mother first saw the image of Till's mutilated body in Jet magazine.
"When the photo from Emmett Till's funeral ran in Jet, I will never forget how my mother gathered us around the table and said, "this is why I brought my boys out of the South." Emmett Till would have turned 80 today. In his name, we must get the #AntilynchingAct passed into law," Rush tweeted.
Actor Taye Diggs tweeted numerous times Sunday that "Emmett Till's 80th birthday should have been today," while advocating for his followers to visit the Emmett Till Legacy Foundation.
According to the foundation's co-founder and Till's cousin Deborah Watts, Diggs' support has brought a new awareness to Till's death and the fact that no one has ever been convicted for his slaying
"It helps us expand our platform, our voice," she said, according to the Mississippi Clarion Ledger. "And there is no better time than now, given everything that's going on and what we're trying to accomplish as well. We're pleased, honored, ecstatic about that."
Diggs told the news outlet that he believes Till's brutal murder is "one of the most important events in our history," and can allow people to learn, and promote anti-racism awareness today.
"Learning from history and continuing to stay invested with the legacies of our icons is extremely important to helping make sure the Black Lives Matter movement continues to gain traction and momentum," he said.