Emotional 'Brounion' Between Servicemen After Three Years Apart Goes Viral
A video capturing a heart-warming "brounion" between two servicemen after three years apart is going viral.
Rachel Taylor shared the moving 30-second clip to TikTok after her husband, John Taylor, was surprised by his "best friend", Justin Crockett.
Rachel, who organised the meet to celebrate John's graduation and her retirement, explained the pair were stationed together in northern Japan between 2012-2015.
Taylor, now a retired master sergeant combat medic, hadn't seen his friend, a chief master sergeant security forces, for three years after later moving to Florida, and Crockett to Hawaii.
Rachel made sure to capture the touching moment, recorded in 2018, and posted the video to her account chattyrabbit914 on Wednesday.
It starts off with her filming John, who served in the Air Force for 22 years, packing drinks onto a truck, as Crockett sneaks up behind him.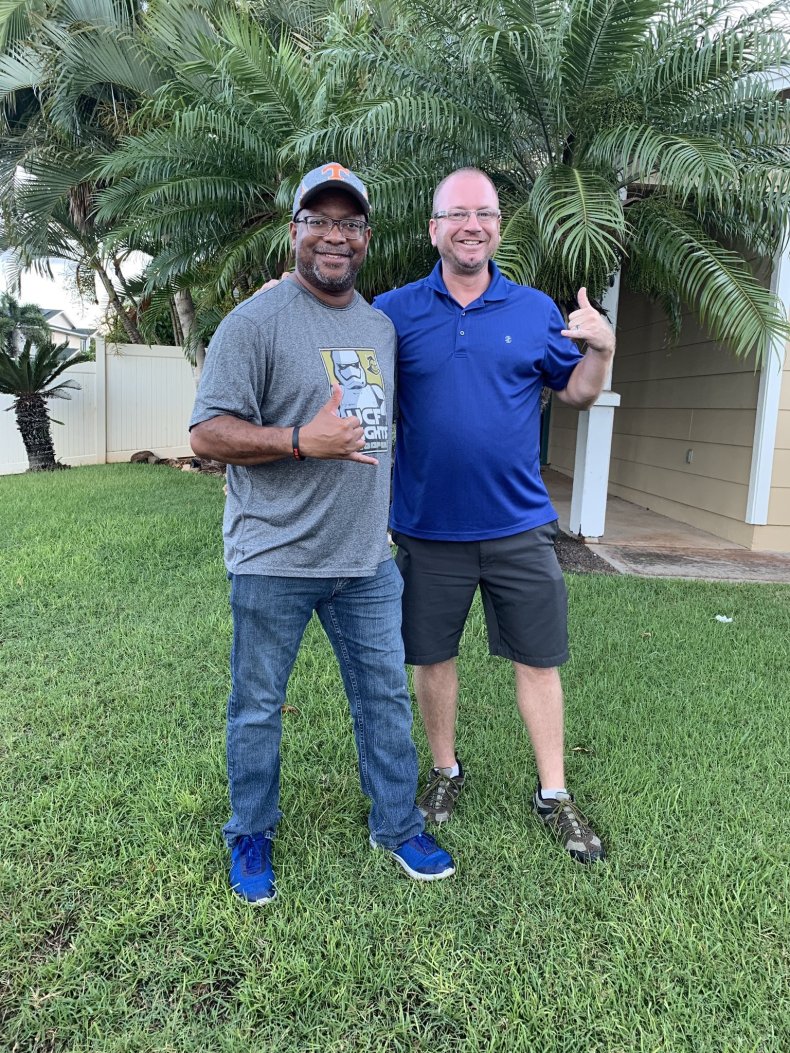 John instantly recognises his former comrade, but is in so much shock he drops the crate of water he's holding to the floor, as his jaw falls open.
John can scarcely believe his eyes as he shrieks in delight, and hugs Crockett, now based at Holloman Air Force Base, while climbing on top of him.
The two men embrace in a moving reunion, as John jumps up and down for joy, before bending down on the ground with his head in his hands.
Speaking to Newsweek, Rachel, who retired after serving 21 years in the Air Force as a master sergeant analyst, said: "In 2015, the Air Force moved us to Central Florida after my father had a horrific brain stroke while their family was stationed in Hawaii a few months later. In 2018 I retired from the Air Force while my husband John graduated from college.
"We had a big party to celebrate our accomplishments. Justin happened to be at a training course in Alabama at the same time. He flew into Orlando rented a car and surprised John as we were preparing for the party. The reunion was in Satellite Beach Florida May 5 2018.
"In Japan they struck up a close friendship right away and my husband really missed his friend. When living thousands of miles away from familiarity, friendships become like family."
Rachel captioned the now viral-video: "He surprised him for our graduation party. Our families were stationed together in Japan."
She later added: "My husband is the best person to surprise and he loves his military friends like family."
The clip racked up more than six million views before it was shared on Twitter and YouTube, with user GoodNewsCorrespondent captioning the meeting: "This is the best brounion I've ever seen. Military best friends reunite after 3 years apart."
The touching video has racked up thousands of comments across various social media platforms, with even celebrities praising the long-awaited meeting.
A message from Ellen DeGeneres' TikTok account read: "This is wonderful."
While a message from actor Bart Johnson's account said: "Best video I've seen in 2021 easily."
And The Masked Singer judge Jenny McCarthy's account, @mrs.wahlberg, added: "This made my day."