As COVID-19 restrictions ease up across the United States, families kept apart have been able to reunite. For one couple married for over 60 years, coming together safely again is all the more special.
A TikTok video capturing the moment a man and his wife living with Alzheimer's disease in a special care facility has captured the hearts of over a million viewers.
Alicia Barber, also known as @aliciajbarber1 on the video sharing platform, posted the emotional footage of her grandparents reuniting to TikTok on Monday. The video starts with a clip from the beginning of the pandemic, when her grandfather Robert was unable to enter the nursing home to see Lauren, his wife of 62 years.
Lauren pleads with Robert through the first floor window, as she is shaken up by the guidelines that did not allow outside visitors into the facility implemented in March 2020.
"I'd like to be with you too," Robert responds. "But because of the illness, we can't do it."
The video then cuts to the moment when her grandparents reunite inside the nursing home, having both been fully vaccinated against COVID-19.
"My grandparents were kept apart for over a year because of the pandemic," Alicia writes in text overlay on the video. "But they've recently been able to start seeing each other again."
The couple happily kisses as Alicia notes, "[My grandmother] has severe dementia, but still recognizes the love of her life."
"How are you, baby?" her grandmother asks Robert.
"I'm OK," he says, squeezing her hand tightly. "How [are] you doing?"
"I'm good," Lauren says. "I love having you."
"Well, I love to come and see you," Alicia's grandfather says, now using both hands to affectionately hold his wife's hand.
"It's really nice for you to come over. You're wonderful," Lauren adds.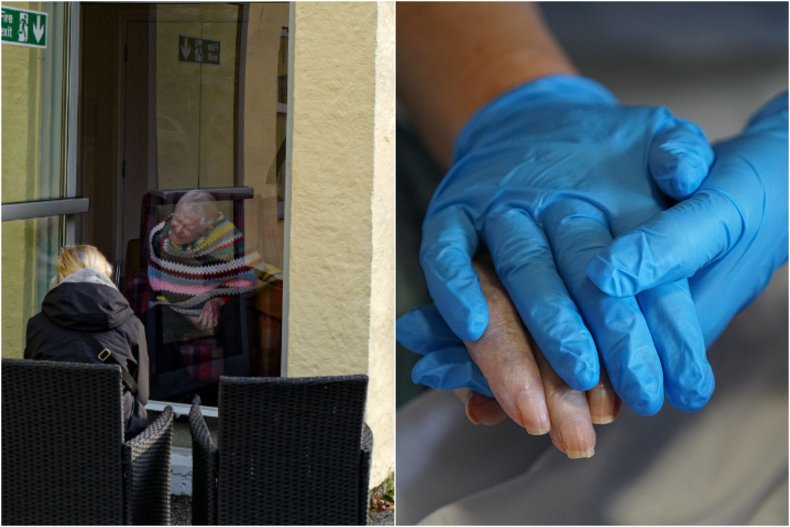 Alicia explained to Newsweek that though the two were able to see each other during "a handful of mostly outdoor distanced visits," they were overjoyed to be reunited once again.
"My grandmother has Alzheimer's disease and before the pandemic, my grandfather would visit her daily, eating dinner with her at night and tucking her into bed," she explained. "My family has been fighting for months and months to try and allow for my grandparents to reunite.
"Within the past six weeks, due to a drop in [COVID] cases and some rule relaxation, my grandfather has been able to go visit my grandmother three times per week for 1 hour," she added. "The video captures a moment of clarity and joy in my grandmother's eyes, as she was so happy and grateful to be seeing my grandfather and to be able to touch and kiss him after over a year apart. He is the one person she truly recognizes."
The video has since been viewed nearly 1.5 million times and liked by over 300,000 TikTok users.
"Tears are pouring down my face," one viewer commented. "I'm actually crying! Their love is so beautiful! Thank you for sharing this moment!" another added.
Several others shared their own heartbreaking experiences with Alzheimer's and dementia.
"My Granny passed from dementia in 2019, she was sick for a few years," one viewer wrote. "She would always talk about her Edward and her two sons she lost to cancer."
"My grandma is in a nursing home and also has dementia," another shared. "A few weeks ago [she] and my grandpa were able to hug for the first time in over a year ... love this."
Alicia, who is a neuroscience Ph.D. student at Dartmouth, noted that Lauren's diagnosis is what inspired her to study and research Alzheimer's disease.
"I truly hope that one day families will no longer have to face this incredible cruel disease," she told Newsweek. "Seeing how little our country and New York state specifically cared for my grandmother and others like her throughout this pandemic drove me to advocate for her and the dementia population."
Eagle-eyed viewers noted that the first clip came from Alicia's previous video sharing a conversation between the couple through the assisted care facility window, which was posted in March 2020.
That video, which has been viewed over 5 million times, features Alicia's grandfather explaining to his wife that because of "the new virus going around," he would no longer be able to come indoors for their regular visits, much to her grandmother's disappointment and confusion.
"This is the best we can do for now," Robert says, as Lauren is heard crying on the other side of the window.
"I love you…but don't cry!" he adds, trying to comfort her.
Alicia reflected that the pandemic has been incredibly challenging for both of her grandparents.
"My grandmother isn't able to comprehend what is going on in the world or why all of a sudden no one was coming to visit her anymore or why she was spending most of her day alone in her room," she told Newsweek. "She was definitely crying a lot more, spending more time sleeping, and generally less responsive.
"My grandfather struggled not being able to see my grandmother or know how she is doing or what her day looked like," she added, noting that technological challenges made phone calls or video chats particularly difficult. "So he really had to depend on updates from nurses on her condition. It was certainly a lonely year for them both."
Alicia also told Newsweek that she decided to post both videos to her TikTok account because she considered them to be "a true testament of their love and commitment to each other, as well a reminder of the gravity of the pandemic and the time that has been stolen from them.
"It's wonderful that millions of people have been able to witness the strength of their bond and the beauty of their love," she said. "In these divisive times, I believe it's especially important for people to see stories of humanity at its core."
Last June, a similar video emerged of a mom reuniting with her children after spending weeks caring for COVID-19 patients. Their emotional embrace touched the hearts of thousands of viewers on Reddit.