Employee Put on Leave After Coworker Said They Might 'Shoot Up' Workplace
At a time when mass shootings are increasing throughout the nation, an employee alleged their job was "hanging by a string" months after a colleague falsely identified them to police as a potential workplace shooter.
The worker explained anonymously on Reddit's "Antiwork" forum that their office experienced an active shooter threat two months ago. It fortunately turned out to be a false alarm, they said, in a post shared Sunday with nearly 12,000 votes.
"There was no active shooter but multiple law enforcement agencies responded and showed up to my workplace looking for an active shooter," the employee recounted. "The street was shut down, buildings were emptied and searched, all employees on the grounds were questioned."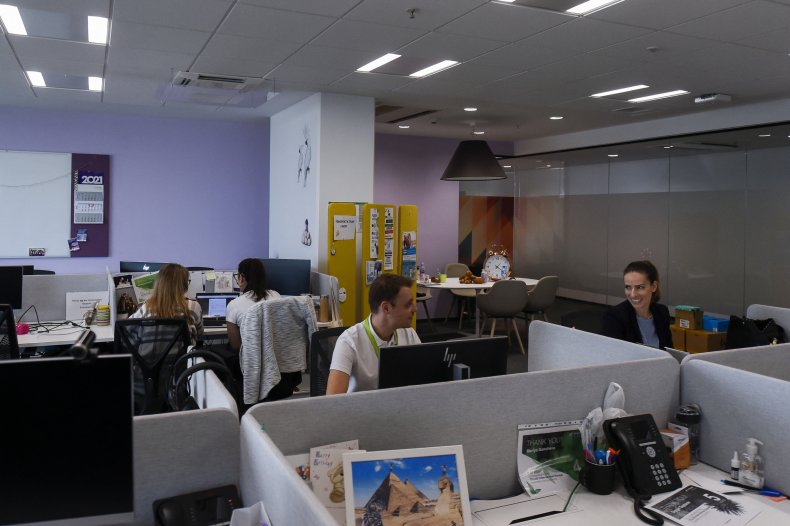 'She Told Them Three Things'
Although the worker declined to share their name and city with Newsweek, they said they live in New York state.
They went on, "While being questioned, one of my team members gives my name to the cops. She told them three things: that I am angry with the company, that I was asking about buying an assault rifle, and that she is afraid I will shoot up the workplace."
The employee declared that although they challenged recent corporate decisions, they were not "angry" with the company. In fact, they claimed to enjoy their job and "feel comfortable speaking up."
They admitted to recently asking a coworker about purchasing an assault rifle.
"I live in one of those very blue states where getting one is a slow, difficult, and expensive process. The co-worker I asked owns several firearms and we have talked in the past about shooting in general," they said.
Finally, they claimed to be "friendly, helpful, supportive and kind" to all their colleagues at work.
"It's hard for me not to see such an accusation as an attempt to ruin my life, get me fired from my job, get me arrested, and make it difficult for me to ever find a decent job ever again," the employee vented. "It feels like a betrayal, a dagger in the back from someone I have worked with for years."
'Hanging By A String'
As a result of their coworker's accusations, the employee was placed on administrative leave with pay and said their job was "hanging by a string" for nearly two months and counting.
"I've been interrogated by corporate security multiple times. I've had the police come and question me at my home and search my home while they were at it. I've even been forced to share private medical data with my company in order for them to 'feel safe having me return to the workplace.' All while I have done nothing wrong," they wrote.
The worker also told Newsweek, "My employer has kept me in the dark throughout this process and I have only heard from corporate security."
Redditor Reactions
Responses poured in on Reddit, mostly sharing outrage and urging the employee to seek legal counsel.
"You should have NEVER had to give your work medical info. If they fire you over this...talk to a lawyer," said one comment.
Another added, "They also should've never felt obligated to allow police to search their home. That's such an invasion of privacy."
On The Other Hand...
However, a few commenters were more skeptical of the worker's actions, pointing out that discussing the purchase of an assault rifle in the workplace could raise reasonable suspicion.
"If I heard a coworker talking about getting an assault rifle I would have some serious side eye and wonder why they needed something that is so efficient at quickly murdering many people," noted one such reader.
Mass Shootings On The Rise
Although workplace mass shootings are statistically rare, they rose in frequency last year, partly because more people returned to their offices after COVID-19 lockdowns and partly because mass shootings are increasing overall, according to NPR.
Last year's high-profile workplace shootings included a massacre at a FedEx facility in Indianapolis, Indiana. The gunman, a former employee at the facility, killed eight people before taking his own life in April 2021.
Two months later, an employee at the Mueller Co. facility in Albertville, Alabama, killed two people and hospitalized others.
There were more mass shootings in the past five years than in any other half-decade dating back to 1966, the Marshall Project reported.
Mass shootings have also become deadlier. Perpetrators killed 295 people between 2017 and 2021, about a third more than the 221 victims killed in the previous five-year period, according to The Violence Project, which defines a mass shooting as a single incident killing four or more people (not including the shooter) in a public location.