FedEx Employee Shot in Indianapolis Mass Shooting Says Company 'Did Not Protect Us'
One of the survivors of the mass shooting at a FedEx ground facility the night of April 15 said the shipping company had not protected its employees ahead of the attack.
"It's sad. It's something that never should have happened. FedEx should have been more aware," said Angela Hughley, who was shot as she arrived for her shift at 11:30 p.m on Thursday night, said to CBS 4 Indy. "FedEx did not protect us. Period. They did not protect us."
A spokesperson for FedEx confirmed in an email to Newsweek that the company does not publicly disclose details of its security processes, but confirmed "FedEx Ground has a policy regarding employee conduct as well as a workplace violence awareness and prevention procedures," adding that the safety of team members is a "top priority" at the company.
The spokesperson confirmed the company would provide "grief counseling and resources" for affected employees, but did not directly mention a company response to security protocols.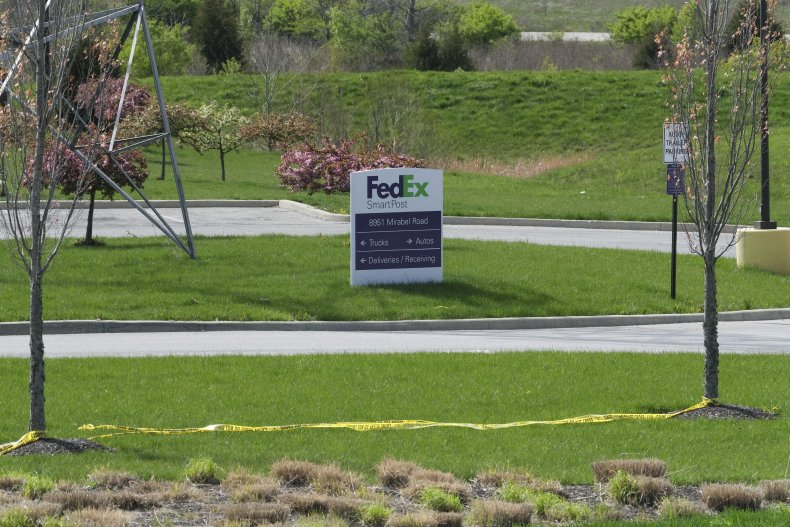 Hughley, a mother of five, pulled into the parking lot of the facility and "the next thing I know, I see somebody walking towards me just start shooting at me," she said to the station. "So, I backed my car back and he steady just walking towards me just shooting."
The suspected gunman, Brandon Scott Hole, 19, was a former FedEx employee.
Indianapolis Metropolitan Police Department Deputy Chief of Criminal Investigations Craig McCartt confirmed to reporters that Hole last worked at the facility in 2020. According to CNN, Hole's name had also previously appeared in police reports and law enforcement had been warned of his potential for violence.
Hole had a shotgun seized by authorities last spring after his mother reported that she feared her son would attempt "suicide by cop," The Washington Post reported. Hole was detained by police for mental health reasons and his shotgun was never returned.
The FedEx spokesperson said to Newsweek that "we cannot speculate" on Hole's motive, "but we are working closely with the authorities as they investigate this incident."
McCartt said to reporters Friday that FedEx and other security forces did not have any indication the attack would happen: "We're still working with FedEx security for anything that might have been an indication this was going to happen right now."
FedEx said in a statement on Friday the shipping company's "priority right now is in responding to the situation on the ground and helping our team members and law enforcement."
"We want to thank our exceptional security team and staff members, along with the many brave first responders and law enforcement officials in Indianapolis for their response and continued efforts to investigate this criminal act," Frederick W. Smith, Chairman and Chief Executive Officer of FedEx, and Raj Subramaniam, President and Chief Operating Office of the company, said statement posted to the FedEx's website on Friday.
The executives added: "Our team continues to work closely with law enforcement...Violence of any kind has no place in our society or our workplace, and the safety of our team members will always be our top priority."
For Hughley, the attack is still raw in her mind, she told CBS 4 Indy. She said she waited on the phone for a dispatcher while her son, who also works at FedEx, arrived to help her. First responders helped her out of her car, which was covered in bullet holes.
"Last thing I remember in the trauma center is me out like a light because they had to hurry up and put the tube in my chest because it was spilling over blood," Hughley said.
She is recovering in the intensive care unit at a local hospital as of Sunday morning, and said to local reporters that she is still experiencing pain trouble breathing.
"I'm not no victim, I'm a survivor," Hughley said. "That's what I'm going with. I'm a survivor."