Employee Praised for Turning Down Job Paying 'Below Livable Wage'
Commenters praised an individual online after sharing screenshots of a text exchange between them and a job recruiter because it was "below the living wage."
The Original Poster (OP), known as u/dadbodf**ker4life, posted about the incident in Reddit's popular "Work Reform" forum where it received more than 20,000 upvotes and 600 comments. The post can be found here.
Living Wages
A living wage allows an employee to survive off the paychecks they receive from one job rather than having to take on several jobs to afford living expenses.
One way individuals can measure their living wage is by utilizing "The Living Wage Calculator" which was created by MIT Professor Dr. Amy Glasmeier in 2004.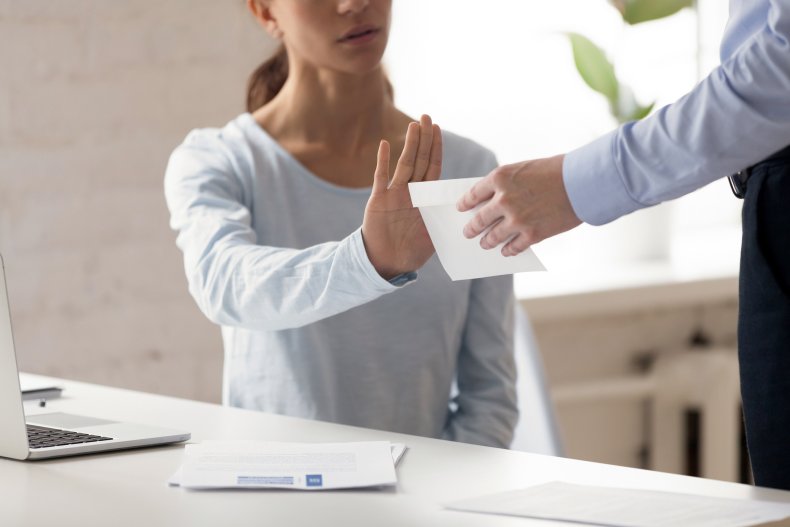 "The living wage is the minimum income standard that, if met, draws a very fine line between the financial independence of the working poor and the need to seek out public assistance," Glasmeier said. "Or suffer consistent and severe housing and food insecurity. In light of this fact, the living wage is perhaps better defined as a minimum subsistence wage for persons living in the United States."
The Living Wage utilizes several factors, including a region and necessary needs to meet the individual's basic needs while still remaining self-sufficient.
'Have to Pass'
In the post titled "Am I doing this right?" the OP shared screenshots of texts between themselves and an alleged recruiter.
One of the texts from the recruiter listed the shift hours, with the second shift spanning from 3 p.m. through 11 p.m. and the third shift spanning from 11 p.m. to 7 a.m.
The text also specified pay differentials for certain days and times—such as an extra $1.25 for working second and third shift over the weekend.
"Pay is $15/hr," the recruiter texted. "Would this work for you?"
The OP then replied to the recruiter with a response that commenters were praising them for.
"Unfortunately that is below the living wage for the state of Michigan according to MIT," the text read. "I will have to pass. Thank you."
In the comments, the OP explained that the recruiter for an adult care facility contacted them and they decided to "play along" and tell them the pay was too low even though they had "zero interest" in the job.
"This one text exchange will not make a difference. However, if we come together change can happen," the OP said.
Redditor Reactions
More than 600 users commented on the post, many praising the OP for not accepting a job that paid less than a living wage in their state.
"I received a rejection email from a job because my desired salary was 'significantly above the salary range for this position,'" one user commented. "I wanted $25/hour for a job asking for a 4 year degree and a bunch of experience. S**ts crazy."
"Listen, THANK TOU to each and every one of you for telling employers WHY the pay is too low, so they understand the disconnect between the low pay and high investment of effort involved in a job," another commented.
"Did you counter with a target for hourly pay?" one user asked the OP.
"He asked and I suggested $25/hr would be more suitable given everything the role is asking," the OP responded. "He responded with: 'Understood. Thank you for your response. If we get anything that fits your needs, I will reach back out and discuss that opportunity with you then. Have a great day!'"
"Yes. That's how it should be handled. Now if we could just get everyone to do that," another user commented.
Newsweek reached out to u/dadbodf**ker4life for comment.
Other Viral Posts
In another viral Reddit post, a worker was applauded for quitting their job when the boss tried to dock their pay after a vacation. Another employee was bashed online after they made a joke about a co-worker's bike crash.
One employee took to the "Antiwork" forum on Reddit to complain that his boss received an $87,000 raise while he and his coworkers haven't received one in years.