This is the Minimum Wage in Every State
California, followed by a handful of other states on the West and East Coasts, were reported to offer the highest minimum wages in the country, as of January 9, according to the National Conference of State Legislatures.
The country's highest minimum pay level was recorded in Washington, D.C. at $15 per hour. But among the states, California currently ranks highest ($14), followed by Washington state ($13.69), Massachusetts ($13.50), Connecticut ($13) and Oregon ($12.75), among the top five states with the highest minimum wages, according to the data.
The lowest pay level (a federal minimum of $7.25) was recorded in several states in the south and Midwest of the country, such as Texas, North Carolina, Oklahoma, Wisconsin, Iowa and Indiana.
Minimum wages in Georgia and Wyoming were reported to be below the $7.25 federal minimum, while Alabama, Louisiana, Mississippi, South Carolina and Tennessee were each reported to have not adopted a minimum pay level.
The federal minimum wage applies in all states, aside from the aforementioned exceptions. But even within those states, "employers subject to the Fair Labor Standards Act must pay the current Federal minimum wage of $7.25 per hour," the U.S. Department of Labor states.
Sixteen states were reported to offer a minimum pay ranging from $10 to $12.49. They include several east coast states such as New York, New Jersey, Maryland, Vermont and Maine, as well as Alaska and Hawaii in the western region.
Florida, Delaware, Ohio, West Virginia, South Dakota, Nebraska, Montana and Nevada each offer a minimum wage ranging from $7.26 to $9.99.
10 states with the highest minimum wages
Source: National Conference of State Legislatures
California: $14 per hour
Washington state: $13.69
Massachusetts: $13.50
Connecticut: $13
Oregon: $12.75
New York: $12.50
Colorado: $12.32
Arizona: $12.15
Maine: $12.15
New Jersey: $12
The graphic below, produced by Statista, illustrates the minimum wage in every state, as of January 9.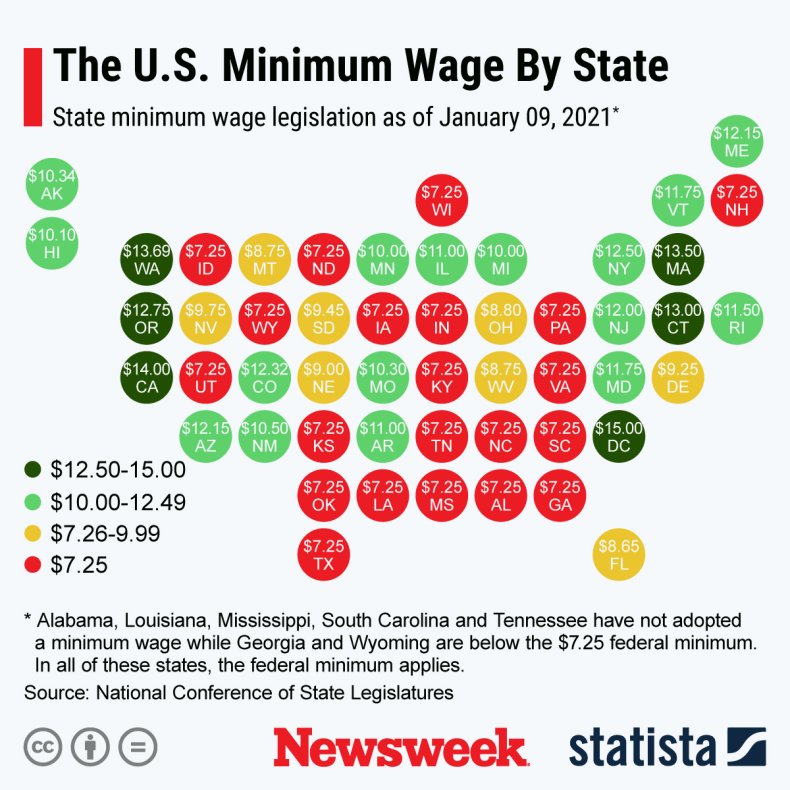 Biden's plan for raising minimum wage
President Joe Biden proposed raising the federal minimum wage level to $15 per hour as part of his "American Rescue Plan," which he outlined in mid-January.
Last week, the president noted that he doesn't expect the $15 minimum wage proposal to be passed in his $1.9 trillion COVID-19 stimulus bill as originally planned because of Senate rules. He noted it may need to be passed as its own standalone bill instead.
Asked whether he'd be willing to negotiate with Republicans who have opposed his minimum wage proposal, Biden told CBS Nightly News anchor Norah O'Donnell last week: "Apparently, that's not going to occur because of the rules of the United States Senate."
Biden may have been referring to Democrats' plans to pass the bulk of his proposed $1.9 trillion COVID-19 stimulus bill through a process known as budget reconciliation, which would bypass the need for Republican support.
"My guess is [the minimum wage increase] will not be in it," the president said, noting he is prepared to negotiate a proposal for a standalone bill to raise the minimum wage.