Empty USPS Trucks Are Driving Across Country Without Mail
The 53-foot long trucks used by the U.S. Postal Service (USPS) have been making cross-country trips without containing any mail.
A report by NewsChannel 5 Investigates of Nashville, Tennessee found that on August 21, a USPS truck left Nashville for Illinois 14 minutes before its scheduled departure without any mail on it.
The same day, another truck left for Memphis 10 minutes early with no mail as well as another empty truck that departed for Bowling Green, Kentucky four minutes early.
The empty trucks may have resulted from a cost-cutting measure by Postmaster General Louis DeJoy.
In June, a USPS inspector general report found that "delays in mail processing and inadequate dock staffing resulted in five million late trips last year, costing the agency $410 million," according to NewsChannel 5.
In response, DeJoy began requiring postal trucks to leave sorting facilities by specific times, even if they're empty, in order to reduce worker overtime and extra travel by the trucks.
Joe Jolley, a USPS worker represented by the Nashville postal workers union, told the news channel that DeJoy's new policy is impractical and has resulted in time-sensitive mail—such as prescription medications, legal documents, human cremains and other time-guaranteed deliveries—to be left undelivered on the loading docks since the trucks won't wait until all scheduled outgoing mail has been loaded before departing.
Concurrently, Don Eggers, a 40-year USPS worker who is also in a local mail workers union, said reduced staffing and the recently deactivated mail-sorting machines—some of which handle mail-in ballots—have also created additional delays.
While DeJoy has said that the mail-sorting machines were deactivated and moved out of facilities to make more room for package mail, the use of which has increased since the start of the epidemic in March, Eggers proclaimed, "I believe with the new Postmaster General that he's basically just delaying the mail."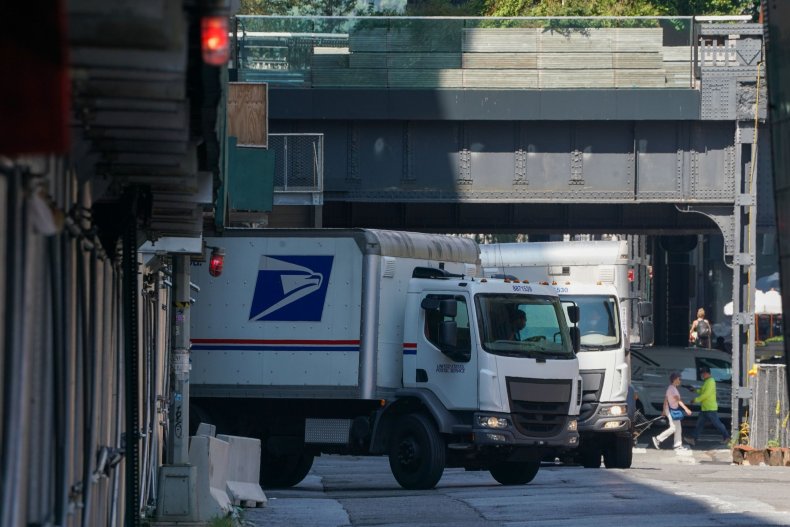 In his testimony to the U.S. Congress last Friday, DeJoy said the USPS won't replace the deactivated mail-sorting machines even though the postal service expects a wave of mail-in ballots in November as voters avoid possible COVID-19 exposure at in-person polling stations. The machines can sort 36,000 pieces of mail per hour.
In mid-August, political officials said that local postal workers had been spotted removing collection boxes—the iconic blue steel public mailboxes where people drop off their letters—from different locations in New York, Oregon, Montana and Indiana. Their removal occurred without any notification from USPS officials.
In an August 7 memo, DeJoy—who was hired by the Postal Service Board of Governors whose members were appointed by Republican President Donald Trump—reshuffled two top USPS executives and 21 to 31 other executives and staffers who represent "decades of institutional postal knowledge" out of leadership roles or into new positions, according to The Washington Post.
The memo also banned employees from working overtime and making extra trips to deliver mail, reduced hours at different branches nationwide, implemented a hiring freeze, asked for voluntary retirements and reduced the USPS' overall operating units and service regions.
Under questioning by Democratic California Representative Katie Porter on Monday, DeJoy said he wasn't responsible for all these recent changes to USPS operations, didn't know who was, wouldn't commit to reversing the changes before the November election and said he didn't know how many people voted by mail in the 2016 presidential election.
"I'm concerned about your understanding of this agency," Porter said, "and I'm particularly concerned about it because you started taking very decisive action when you became postmaster general. You started directing the unplugging and destroying of machines, changing of employee procedures, and locking of collection boxes."
Newsweek contacted the USPS for comment.