USPS Backtracks on Removing Collection Boxes
The U.S. Postal Service (USPS) has reportedly backtracked on a decision to remove public postal collection boxes, the iconic blue steel mailboxes where people can drop off their mail, in the lead up to the November elections.
Democratic presidential nominee Joe Biden commented on the boxes' removal as officials claim that they been removed from areas within New York, Oregon, Montana and Indiana.
Their removal coincides with recent USPS slowdowns, a lack of funding and a decommissioning of 10 percent of all its mail-sorting machines which threaten to potentially disenfranchise at least 226 million voters in 46 states who may largely use mail-in voting as a way to avoid COVID-19 exposure at polling places on Election Day during the ongoing coronavirus epidemic. Many states have laws requiring ballots to be thrown out if not counted on or shortly after Election Day.
NBC Montana reported on Friday morning that 68 USPS collection boxes were set to be removed across the state. But the USPS has reportedly backed off on the removal.
"We are suspending the removal of collection boxes at this time. All postings on collection boxes will be removed, as we will no longer be pulling any boxes," the USPS allegedly said, according to NBC Bay Area news reporter Damian Trujillo.
In response to news of the collections boxes' removal, Democratic U.S. Senator Jon Tester of Montana wrote a letter demanding that U.S. Postmaster General Louis DeJoy explain how many collection boxes have been removed in the state and why.
"If true," Tester wrote, "this seems to be occurring without any transparency or communication with impacted Montanans."
In a statement, Kim Frum, a Senior USPS Public Relations Representative said that the removal of the collection boxes was a cost-saving measure.
"When a collection box consistently receives very small amounts of mail for months on end, it costs the Postal Service money in fuel and workhours for letter carriers ... The decision to remove a mail box is made on a case-by-case basis and if, for example, that mail box is the only means for sending a letter or other correspondence in a neighborhood... the Postal Service could decide to keep it there," Frum wrote.
Anyone with a residential or business mailbox can use it to send outgoing mail, Frum added.
Newsweek contacted USPS for further information.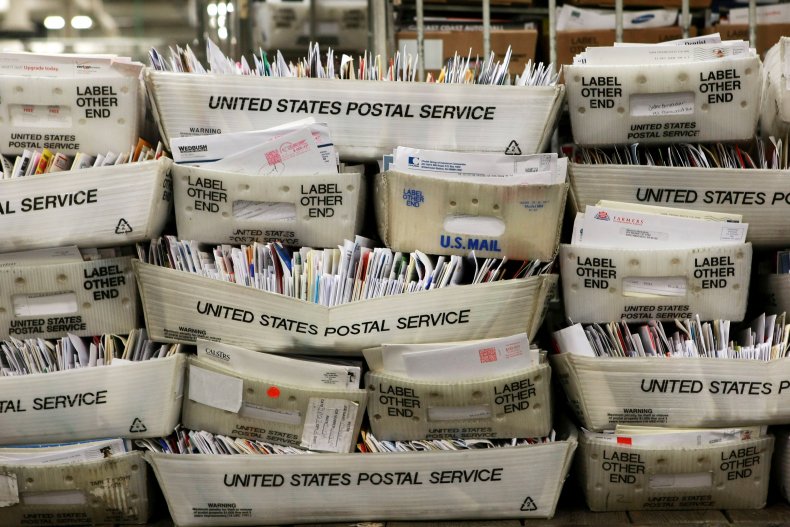 In a virtual fundraiser, Biden said, "They're going around literally with tractor-trailers picking up mailboxes. You oughta go online and check out what they're doing in Oregon. I mean, it's bizarre!"
In Portland, Oregon, after a photo of several USPS collection boxes being removed from city streets went viral, USPS spokesperson David Rupert told KOIN 6 News that the boxes were to be replaced "with newer, more secure models" after being vandalized.
"Every location that had a collection box will keep a collection box," Rupert added.
In a Thursday interview on Fox Business Network, Republican President Donald Trump said that the stalemate over the next coronavirus stimulus bill could hold up funds requested by congressional Democrats to help the USPS process mail-in votes during the November elections.
"If we don't make a deal, that means they don't get the money," Trump said. "That means they can't have universal mail-in voting; they just can't have it." He later clarified that he supports the USPS funding, if Democrats drop additional provisions in the stimulus bill seeking funds for "poorly managed" cities and states economically impacted by the COVID-19 epidemic.
On the same day, the USPS sent letters notifying that 46 different states that recent USPS slowdowns could cause mail-in ballots to arrive too late to be counted on or shortly after Election Day on November 3.
"Cost-cutting moves have already delayed mail delivery by as much as a week in some places, and a new decision to decommission 10 percent of the Postal Service's sorting machines sparked widespread concern the slowdowns will only worsen," The Washington Post reported.
This would potentially disenfranchise 226 million voters or more as many Americans may choose to vote by mail to avoid possible COVID-19 exposure at polling places.