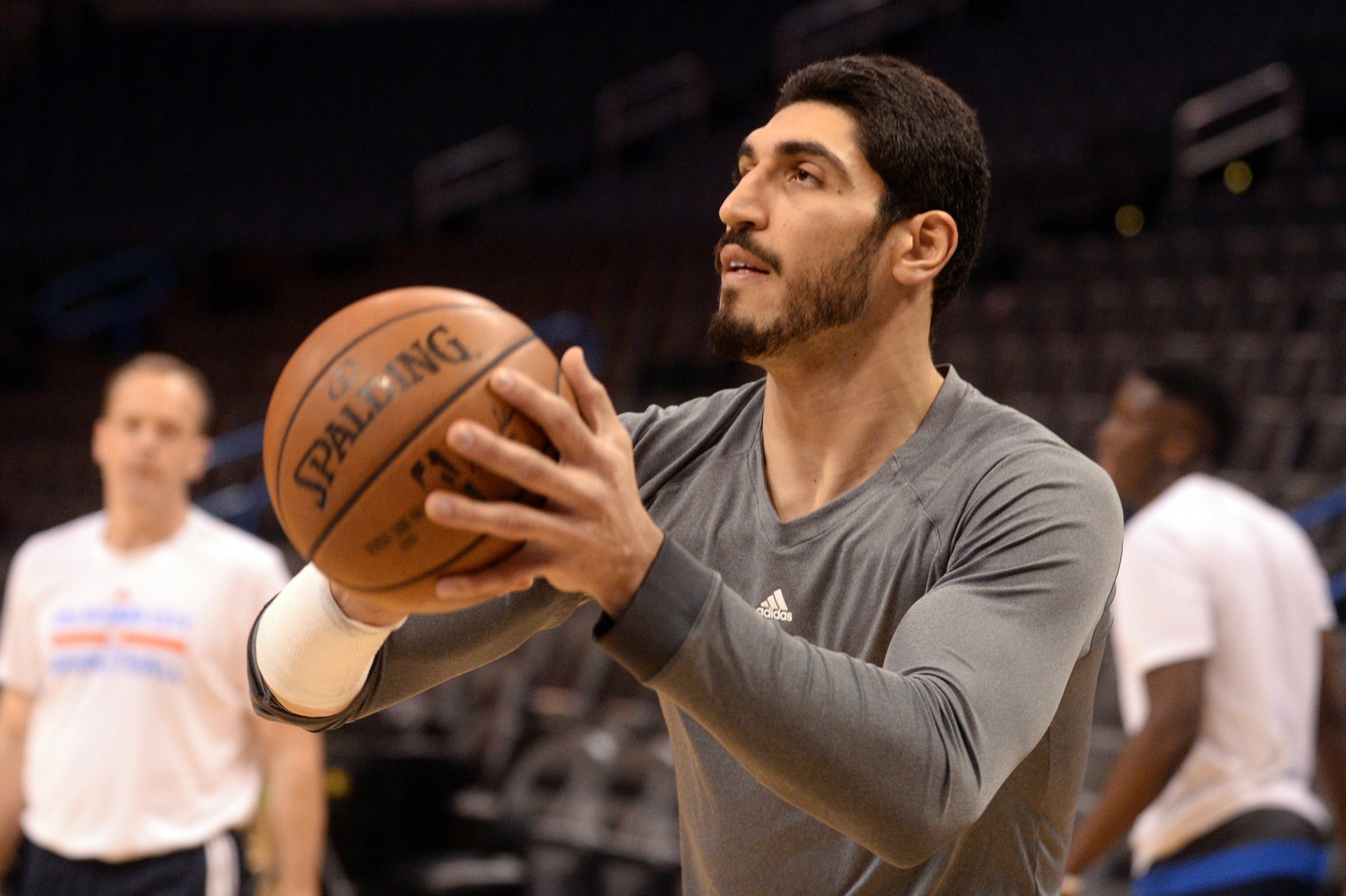 NBA star Enes Kanter said in a tweet Friday that his father had been arrested in Turkey, and appeared to compare Turkish President Recep Tayyip Erdogan to Nazi leader Adolf Hitler. "Hey world my dad has been arrested by Turkish government and the Hitler of our century. He is potentially to get tortured as thousand others," he tweeted.
Read more: Turkish NBA star Enes Kanter is being held at an airport. He blames his anti-Erdogan views
Kanter, a six-year veteran of the NBA who currently plays for the Oklahoma City Thunder, had an arrest warrant issued for him last week, with the Turkish government accusing him of being a member of a "terror group," according to a report in pro-government newspaper The Daily Sabah.
The warrant refers to Kanter's alleged use of an encrypted messaging application that the government says is used by supporters of Fethullah Gulen. Kanter is a vocal supporter of the Islamic cleric whom Erdogan has accused of orchestrating last year's failed coup attempt in Turkey.
In response to the arrest warrant, Kanter said, "You cannot catch me. Hahaha. Don't waste your energy. I am already going to come to [Turkey] to spit on all of your ugly, hate-filled faces."
Kanter was also detained in a Romanian airport in May: Authorities told him that his Turkish passport had been canceled. He was allowed to continue his journey after intervention from the NBA and the U.S. State Department. The 25-year-old said that the incident occurred as a result of his "political views."
In an open letter published in The Daily Sabah last year, Kanter's father, Mehmet, publicly disowned his son over his views.
"I reject Enes…as our son. I apologize to our president and the Turkish people for the shame of having such a child," he wrote.
Following last year's coup attempt, human rights groups accused the Turkish government of torturing those it alleged were involved. Measures taken, said the U.N.'s special rapporteur on torture, Nils Melzer, had created an "environment conducive to torture."
He added: "Testimonies received from inmates and their lawyers suggest that in the days and weeks following the failed coup, torture and other forms of ill-treatment were widespread."
Melzer added that prison facilities were often overcrowded, at up to 200 percent capacity.