England COVID Lockdown 'Probably Won't Save Christmas'
Despite Britain's Prime Minister Boris Johnson announcing stringent lockdown measures, it might not be enough to mean families can spend Christmas together, experts have warned.
Announcing a new set of England-wide restrictions to members of Parliament (MPs) in London, Johnson will return the country to a similar level of lockdown seen at the start of the pandemic in March. He rejected claims he has acted more slowly than other European countries to stem the second surge in cases, arguing his move to national measures has been "faster than in France".
The second wave has swept across Europe, where harsh lockdowns in the spring were followed by a summer of being encouraged to travel and dine out once again. Schools and colleges reopened and as the weather turned colder, people began spending more time meeting up indoors. The World Health Organization has warned that "Europe is at the epicenter of this pandemic once again".
In England, COVID is spreading faster than the reasonable worst-case scenario, the country's top scientists have warned. A total of 815 confirmed COVID-19 hospital patients were in mechanical ventilation beds on October 31.
From midnight on Thursday, the country is plunged into its second country-wide lockdown, with all non-essential shops, leisure facilities, bars, and restaurants closing and household mixing banned. People are being told to stay at home unless they need to travel for work, childcare, or medical reasons and to avoid domestic abuse. Scotland, Wales, and Northern Ireland have their own restrictions in place.
It is hoped the new measures will reduce transmission, get the 'R' number below 1 and buy the country time before effective treatments and vaccines are brought in. Unlike during the U.K.'s first three-month lockdown, schools and universities will stay open.
Dr. Julian Tang, a clinical virologist at the University of Leicester, believes the second lockdown will be worse than the first and threatens any hope of families spending Christmas together. "It's going to be very very tough," he tells Newsweek. "Keeping schools and universities open is going to blunt this lockdown and having a prolonged period of tough restrictions will be the consequence - you probably won't be able to save Christmas.
"There might be a chance of easing lockdown over Christmas but only if people really follow the lockdown rules, and not if schools remain open. With schools and universities continuing as normal this lockdown will not have much of an impact. I think after a six to eight-week lockdown with schools still open, the R [reproduction] rate will be around 1.1 to 1.2, looking at maybe coming out of lockdown in January."
Tang believes the government should have implemented tougher restrictions when cases first started rising exponentially in September. "If you don't get in there early, then the result is a tougher lockdown for a longer period. By the time lockdown is introduced, instead of a drip of cases, you've got a deluge."
Johnson is adamant. "Whatever happens these restrictions end on 2 December," he told MPs. But senior government minister Michael Gove said the lockdown end date could not be guaranteed. It would be "foolish to predict with absolute certainty" what the outcome of the four-week lockdown will be, Gove told Sky News on Sunday.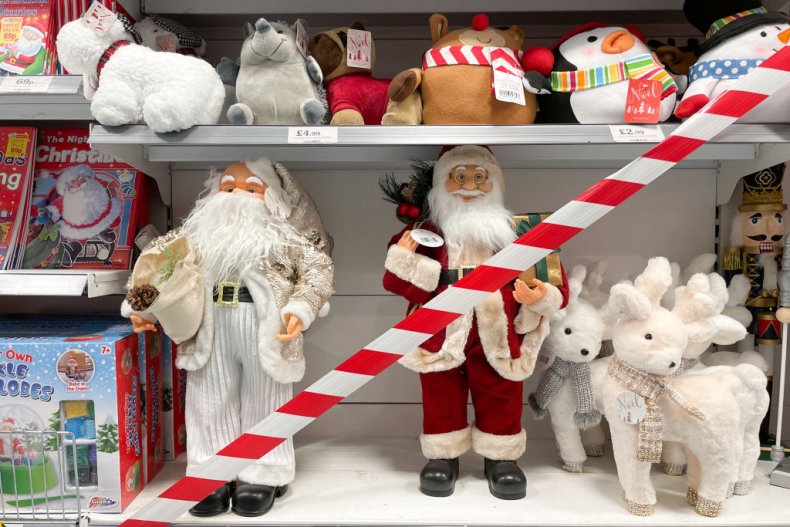 Members of the government's Scientific Advisory Group for Emergencies (SAGE) have warned that although the spread of the virus among primary school children is very low, those in secondary school and higher education appear just as likely as adults to carry and spread the disease. Last month, SAGE called for a two-week lockdown to take place during England's half-term school holiday to boost the impact of a nationwide shutdown without harming education.
SAGE advisor Graham Medley, professor of infectious disease modeling at the London School of Hygiene and Tropical Medicine, told Newsweek that "it's too early to say with any confidence" whether the lockdown will need to be extended, but that may become clear as early as next week.
Dr. David Strain, of the University of Exeter Medical School, told Newsweek he is glad the government is implementing a second nationwide lockdown and also believes it should have come sooner. He says surge capacity at his hospital in the south-west of England - measures put in place to meet COVID demand such as turning regular wards into COVID-19 wards and canceling routine treatments - are already being put in place.
"The real task is finding staff as we have doctors and nurses either off self-isolating or with COVID themselves," he said. "Our COVID beds are full. We expect to meet surge capacity by the end of this week and we are preparing to make very difficult decisions in unfortunately postponing non-essential services very shortly.
"From a purely medical point of view, yes I believe we should have entered lockdown sooner, and I am grateful that the prime minister has announced it for this week. I can understand the decision in keeping the economy going, but I do think lockdown should have happened [when SAGE] first warned about it last month."
Unlike Tang, Strain believes a four-week lockdown is sufficient to bring the 'R' rate of transmission down and ensure the U.K. can move out of lockdown by Christmas. But it's not guaranteed. The latest data from Public Health England* shows that, of the top five locations where "outbreaks" of COVID occur, pubs and restaurants account for 14.4% of transmission cases identified by NHS Test and Trace. Supermarkets and secondary and primary schools - which will remain open - account for 23.7% of outbreaks.
"The thing that will put pressure on the R is secondary schools and universities. I suspect that is going to put extra strain on lockdown - but I think it is right that we at least try to keep schools open," Strain says.
Dr. Simon Clarke, professor of cellular microbiology at the University of Reading, says he is "skeptical" four weeks will be long enough to bring COVID rates down enough. He tells Newsweek: "It is too early to say if the lockdown will need to be extended, but certainly I am skeptical given that schools are staying open. For younger children, keeping schools open will not likely make a difference but for the older teenagers, it will inevitably put upward pressure on R."
He says a recurring lockdown, where restrictions are eased for a certain number of weeks before being put in place again, could be imposed in England "if we don't keep control of the virus when we are trying to live something like normal life" and that people shouldn't think that the virus has changed how it transmits.
"I have noticed a backpedaling of the rules," Clarke says. "Supermarkets are letting people in without masks, people are forgetting about hand hygiene. People don't realize that they can't just go back to how life was 12 months ago. They are beginning to relax and they mustn't. We're not there yet."
SAGE member Dr. Jeremy Farrar said the government deserves credit for changing its approach in the light of a very fast-moving epidemic. In a statement, he said: "My experience from other virus outbreaks is that the second wave is always harder. Everyone is worn out, healthcare workers in particular. It can feel more hopeless the second time around. We wish it would just go away. But we have to remember it isn't hopeless and what we do will make a difference.
"The sooner we act, the sooner we can start to recover. It will be a very difficult few weeks now and no one can underestimate the toll that will take on people. But the consequences of sticking with the current insufficient restrictions would have been much worse." He warned that unless the U.K. acts to suppress the virus now, "it will be a lot longer" before it is safe to ease restrictions once again.
Looking ahead, Farrar said there is a chance lockdown restrictions may "ease up a little" between Christmas and New Year without the virus getting out of control. "But if we'd let it continue to multiply, we'd be in a terrible situation in December."
*Study methodology and notes
NHS Test and Trace figures on common locations reported by people testing positive for coronavirus in England between October 19 and 25 2020.