Trump Was Criticized for His COVID Leadership, but Now Europe Is Faring Much Worse
Over the summer the U.S. suffered huge spikes in coronavirus cases, with states such as Florida, Texas, and Arizona hit particularly hard. President Donald Trump was criticized for what some saw as his mishandling of the pandemic. Meanwhile, Europe looked as if it had turned a corner after most countries used some form of lockdown to flatten the curve of infections.
On June 30, the European Union (EU) barred travellers residing in the U.S. as America battled with a massive surge in cases. That day it reported 46,174 cases according to Johns Hopkins University. While from the EU's perspective this was an apolitical move, it resulted in critical articles on the pages of Trump's media enemies, such as The New York Times, The Washington Post, and CNN.
Things have recently taken a turn for the worse in Europe, now facing its second wave of the virus. The region encompassing the European Union, European Economic Area and the U.K. has seen over 6.6 million cases and over 215,000 deaths. The U.S. still leads the world in cases (8.9 million of the worldwide 45 million total) and deaths (228,000 of 1.1 million deaths.)
After many European citizens spent the spring under harsh lockdowns, and summer under restrictions, experts told Newsweek people have grown tired of sticking to guidance such as social distancing and limited gatherings.
This has been compounded by the reopening of schools and colleges, and people taking advantage of opportunities to travel and dine out once again. And as the weather has turned colder, people have congregated more indoors where it is easier for the virus to spread. On Thursday, World Health Organization European regional director Hans Kluge told a meeting with European health ministers that "Europe is at the epicenter of this pandemic once again," Associated Press reported.
According to the Financial Times coronavirus case tracker, the EU, with a combined population of 448 million, has recorded a daily average of 324.8 new cases per million in the past week, compared with 210.2 per million in the U.S.
In its latest weekly COVID-19 report, the World Health Organization (WHO) highlighted that the U.S. has a lower incidence of new cases per million of the population at 1,381, compared with several European countries, including the U.K. at 2,200, and 3,330 in France.
The table below, from The New York Times COVID tracker, shows a selection of countries in the world where the per capita rate of new daily cases is high and above those of the U.S.
| | | |
| --- | --- | --- |
| Country | Daily average in last 7 days (Retrieved October 29) | Per 100,000 |
| Czech Republic | 12,585.40 | 118.4 |
| Belgium | 13,414.70 | 117.4 |
| France | 39,673 | 59.2 |
| Netherlands | 9,585.90 | 55.6 |
| Spain | 18,744 | 40.1 |
| Poland | 13,781.40 | 36.3 |
| Italy | 20,016.90 | 33.1 |
| U.K. | 21,863.70 | 32.9 |
| Austria | 2,869.60 | 32.4 |
| United States | 75,561 | 22.8 |
However, this snapshot belies the bigger picture, which is that while Europe enjoyed a summer of relative control over the virus, America battled to suppress its rolling average daily case numbers, far exceeding those seen in Europe until this recent surge.
As shown in the Statista graphic below, following a spike in cases in the early spring when the coronavirus first entered European countries, measures such as lockdowns brought down the rolling average of cases in the summer months, before they crept up again in late summer and autumn.
In contrast, the U.S. was unable to significantly reduce its average number of daily cases, which partly explains why its overall case and death counts are the highest in the world.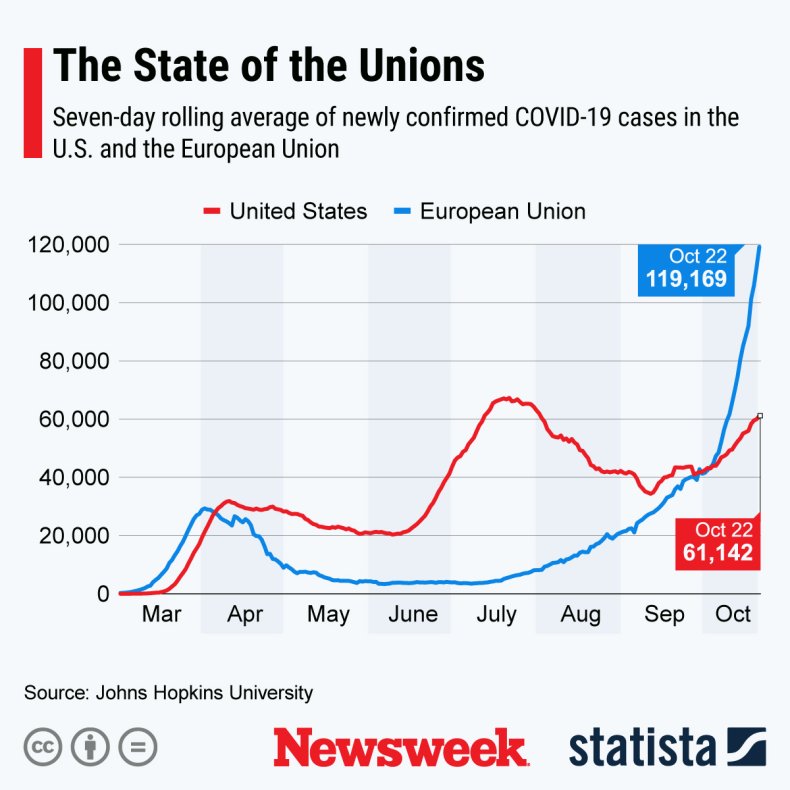 Trump to Blame?
In light of these trends, should the notion that President Donald Trump botched the U.S. response to the pandemic be rethought? Is trying to stop transmission a losing game?
White House chief of staff Mark Meadows said in a recent interview that the U.S. is not going to control the spread of the virus but rather focus on mitigation. With just days to go until the 2020 election, this narrative might be a useful one for a president whom voters will judge on his response to the COVID-19 pandemic.
It is not possible to make a straight apples-to-apples comparison of the U.S. and Europe, one a country with a federal government and the other a continent of nations. However, Europe is plainly seeing a higher rate of infections.
"On one level, the resurgences in Europe we are seeing speak to the inherent challenge of controlling and maintaining control of an infectious contagion like SARS-CoV-2 [the coronavirus]," said Ranu S. Dhillon, of the Division of Global Health Equity at Brigham and Women's Hospital at Harvard Medical School.
Last month, experts told Newsweek the U.S. uniquely mismanaged the pandemic, with problems from the start hampering its ability to control the virus. Unlike other countries, the U.S. did not implement a nationwide lockdown, but left state governors to individually handle outbreaks.
But experts told Newsweek that Europe faring worse than the U.S. is not proof that Trump's approach to COVID-19 was the right one. In fact, they predict the U.S. will soon overtake Europe in case and death rates due to a continued lack of action on a federal level.
The U.S. didn't manage to flatten and suppress its first wave of cases in order for it to enter a second wave, according to coronavirus White House task force member Dr. Anthony Fauci.
On Thursday, the U.S. recorded its highest ever number of coronavirus cases in a day, at 88,521. In October, 29 states recorded at least one record high of new infections, the Johns Hopkins coronavirus dashboard shows.
Dr. Ashish Jha, the dean of Brown University School of Public Health, told CNN on Tuesday that he would not be surprised if the U.S. reached 100,000 cases per day on average.
On Wednesday, Dr. Scott Gottlieb, former commissioner of the U.S. Food and Drug Administration, told CNBC the U.S. is "on a trajectory to look a lot like Europe as we enter the month of November, so I think things are going to get worse."
Europe's performance "does not exonerate Trump at all," said Dr. Charles Holmes, director of the Center for Innovation in Global Health at Georgetown University School of Medicine. "He has failed to lead a national COVID response and politicized common sense public health measures."
Holmes said: "While many Europeans were able to live with fewer restrictions over the summer months, many Americans, because of high rates of community transmission in many states, were left in a kind of limbo, where even if their localities opened up, they were in many cases unsafe, and their disease risks remained high." Newsweek has contacted the White House for comment.
A spokesperson for the U.S. Department for Health and Human Services told Newsweek the U.S. "is in a much better place than we were before the pandemic due to the actions taken by the Trump Administration to increase PPE and other medical supplies, make advancements in testing, implement mitigation efforts while safely reopening our economy, and developing new life-saving treatments." The spokesperson said the U.S. is outpacing the world in testing, and has made advancements in vaccines and therapeutics.
Pandemic response
"The real question should be, what are we doing about it [the spread of the coronavirus]?" said Peter Drobac, a physician and specialist in infectious diseases and public health at the Saïd Business School at the University of Oxford, U.K.
"Europe is responding, albeit too slowly and cautiously. The U.S., on the other hand, is trapped in a cycle of political paralysis and denial." The U.S. "may reclaim its top spot very soon," he said.
Demonstrating what Drobac described as the slow response of some countries, on Wednesday France announced a four-week lockdown in an attempt to reduce the spread of the virus. But by then it had already reported over 200,000 cases in the past week, according to the WHO, following a summer where daily cases were in the hundreds.
In the U.K., over 10,000 infections per day have been reported since early October, spiking by 30 percent in the past week. But it only introduced a more localized, tiered system of restrictions in mid-October.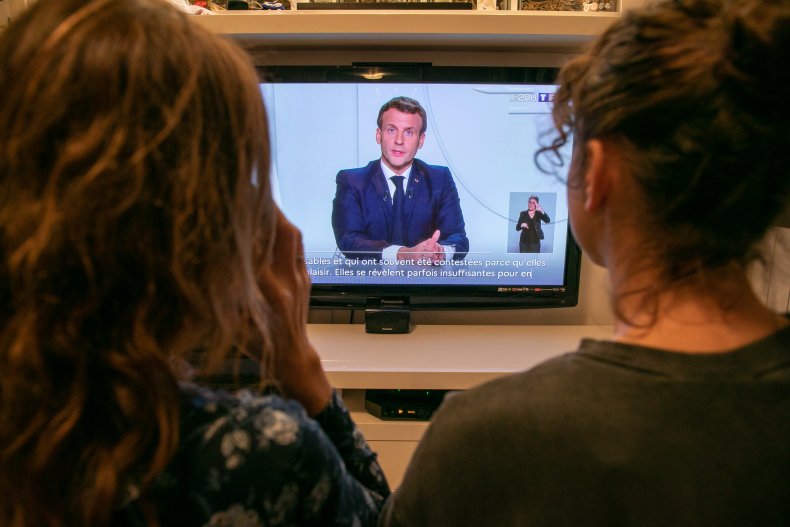 Although the pandemic is a unique challenge, leaders in both the U.S. and Europe have failed their citizens to some extent, experts said. Countries such as Taiwan, which has recorded only 550 cases and 7 deaths and on Thursday marked 200 days without a locally transmitted coronavirus case, prove it is possible to prevent the coronavirus from tearing through a population.
Experts previously told Newsweek it achieved that by taking the virus seriously when the outbreak first started in China, and by preparing for a potential future pandemic following the 2003 SARS outbreak,
"There are a number of countries who have—with strategies that vary and are tailored to their social, political and cultural realities—kept the pandemic at bay with minimal impact to their economies and are now enjoying a nearly normal life again," said Dhillon.
"Vietnam, China, Taiwan, New Zealand, Singapore and South Korea, for example, have used a varying combination of restrictions, social distancing, aggressive testing, and contact tracing to do this."
Reverting back to lockdowns is therefore a sign of failure in many respects. Since the start of the pandemic, the World Health Organization urged countries to control the spread of the coronavirus by creating and building these capabilities, and only using lockdowns to buy time to implement more precise and targeted measures that stop transmission and save lives.
Prof. Steven Van Gucht, a virologist at Sciensano, the national public health institute of Belgium said: "Overall, governments [in Europe] waited too long to impose stronger measures because of public pressure, economic incentives, assuming that we could control a possible surge in cases by gently turning on the restriction wheels, but that gentle turn needs to become an emergency brake."
Asked to name the European countries that have failed to take the correct actions, Dr. Amesh A. Adalja, senior scholar at Johns Hopkins Center for Health Security, told Newsweek: "Any country that relied on a lockdown and didn't build the public health infrastructure to execute a sustainable test, trace, isolate strategy—which probably means all of them to some degree."
As both the U.S. and Europe head into what will be undeniably difficult winters marked by the same unnecessary death and suffering already endured in their spring and summer months, their citizens are relying on leaders of all stripes to finally learn form their past mistakes.
This article has been updated to amend comments from Charles Holmes.