September 22 marked the day the 200,000th person in the U.S. lost their life to the coronavirus. The grim milestone follows months of the nation having the world's worst death and case counts in the COVID-19 pandemic.
The U.S. accounts for around a fifth of coronavirus cases and fatalities, at 6.8 million diagnoses of 31.6 million worldwide. The coronavirus has killed almost 977,000 people, with nearly 202,000 of those in the U.S.
What has led to the world's largest economy amassing a body count so high that top immunologist and White House coronavirus task force member Dr. Anthony Fauci described it as "sobering... and stunning" earlier this week?
Dr. Amesh Adalja, senior scholar at Johns Hopkins Center for Health Security, told Newsweek "the United States has uniquely mismanaged the pandemic." A range of failures meant the country ended up with chains of transmission that first went undetected in the northeast, in a pattern that "repeated over and over," he said.
Dr. Charles Holmes, a member of the Infectious Diseases Society of America, director of the Georgetown University Center for Innovation in Global Health and a professor of Medicine, told Newsweek: "The coronavirus pandemic has been the ultimate test of leadership for political and public health officials around the world."
Many other countries have, of course, also made mistakes when tackling the new virus. China, where the coronavirus was first recognized late last year, initially underreported its emergence. In northern Italy, an early epicenter, government lockdown plans were leaked in early March, prompting thousands to leave the region The Guardian reported at the time. Brazil's' president Jair Bolsonaro has been heavily criticized for calling COVID-19 a "little flu." And British Prime Minister Boris Johnson's approval ratings plummeted earlier this year after his chief advisor was found to have broken nationwide lockdown restrictions.
But the "scale and lethal consequences of our mismanagement and failure are singular and tragic," said Holmes.
President Donald Trump has previously claimed the alarming case figures are down to the country's testing capacity, but this does not explain the high case positivity rates, or the portion of tests with positive results, in many states.
Experts told Newsweek the U.S. handling of the outbreak was botched on a federal level from the start, and not helped by weakened existing pandemic preparedness and healthcare systems.
As U.S. Centers for Disease Control Prevention (CDC) director Robert Redfield said earlier this year, the country has "failed over decades to effectively invest in public health." In contrast, countries such as Taiwan and Germany that have fared relatively well, or at least better than the U.S., have reasonably strong universal healthcare systems, experts previously told Newsweek.
A CDC spokesperson told Newsweek the pandemic has "shone a spotlight on shortcomings within out public health system," and said long term, sustained funding for state and local health departments is "critical."
At the same time, as Holmes pointed out, the U.S. was still relatively prepared for such an outbreak compared to other countries, and has among the best public health and scientific capacities in the world. But the federal government "failed to mount a cohesive and coordinated response" that leveraged them, he said.
Another crack in the foundations came in the disbanding of the White House National Security Council's Global Health Security and Biodefense unit, responsible for pandemic preparedness, in 2018.
The unit's break-up delayed the coordination needed to make sure supply chains for testing, PPE, ventilators and other supplies were in place and ready to support a nationwide response, said Holmes. The Trump administration also did not use the Defense Production Act to rapidly provide supplies including PPE to healthcare workers and others on the frontlines, he said, and did not create a federal program to support the urgent nationwide need for contact tracers.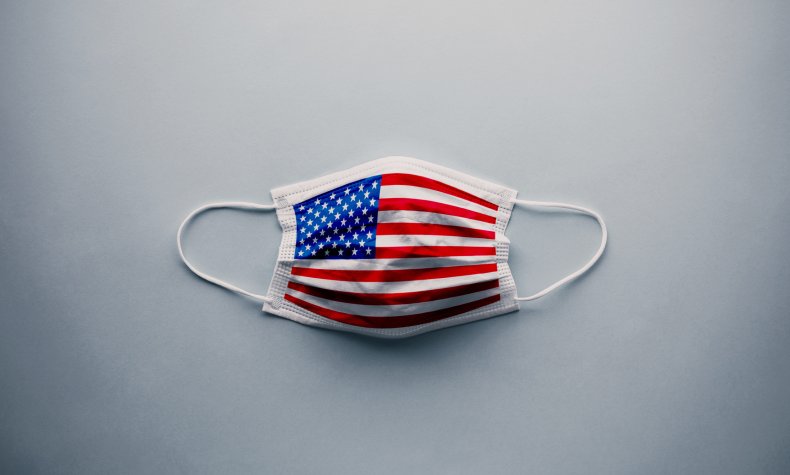 "The U.S. healthcare system has been broken for a long time, and this pandemic has uncovered all the band-aids that we had in place," Dr. Megan Ranney, an emergency physician at Brown Emergency Medicine and co-founder of Get US PPE, an non-profit organization that provides donated PPE to those in need, told Newsweek.
As Newsweek reported in March, a "broken" testing system in the U.S.—partly caused by the CDC declining to use a test accepted by the World Health Organization, and sending out flawed packs in the pandemic's early days—enabled the virus to silently spread.
A CDC spokesperson told Newsweek "despite an early setback producing testing kits for use by states, testing was widely available within weeks of development of the test to those who were recommended to be tested."
As the pandemic wore on, the Trump administration took steps including asking Americans to follow guidelines for 30 days to slow the spread of the coronavirus, blocking flights from China, and launching Operation Warp Speed to pump money into fast treatment and vaccine development. The CDC also issued advice on preventing transmission.
A long-term national strategy was not rolled out, and instead state governors were to deal with their individuals outbreaks. A CDC spokesperson told Newsweek: "For nine months, CDC has supported state and local health departments on the front lines working vigorously to stop the pandemic."
Trump, meanwhile, touted unproven treatments, spoke out against mask-wearing, and purposefully downplayed the virus. The administration has also been criticized for not taking enough actions in February.
To complicate matters further, the pandemic arrived in a highly partisan election-year environment, Joshua Michaud, associate director of global health policy at the non-profit Kaiser Family Foundation, told Newsweek. "Politicians and political concerns, not science and public health expertise, have dominated much of communications around the response in the U.S., which has meant mixed messaging and inconsistent application of interventions."
What the U.S. has shone in, according to the experts, is the science behind the response, such as the development of medicines and vaccines, "although politicians have been undermining it," said Benjamin.
Over the course of the pandemic, Fauci has corrected false claims made by Trump, while being careful not to explicitly criticize him. And last week, Trump said Redfield must have been "confused" for stating a shot may not be widely available for the U.S. public until the summer of 2021, much later than the president's controversial forecast of "sometime in October"—before the 2020 election.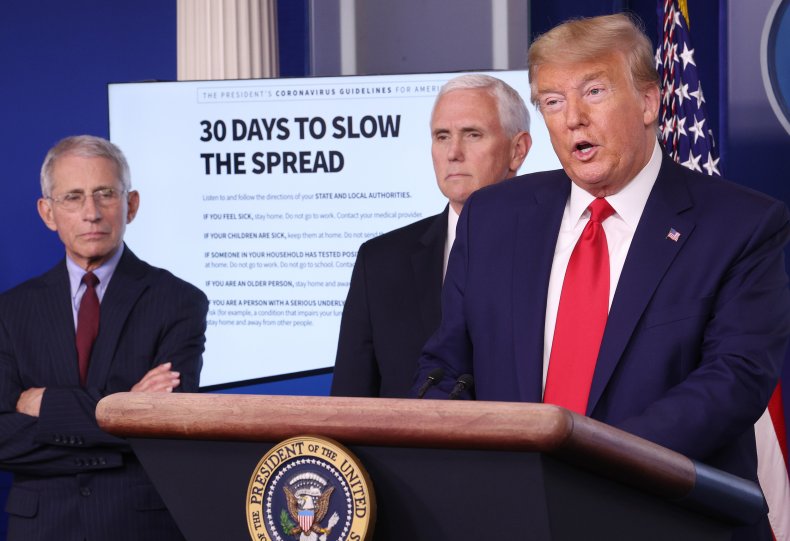 Dr. Georges C. Benjamin, executive director of the American Public Health Association, told Newsweek poor communication around the risks of catching the coronavirus, and the politicization of the response has made it difficult to encourage people to trust and follow guidance such as wearing masks, physical distancing, and hand washing.
"[We] still need to do the basics," he said.
Echoing his concerns, Amira Roess, professor of global health and epidemiology at George Mason University, told Newsweek "it is worrisome to find large outbreaks linked to social gatherings at this stage of the outbreak."
She went on "unfortunately, if 30 percent or so of your population doesn't follow recommended mitigation strategies that can lead to continuous outbreaks as we continue to see," adding "without a national or unified message it becomes very confusing for the population."
According to Holmes, "the end result is quite simply a failed public health response." He described a system where, nine months into the pandemic, sufficient numbers of people can't be tested to allow for them to safely return to work and school; North Dakota, with the highest COVID-19 cases rates in our nation, has not instituted a mask mandate, and healthcare workers are still not fully protected by PPE.
"Many Americans exist in a state of limbo, unsure of the safety of interacting with others, taking chances to work on the front-lines of the economy, or attending schools that are unsafe," Holmes went on. Many localities have all but given up on contact tracing, he said, because they lack the necessary resources, thereby leaving the contacts of many new cases untraced, unaccounted for, and chains of transmission unbroken.
Compounding all this is the fact that a relatively high proportion of people are in the U.S. are older, and or have underlying health conditions, putting them at greater risk of serious COVID-19, Roess told Newsweek. According to the CDC website, one in six Americans has a chronic health condition, such as heart disease, cancer, diabetes, or chronic lung disease.
As we move into the fall and winter it is feared outbreaks could worsen as people spend more time indoors, although it is hoped this will be mitigated by a better understanding of how to treat patients. The experts said there is still time for the U.S. to fight the virus, including by declaring a national mandate on masks. The U.S. today is one of the only countries with limited requirements for masks. National benchmarks for what to do when cases rise and how to restart economic activity are also vital, experts said.
"We need to control the virus with a concerted, comprehensive, data-driven response," Dr. Tom Frieden, president and CEO of Resolve to Save Lives and the former director of the CDC director told Newsweek.
"There's not just one thing needed—we need to both reduce spread by reducing the number of risky indoor places and using the 3Ws: wear a mask, watch your distance, and wash your hands. We need to box the virus in with strategic testing, rapid isolation, complete contact tracing, and supportive quarantine."
These approaches will still be important if and when a vaccine is approved, the experts said, as gaps in uptake will leave regions vulnerable to outbreaks, including those previously hit. As such, the U.S. will need to learn from its mistakes and drill home the importance of following basic guidelines to the public. "There is no going back to normal anytime soon," said Frieden. "Even if a safe and effective vaccine becomes available over the coming months, it will be hard to roll it out, and, even if we do, it will not lead to a fairy tale ending to the pandemic."
Newsweek has contacted the White House for comment.
Uncommon Knowledge
Newsweek is committed to challenging conventional wisdom and finding connections in the search for common ground.
Newsweek is committed to challenging conventional wisdom and finding connections in the search for common ground.
About the writer
Kashmira Gander is Deputy Science Editor at Newsweek. Her interests include health, gender, LGBTQIA+ issues, human rights, subcultures, music, and lifestyle. Her work has also been published in the The Independent, The Independent on Sunday, The i Newspaper, the London Evening Standard and International Business Times UK.