Why is Germany's Coronavirus Death Rate So Low? A Strong Healthcare System, Mass Testing and Luck
As almost every country in the world fights the new coronavirus, Germany so far appears to have fared better than others—not least some of its hard-hit European neighbors.
But is the situation too good to be true, and if not, what can other countries learn from Germany's handling of the pandemic so far?
The first known case of COVID-19 in Germany was confirmed near the city of Munich, Bavaria, on 27 January, around the same time as Italy and Spain had theirs on January 31. While 1,107 people have tragically died of COVID-19 in Germany, according to Johns Hopkins University, the virus has killed 13,915 people in Italy—the highest death toll of any country—and 10,935 in Spain, as indicated by the Statista map below.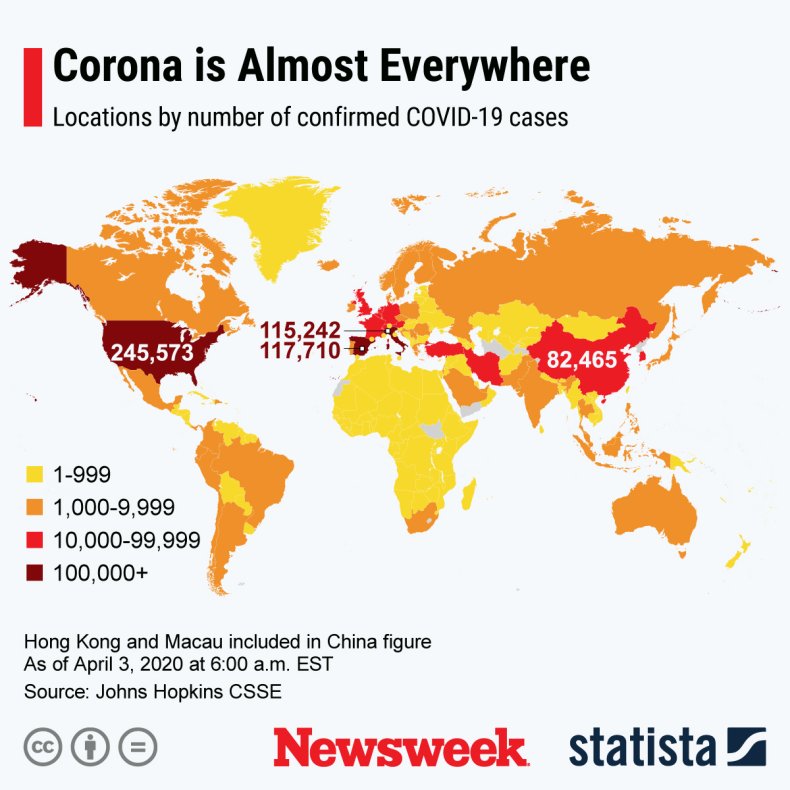 According to analysis by Sky News, Germany has the lowest coronavirus death rate, or case fatality rate, of any other of the worst-affected countries at 0.6 percent, with the next best at 1.4 percent in the U.S., Switzerland, Portugal and South Korea, spiking to 10.1 percent in Italy. The World Health Organization (WHO) has previously set the COVID-19 death rate (a changeable figure) at 3.4 percent.
While in Italy case numbers and deaths increased at around the same time, hundreds of people were diagnosed with COVID-19 before the first death was identified in Germany.
Experts told Newsweek the country's apparent success comes down to a variety of factors, including the foundation provided by its relatively strong healthcare system, its quick reaction to the outbreak, and luck.
Steffanie Strathdee, associate dean of Global Health Sciences at the University of California San Diego, told Newsweek: "Germany did a number of things right from the beginning of the epidemic.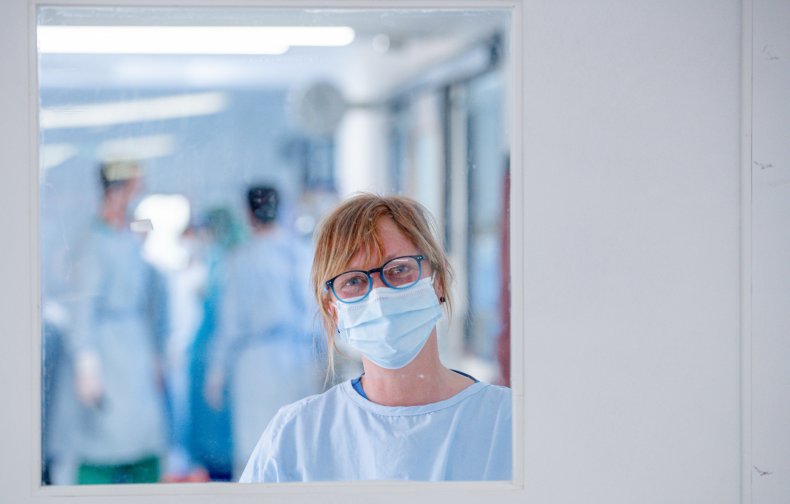 "In terms of pandemic preparedness, German scientists were on the ball by taking note of the potential for SARS-CoV-2 [the virus which causes COVID-19 disease] to spread to Europe. They got right to work developing a SARS-CoV-2 test and implemented it by mid-January, before most countries had even diagnosed their first case. That allowed Germany to conduct mass testing, identify cases early and isolate them before they spread the infection to others."
A coronavirus situation report by the Robert Koch Institute (RKI), the federal government agency responsible for disease control and prevention, states at least 918,460 tests have been carried out since the crisis started, with that number likely to be higher in reality as labs processing results are due to share information from past weeks.
"Germany is a great example of why the World Health Organisation keeps emphasizing 'test, test, test'," Dr. Peter Drobac, a physician and specialist in infectious diseases and public health at the Saïd Business School at the University of Oxford, told Newsweek.
"Germany also had an aggressive campaign to promote social distancing, unlike countries like Italy and Spain, that were late to do so and paid the price," said Strathdee, author of The Perfect Predator: A Scientist's Race to Save her Husband from a Deadly Superbug. Germany's government has closed shops, schools, restaurants, playgrounds, sports facilities, and halted some manufacturing, and on Wednesday extended its social distancing measures to April 19.
Strathdee argued: "Unlike some leaders in the U.S., U.K. and Brazil, [German Chancellor] Angela Merkel recognized the seriousness of COVID-19 early on. She was transparent about the risks and open with communication, including her own exposure that led her to self-quarantine."
On top of creating the COVID-19 test the WHO rolled out to other countries, German scientists have also pioneered turning its COVID-19 epicenter, the town of Heinsberg, into a real-life laboratory to study the spread of the disease, and plans to introduce controversial "immunity certificates."
But the situation is, of course, more complicated than Germany seemingly doing everything right. David Hamer, an infectious diseases specialist at Boston Medical Center and professor of global health and medicine at the Boston University Schools of Public Health and Medicine, explained to Newsweek why Germany's case-fatality rate could be so curiously low.
"If they have included many patients with mild disease in their denominator—something many other countries have not done because they are sending home and not testing these people— it will make their case fatality rate appear much lower than those countries who only include moderate to severely ill confirmed patients in their case fatality rate denominator," he said. "Given this possibility and the social distancing, they may not have a spike in deaths and should have an overall lower number of deaths and case fatality rate."
"But that's not the whole story," Drobac said. "The distribution of infections in Germany seems to skew towards younger people. Relatively fewer cases are occurring among the elderly, who are more vulnerable to severe disease.
"This might be because early spread in Germany was connected to ski resorts. So social distancing measures are especially important right now, to protect the elderly from infection."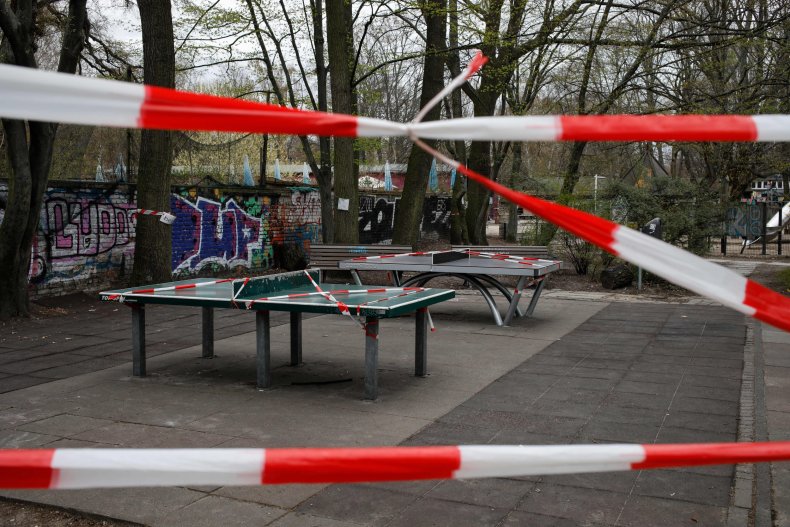 Klaus Larres, professor of the Curriculum in Peace, War and Defense at University of North Carolina at Chapel Hill, explained to Newsweek: "The age structure of the population tends to be younger than in, let's say, the north of Italy," pointing to one the worst-affected areas. "And the immune system of younger people tends to be stronger to fight off the virus and its symptoms."
But there's no room for complacency in a pandemic. "It's too early to claim success," said Drobac. "The nationwide 'lockdown' was put in place less than two weeks ago, so we wouldn't expect to see the result of that intervention until perhaps next week."
Larres pointed out the rate of infections and the rate of fatalities in Germany has increased too, "though not quite at the same rapid speed as in many other countries. Until the apex of the crisis is achieved in Germany, expected this or next week, rates will continue to increase."
On Thursday, scientists told the government it needs to increase its testing rate from its current capacity of 500,000 per week, to more than 200,000 tests per day. That would take it to a million per day, The Guardian reported citing a confidential scientific study by the government leaked to German media.
Lothar Wieler, the head of the RKI, said: "We are still at the start of the epidemic, and it is completely unclear as to how it will develop," adding: "But of course the number of deaths in Germany will rise."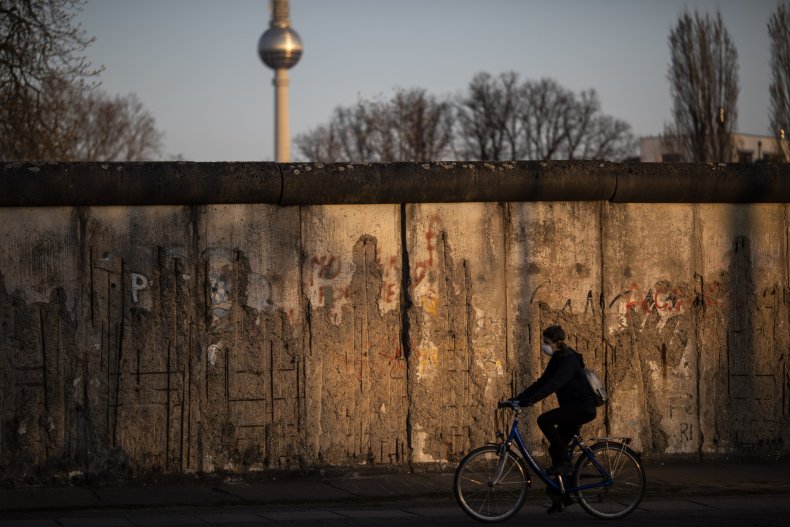 It is thought Germany's comparatively fit healthcare system will be able to handle any surge in deaths better than other countries. It has 620.8 acute care hospital beds per 100,000 of the population, for instance, versus 274.6 in Italy, and 238.5 in Spain, according to Sky News analysis drawing from the European Health for All database.
"I think Germany shines a little bit in the current crisis as it still has a well-functioning and decently funded public health system," said Larres. "Cuts to the medical system, on the whole, were less severe than in many other countries," he said, pointing to the U.K., Italy and Spain.
"A good public health system has proven to be important in the current crisis."
Larres argued: "The big lesson from the crisis seems to be that the state ought to shoulder a number of public responsibilities and be prepared to spend money on them, such as public health and public education. Cutting here can otherwise have severe repercussions, as we can observe now in many countries around the globe."
Looking to how Germany should respond moving forward, Strathdee cautioned "it would be a mistake for any country to think that they've got this virus licked.
"It's [SARS-CoV-2] too new, it's highly infectious and it's deadly, and scientists need to know a lot more about it. Countries that relax social distancing in the absence of herd immunity—either from natural infection or a future vaccine—may see resurgences, in other words, new waves of infection," she said.
"And let's not forget that even if herd immunity is achieved in one country, new infections can still be imported from other countries that could re-kindle the embers and start new outbreaks.
"Like many scientists, I'll be watching Germany closely to see how they fare in the months ahead. We all need to learn from each other's successes and mistakes."
Drobac said: "If COVID-19 has taught us anything, it's that we should stay humble, be nimble, and keep vigilant. This is going to be a long war."
This article has been updated with further statistics on Germany.
World Health Organization advice for avoiding spread of coronavirus disease (COVID-19)
Hygiene advice
Clean hands frequently with soap and water, or alcohol-based hand rub.
Wash hands after coughing or sneezing; when caring for the sick; before, during and after food preparation; before eating; after using the toilet; when hands are visibly dirty; and after handling animals or waste.
Maintain at least 1 meter (3 feet) distance from anyone who is coughing or sneezing.
Avoid touching your hands, nose and mouth. Do not spit in public.
Cover your mouth and nose with a tissue or bent elbow when coughing or sneezing. Discard the tissue immediately and clean your hands.
Medical advice
Avoid close contact with others if you have any symptoms.
Stay at home if you feel unwell, even with mild symptoms such as headache and runny nose, to avoid potential spread of the disease to medical facilities and other people.
If you develop serious symptoms (fever, cough, difficulty breathing) seek medical care early and contact local health authorities in advance.
Note any recent contact with others and travel details to provide to authorities who can trace and prevent spread of the disease.
Stay up to date on COVID-19 developments issued by health authorities and follow their guidance.
Mask and glove usage
Healthy individuals only need to wear a mask if taking care of a sick person.
Wear a mask if you are coughing or sneezing.
Masks are effective when used in combination with frequent hand cleaning.
Do not touch the mask while wearing it. Clean hands if you touch the mask.
Learn how to properly put on, remove and dispose of masks. Clean hands after disposing of the mask.
Do not reuse single-use masks.
Regularly washing bare hands is more effective against catching COVID-19 than wearing rubber gloves.
The COVID-19 virus can still be picked up on rubber gloves and transmitted by touching your face.