Trump Targets Biden on Face Masks, Using Them As Symbol of American Freedom
President Donald Trump has suggested a nationwide mask is an attack on American freedoms, rebuking Democratic presidential candidate Joe Biden's suggestion one be implemented.
Biden called for such a rule on Thursday, insisting every American should be wearing a face-covering when they are outside for the next three months at least.
He suggested every governor in the country should be putting such a plan forward, referring to research suggesting having done so earlier in the year could have saved thousands of lives.
"Let's institute a mask mandate nationwide starting immediately, and we will save lives," Biden said.
Trump has shifted his stance on masks, encouraging their use of late and wearing them publicly himself, though has stayed a step back from proposing any such mandate--and criticized Biden for doing so.
"He wants the President of the United States, with the mere stroke of a pen, to order over 300 million American citizens to wear a mask for a minimum of three straight months—I guess this just happened; he thinks it's good politics, I guess—no matter where they live and no matter their surroundings. Because different states are much different, both in terms of the atmosphere itself and also in terms of the corona problem," he said.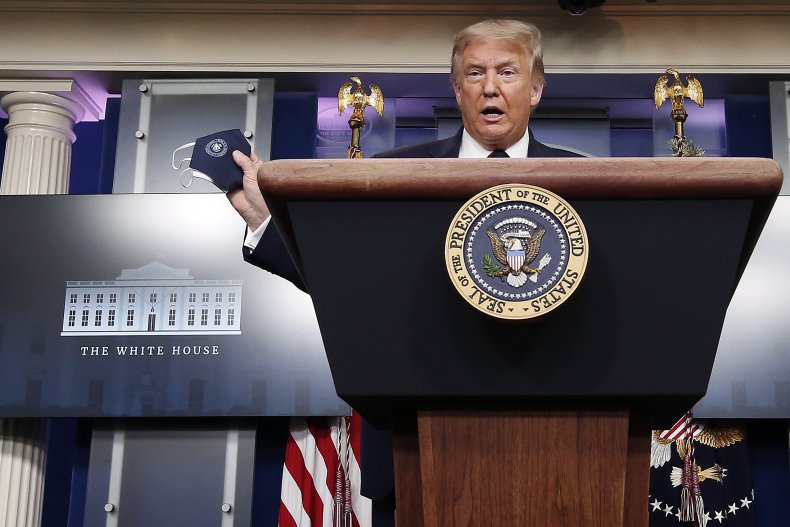 Outlining his own intentions, Trump said he would continue to encourage mask use, but would not want to legally enforce it.
"We will continue to urge Americans to wear masks when they cannot socially distance, but we do not need to bring the full weight of the federal government down on law-abiding Americans to accomplish this goal," he said.
"Americans must have their freedoms."
Trump recently shifted to calling wearing face masks patriotic, having previously avoided promoting or wearing them himself.
He has still not fully advocated the efficacy of wearing masks, though has suggested there is "nothing to lose" from doing so.
"My administration has a different approach: We have urged Americans to wear masks. And I emphasized this is a patriotic thing to do," he said on Thursday.
"Maybe they're great and maybe they're just good. Maybe they're not so good. But frankly, what do you have to lose? You have nothing to lose. So we do, and we've been saying wear them when it's appropriate, especially in terms of social distancing, if you can't distance enough. And what do you have to lose?"
Newsweek has contacted the Biden campaign and the White House for comment.
The Centers for Disease Control (CDC) recommends wearing cloth face coverings, as they may help to prevent the spread of COVID-19, potentially preventing people wearing them who may have it from passing it on.