Taiwan Has Had 7 Coronavirus Deaths. Here's How
Health and Human Services Secretary Alex Azar has praised Taiwan's response to the coronavirus pandemic, describing it as "among the most successful in the world."
Arriving in Taiwan Sunday for a three-day trip condemned by China, Azar criticized China's response to the outbreak on Tuesday, Reuters reported.
"The Chinese Communist Party had the chance to warn the world and work with the world on battling the virus. But they chose not to, and the costs of that choice mount higher every day," he said.
On Monday, Azar met with Taiwan's President Tsai Ing-wen as well as the Health and Welfare Minister Chen Shih-chung and members of the Taiwan Centers for Disease Control and Prevention (CDC).
Azar said in a statement: "Taiwan's response to COVID-19 has been among the most successful in the world, and that is a tribute to the open, transparent, democratic nature of Taiwan's society and culture."
Taiwan is widely regarded as among countries which have best dealt with the COVID-19 pandemic. While the U.S. has the highest reported diagnoses and death toll, with cases surging, there is still no community spread in Taiwan more than half a year into the crisis. According to Johns Hopkins University, of the more than 20 million total confirmed coronavirus cases, the U.S. makes up more than a quarter at over 5 million, and has a death toll of over 163,000 of the total exceeding 736,000.
In contrast, only 477 cases have been reported in Taiwan, and seven people have died.
Experts told Newsweek a combination of preparedness stemming from the 2003 SARS outbreak, a quick response to the virus, ease of access to information, and public willingness to follow rules have all helped Taiwan to so far beat the coronavirus.
Chunhuei Chi, professor in the global health program at Oregon State University and a visiting professor to Taiwan's Taipei Medical University told Newsweek: "Few nations were as well prepared for this COVID-19 pandemic as Taiwan." After being "badly burned" by SARS, the country decided to "never again" be caught unprepared for a pandemic, he said.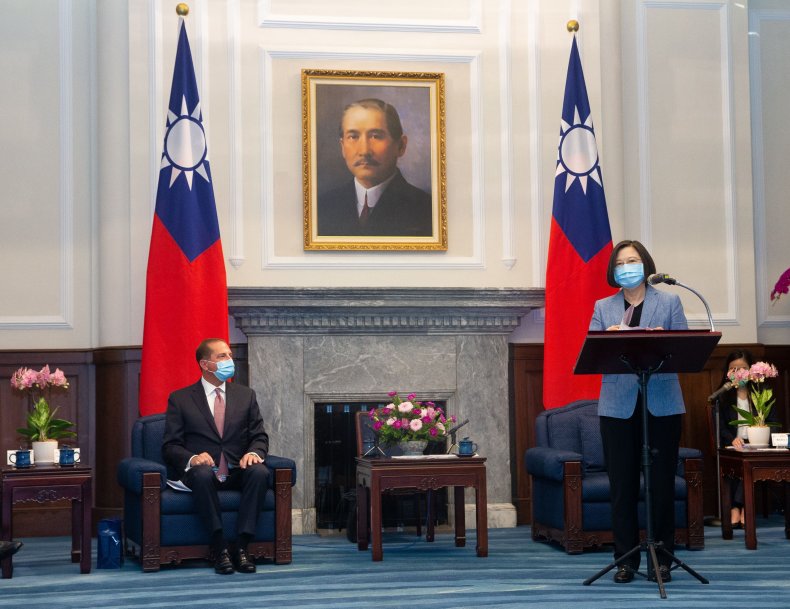 Measures included developing standard operating procedures for dealing with new, serious infectious diseases; training up healthcare workers to deal with outbreaks; and setting up a Central Epidemic Command Center (CECC) to be activated when a serious disease was imminent. The Communicable Disease Control Act enables the CECC to direct resources to control outbreaks and kickstart measures such as quarantining and isolating cases.
"Such legislation is vital during a pandemic, for without such legal foundation, most nations in Europe and the U.S. and Canada ended up in endless debates and not able to take effective actions in time," said Chi.
Taiwan also learned not to rely on information coming out of China, Chi said, after it was slow in reporting SARS to the WHO.
With all this in place, when the then-mysterious coronavirus emerged in late 2019, the government "took the disease seriously right from the get-go," Yuan-kang Wang, professor in the department of political science at Western Michigan University, told Newsweek.
For instance, on December 31, the authorities launched on-flight health inspections of passengers heading to Taiwan from Wuhan, the Chinese city where the virus was first detected. According to Chi, the fast reaction saw Taiwan establish an emergency response team and expert consultation group days later on January 2. Three days later, official defined the virus, and established procedures for reporting and testing. Taiwan activated its CECCon January 20, before it documented its first case. Many nations have struggled with accessing personal protective equipment, but on Taiwan announced on January 20 it had a stockpile of 44 million surgical masks, 1.9 million N95 masks, and 1,100 negative-pressure isolation rooms for patients.
In late January, it started rationing surgical masks and banned the export or private sale of such items, and became the first country with universal access to them. By April, president Tsai Ing-wen announced plans to donate 10 million masks to the worst affected countries.
Clear messaging and co-operation between leaders and the public also helped. "The government put a high level of trust in people's collaboration in pandemic control measures," said Chi. "The public also has a high level of trust in the government's policies." As a result, the CECC was able to dispel "endless fake news" and neutralize its impacts, while gaining public support, he said.
As well as holding press briefings, the government sent information to the public through the message app Line, according to Chun-Yi Lee, associate professor at the school of politics and international relations and director of the Taiwan Studies program at the U.K.'s University of Nottingham.
Wang said masks, which in April became mandatory in areas where social distancing wasn't possible, and contact tracing account for Taiwan's success. He gave the example of the Panshi naval ship where 36 sailors tested positive. "The government scrambled to recall and quarantine them and began contact tracing," he said.
The disease did not spread to others. One contact sat next to an infected sailor on a 40 minute bus ride but was not infected, nor the taxi driver who chauffeured another infected sailor. "The most likely reason is the mask mandate," said Wang.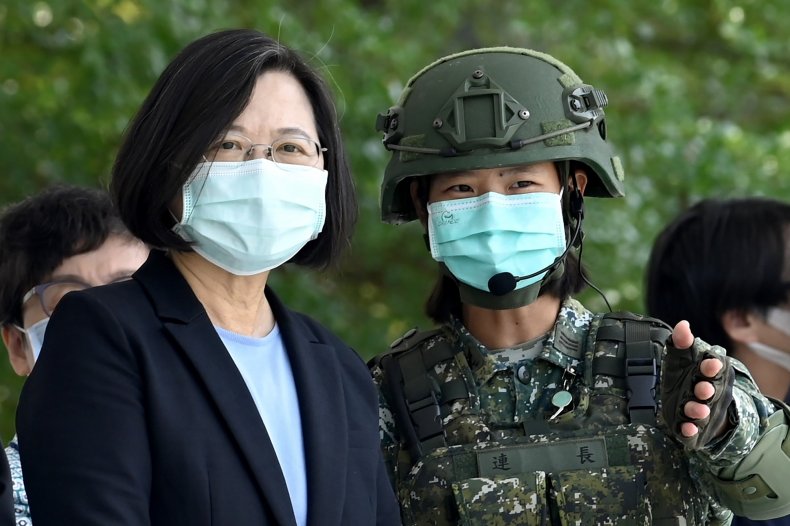 Underlying the country's response is its universal healthcare system, established in 1995, which was "was well-tested" by SARS, said Chi.
Ian Inkster, professorial research associate at the SOAS Centre of Taiwan Studies, U.K., told Newsweek Taiwan has "public medical facilities with copious family doctors who are readily available on the high street and are great sources of practical knowledge in localities and neighbourhoods."
He said "Taiwan is a cohesive state of 23 million people with no borders and little in the way of deprived minorities."
Experts who spoke to Newsweek agreed there is little chance that Taiwan's success can be explained by underreporting.
Asked what Taiwan did wrong, Kerry Brown, professor of Chinese Studies at the U.K.'s Kings College London, told Newsweek: "It is hard to see how they could have done better. In comparison with the U.S., Europe, and practically anyone else, without imposing a complete lockdown, they have kept society running, but managed very low transmission and fatality rates. They must be the global model of how to combat this issue."
The U.S. has a lot to learn from Taiwan in its response, the experts said. "Pretty much everything," said Brown.
Dr. Chih-Hung Jason Wang, director of Center for Policy, Outcomes and Prevention at Stanford University, told Newsweek the U.S. could learn that "having bipartisan support and cordial relationships to fight the pandemic is important in a competitive democracy, particularly when the central and local governments belong to different political parties."
The inability and or unwillingness to isolate or quarantine confirmed or suspected cases means the outbreak in the U.S. is "out of control now," said Chi. While there is high trust between the government in Taiwan, this is "very low" in the U.S. he said. Cultural norms contrast too, he said, as there is "high compliance and collaboration in Taiwan, which is relatively low in the U.S."
Yuan-kang Wang said: "The U.S. government was in denial early this year and did not take the virus seriously. It did too little and then opened up too soon in some states. President Trump also sent conflicting messages about the virus."
Praising Taiwan's rapid implementation of measures to stop the coronavirus, he said: "The U.S. response to COVID-19 is a textbook example of what not to do during a pandemic."
Newsweek has contacted the White House and China's National Health Commission for comment.
Correction 08/12/20, 9.43 a.m. ET: This article has been updated to correct the name of SOAS Centre of Taiwan Studies.