Video Shows Enormous, 13.5ft Crocodile Get Captured just 5 miles from Major City
A video showing an enormous saltwater crocodile measuring 13.5ft being transported to a crocodile farm after it was found only 5 miles from Darwin, Australia, has been released by wildlife officials.
The crocodile was found in the harbor at Woods Inlet in the Northern Territory of Australia, where it was captured and transported away. on January 10.
Woods Inlet is located in the Top End, which is part of Darwin's Kakadu National Park.
The footage, which is just over 30 seconds long, was taken by the Northern Territory (NT) government and shows the crocodile being transported away from the harbor.
The crocodile takes up the whole length of the boat and appears to be calm, offering little resistance.
Near the end of the footage, the camera zooms in on the Darwin city skyline, showing just how close the crocodile was to the capital of the Northern Territory.
It was reported by the NT Department of Environment, Parks and Water Security that it was the fourth crocodile measuring over 12ft to be found in the harbor in three weeks.
It was also reportedly the largest saltwater crocodile caught in Darwin Harbor so far this year.
According to the NT government, however, this is not an unusual occurrence, particularly in this area. A spokesperson told Newsweek: "The crocodile was taken to a local crocodile farm. The number of large crocs caught recently is not unusual, but serves as a reminder there are large and dangerous crocodiles in all Top End waterways."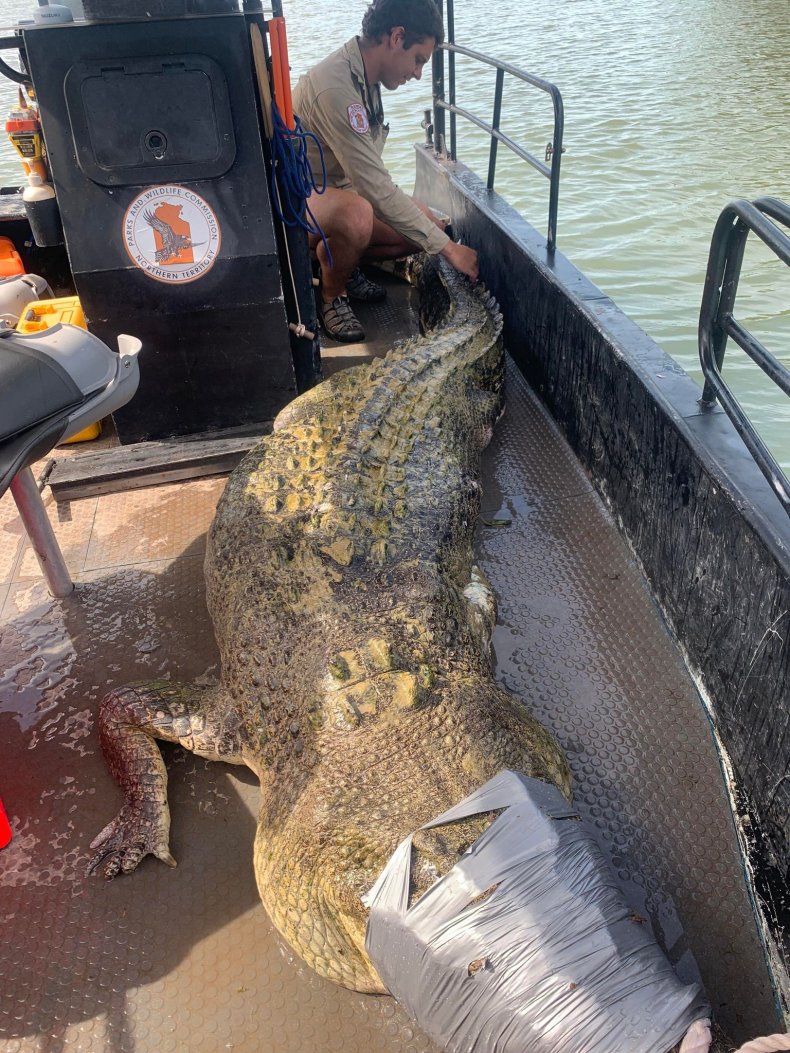 The crocodile was believed to be an older male, and reportedly offered little resistance as he was captured.
NT Parks and Wildlife Crocodile Management Unit Wildlife Ranger Ian Hunt, told NT News that this crocodile was "an easy removal."
Hunt added that it is important for the community to be aware that crocodiles like this aren't too far from where people swim.
According to NT News, data from 2021 reveals that a crocodile is removed from waterways in the Top End near Darwin "almost every day."
NT wildlife rangers removed over 300 crocodiles from the territory's waterways in 2021 as part of the Department of Environment, Parks and Water Security capture and management program.
Fatal crocodile attacks in the Northern Territory are relatively rare. According to ABC News, there were 15 fatal attacks in the territory between 2005 and 2014.
The last person killed by a crocodile in Australia was 69-year-old Andrew Heard, from Queensland. His fishing dinghy was found capsized in February 2021. His remains were later recovered from a saltwater crocodile.