EPA Ruling on Ohio Air Quality 'Not at All Reassuring': Epidemiologist
An environmental epidemiologist believes that the Environmental Protection Agency (EPA) might not be able to detect certain toxins despite air monitoring tests in East Palestine, Ohio.
The claim is concerning given that East Palestine residents have been breathing the air for two weeks after a train carrying toxic chemicals derailed on February 3 on its way to Pennsylvania. Officials then conducted a controlled burn of the chemicals to prevent a possible explosion. The chemicals included vinyl chloride, a known carcinogen.
The EPA has been monitoring air and water quality since arriving on scene shortly after the derailment. An evacuation order was lifted, and residents were allowed to return to their homes. However, residents began reporting concerning chemical smells in the area as well as physical side effects like burning eyes and respiratory issues.
Environmental epidemiologist David Kriebel, who is a professor at the University of Massachusetts Lowell and has worked on environmental disasters including the World Trade Center, told Newsweek that air monitoring conducted by the EPA might not be able to identify certain toxins.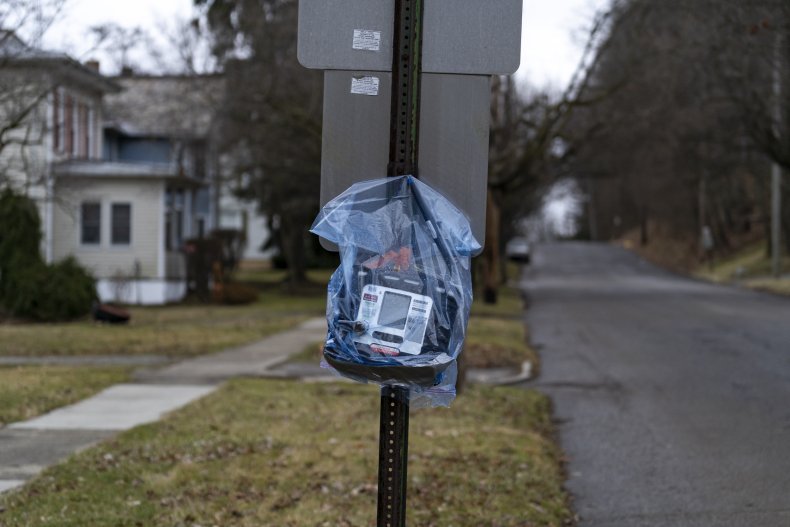 Most concerning to Kriebel are dioxins, which are toxins formed when vinyl chloride and other chemicals burn.
"They are not volatile, and so will not be an important component of air samples, at least not after the fire has been extinguished. But they will be found in soil, settled dust, sediments, etc.," Kriebel told Newsweek. "The fact that vinyl chloride, a gas that will disperse, is not found at dangerous levels in homes is not at all reassuring because of these non-volatile combustion products."
Dioxin exposure can cause a host of health issues, according to the World Health Organization (WHO), including skin lesions, altered liver function, an impaired immune system and several forms of cancer, among others.
Tim Whitehouse, a former senior EPA enforcement attorney who is the executive director of Public Employees for Environmental Responsibility (PEER), told Newsweek that there's "tremendous pressure" for EPA officials to create an "air of normalcy" after an environmental disaster.
He said the government might not be intentionally misleading the public but that there are limitations to air monitoring capabilities in a disaster's immediate aftermath.
"If I lived in East Palestine, I would be skeptical of claims that it's safe to return home, and I'd be looking for greater transparency," Whitehouse said. "Some level of constant monitoring or some level of outside quality control checks of what the federal and state agencies are doing and saying."
Though Whitehouse said intentional cover-ups aren't the case in all environmental disasters, he represented EPA senior chemist and whistleblower Cate Jenkins in a lawsuit involving intentional cover-up. In 2015, a U.S. Department of Labor judge ruled that the EPA made an intentional effort to conceal evidence after the 9/11 attacks on the World Trade Center. According to PEER, Jenkins reported that the EPA concealed information regarding the toxic properties of dust from the disaster, which contributed to deaths of and illnesses in first responders.
Whitehouse told Newsweek it's a "definite possibility" that lawsuits will come because of the East Palestine train crash and its handling.