Sept. 11 Fuels Doubt About Ohio Train Derailment Air Quality
Air and water monitoring continues in East Palestine, Ohio, after a train derailment and some people are beginning to wonder if they can trust the governmental organizations in charge of toxic chemical mitigation.
After a Norfolk Southern Railway train carrying toxic chemicals derailed on February 3, a controlled burn was conducted on railway cars shortly after, releasing toxic chemicals into the atmosphere. Residents were told to evacuate the area before the burn, and after air monitoring was conducted, it was deemed safe for residents to return.
Nearly two weeks later, people are reporting concerning health problems, wildlife has been fatally impacted and people living in the area have commented on a chemical smell in the air.
Some people have expressed concern over if the air is safe to breathe, comparing the incident to how the government handled air quality testing after 9/11.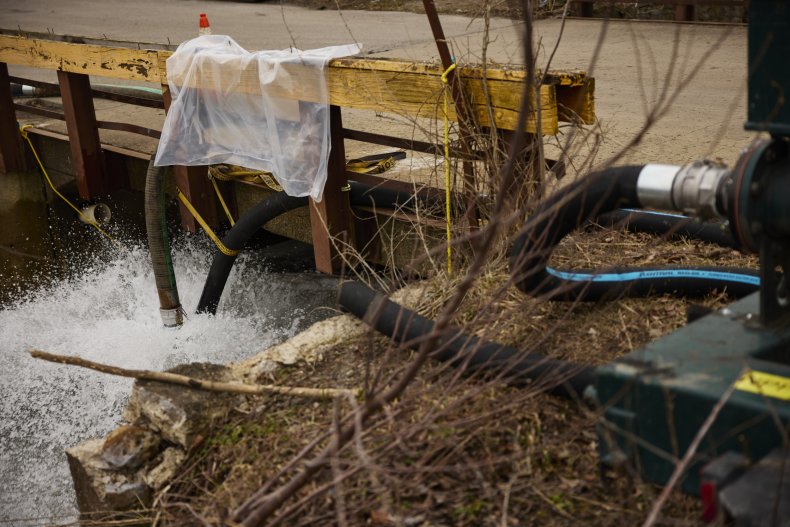 According to a report by the Center for Public Integrity, the Environmental Protection Agency (EPA) declared the air was safe to breathe following the 9/11 attacks. Years later, the EPA's Office of the Inspector General reported that the EPA didn't have enough data to make that statement, and air monitoring data used at the time didn't include tests for several concerning pollutants.
"I lived in downtown NYC during 9/11. (Still do.) They told us, repeatedly, that the air — which tasted of metal and poison — was safe. It wasn't. Of course it wasn't. This madness in Ohio is going to be a huge story, and it's not being reported as it should be," author Marjorie Ingall tweeted.
Now, people are concerned the same approach is being taken in Ohio. East Palestine residents have commented about how the air smells strange since the derailment.
The EPA conducted a press conference Thursday afternoon and said that the Ohio Department of Health is urging residents to drink bottled water until further testing is completed. The department also urged residents with wells to test the water before drinking it.
Erin Brockovich, an environmental activist and whistleblower, retweeted a letter that the EPA sent to Norfolk Southern Railway, listing the chemicals on the train and informing the railway that air and water monitoring continues in the area.
"This is why people don't trust government," Brockovich tweeted. "You cannot tell people that there has been and continues to be hazardous pollutants contaminating the environment while at the same time saying 'all is well.' People aren't stupid."
Luke Rudkowski, founder of independent news organization We Are Change, tweeted a photo of the cloud cover in East Palestine, Ohio. An ominous black plume is pictured in the middle of a grouping of white clouds.
"'Don't worry just go back to work, the air is safe to breath' - U.S Government after 9/11 East Palestine, Ohio right now...." Rudkowski tweeted with the picture.
Newsweek reached out to several environmental experts for comment.